To celebrate her 10th month at Heguru Education Centre at One KM Mall, Michelle Hon shares funny and joyful moments with her two girls during class.
My Girls' Heguru Classes Happy Moments
While on the way to Heguru class…
Me: Lauren, today mummy goes to class with Georgia and you go with Amor (our helper), okay?
Lauren: Mmmm mummy, can I go with Georgia and you go with Amor?
Me: …
While doing tangram…
Teacher: Mummies, you can name the tangram as they complete the puzzle.
Me: Triangle, square…
Georgia: I do! I do!
Me:….
Georgia: Quare… I don't know (it was trapezium)… twiangle…
After Georgia has completed the tangram…
Georgia: I deed it. Well done, wittle Georgia. (Pumps both fists in the air)
After Georgia picked the right card during peg memory…
She turned around with a proud smile on her face and walked straight into…another parent's arms. It seems in her excitement, she had forgotten where her mummy was.
During the clairvoyance activity… (children are supposed to "see" through the cards and pick the right one)
Teacher: Which is the yellow one?
Georgia: This one! (Pointing at both cards)
Teacher: Pick only one.
Georgia: *peel open and look under the cards*
During dots counting…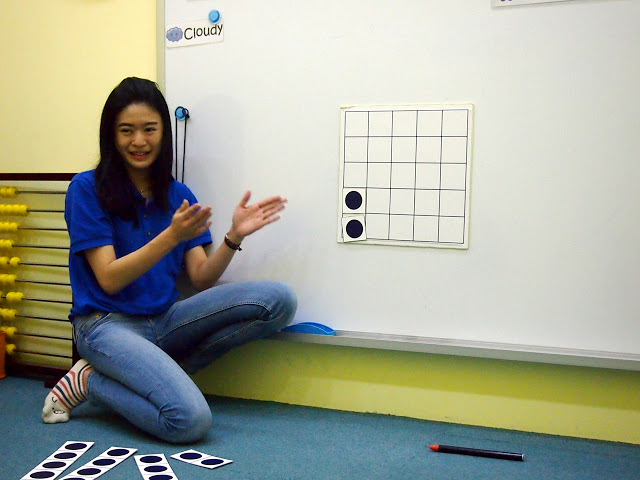 Teacher: There are three dots here, how many more makes five?
Lauren: Two!
Teacher: There are four dots here, how many more makes five?
Lauren: One!
Me: *feeling smugly pleased that my child is so smart*
Teacher: There are five dots here, how many more makes five?
Lauren: Five!
Me: …
Imaginary storytelling is something that both the kids and I enjoy very much. The lights are dimmed, and the stories involve the kids going through a chain of events. Every week is different. So far, they've been to the food court, witnessed the national day parade, evolved from a caterpillar and become a butterfly.
Other activities include…


Learning through song and dance is always a hit with the kids!

One of Lauren's favourite is getting out of the class and do some physical activities.
Hear what other mummies say!
Christine, mum to Adele (4 years old) and Kaysha (6 years old)
"There's a series of activities with very fast pace. This is able to capture my child's short attention span. The joy of attending Heguru classes is I'm able to watch my child's growing moments and the little surprises when they get the answers when you least expect them"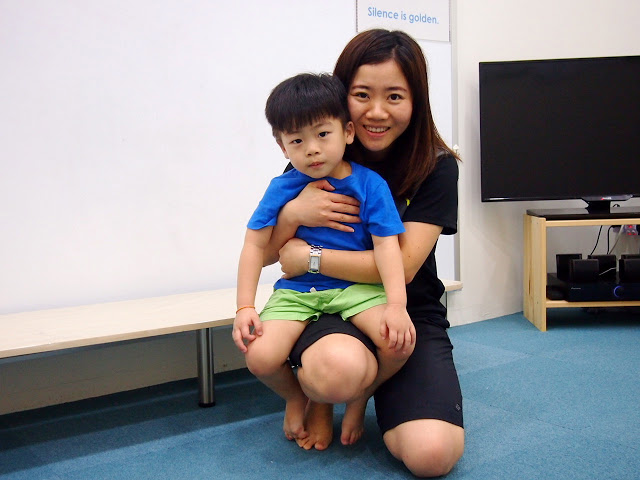 Tina, mum to King Xi (4 years old)
"The reason I keep coming back is because my son likes the classes. The activities are interesting enough to capture his attention."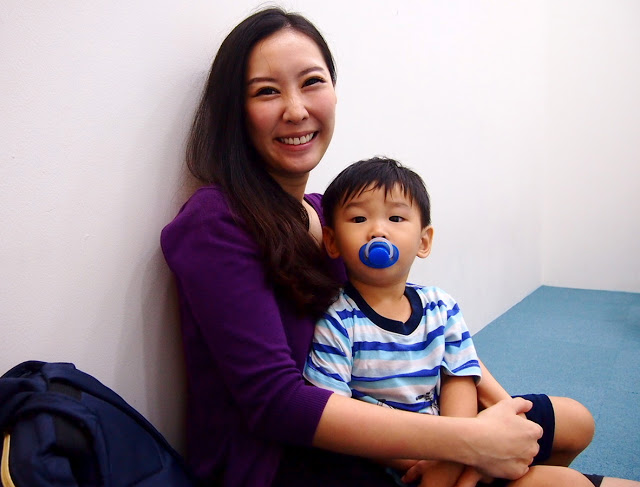 Melissa, mum to Jaeven (2 years old)
"I like the hands-on activities, guessing games, and the physical activities conducted each week."
If you'd like to find out more about the right brain training for your kids at Heguru, visit the Heguru Education Center website www.hegurueducation.com.sg or call 6346 4646.
---
Heguru Education Centre has been selected as one of the nominees for The New Age Parents Choice Awards! To cast your vote, head over to The New Age Parents Awards 2019 – Cast Your Votes Now! and stand to win attractive prizes. Voting ends on 15 Sep 2019.

Michelle Hon is a mother of two, writer and founder of The Chill Mom Baby Planner & Maternity Concierge. A certified early childhood educator, she has helped many busy mothers-to-be plan and manage the arrival of their babies. Michelle has been featured on The Asian Entrepreneur and Harper's Bazaar Kids. Besides being a contributing writer at The New Age Parents, Michelle shares her motherhood tips and experience on her website at www.thechillmom.com
This article was first published in The New Age Parents e-magazine
This is the fifth part of The New Age Parents and Heguru Education series. In the next and final part, find out how Michelle's daughters have progressed since starting the program a year ago.
If you find this article useful, do click Like and Share at the bottom of the post, thank you.
Want to be heard and seen by over 100,000 parents in Singapore? We can help! Leave your contact here and we'll be in touch.