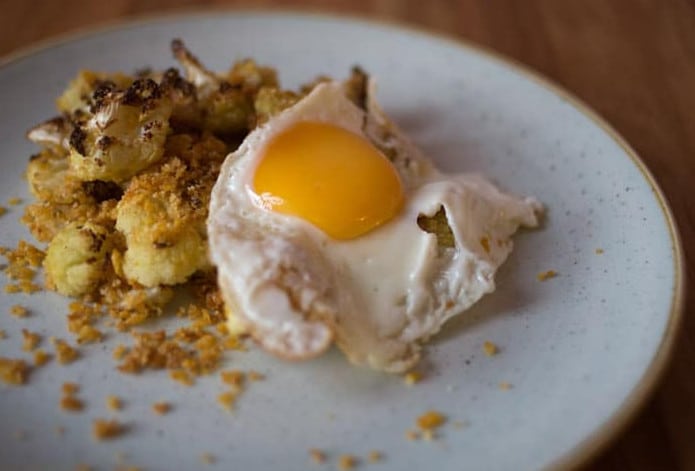 Ingredients
1 head cauliflower, trimmed
¾ cup finely crushed cornflakes
¼ cup grated parmesan (or breadcrumbs mixed
with a pinch of salt)
½ teaspoon dried oregano (*optional)
4 tablespoons olive oil or corn oil
Salt and black pepper, to season
Fresh parsley, chopped, to garnish (*optional)
Directions
Preheat the oven to 210C.
Cut the cauliflower into small pieces, around 3cm cubes. On a baking tray, toss the cauliflower pieces with 3 tablespoons of oil, dried oregano and salt and pepper to season. Roast the cauliflower for 15 minutes, until tender.
In a bowl, mix the crushed cornflakes with the remaining 1 tablespoon of oil and grated parmesan cheese. Take the cauliflower out of the oven and sprinkle the cornflake mixture on top. Bake for a further 10 minutes, until golden brown and crunchy.
Once the cauliflower is done, take it out of the oven, and toss lightly before placing on serving plates. Serve with eggs cooked in the style of your choice – it goes perfectly with fried eggs!
This recipe was created by Sarah Benjamin, Kitchen Hoarder blogger and Asian Food Channel Host, in conjunction with the launch of Kellogg's global hunger relief campaign, Breakfast for Better Days.
If you find this article useful, do click Like and Share at the bottom of the post, thank you.
Want more comprehensive info? Check out our e-guides here.