When you're busy picking up your child's toys, cleaning up mess after mess, and making sure the older one doesn't squash the younger, cleaning and tidying your house is probably one of the last things on your mind!
Housework is pretty much relegated to a quick 10-minute magic mop around the house on a weekly basis until the gathering dust compels you to do a more thorough clean-up. With the Lunar New Year around the corner, and the influx of visitors expected, you are probably starting to stress out (just a little) about the state of your home.
Fret not – here are five spring cleaning tools that can help you keep your house squeaky clean!
1. A Chemical-free Vacuum Cleaner
Try: Kärcher DS 6.000 (Purchase online like Lazada)
The Kärcher vacuum cleaner doubles up as an air purifier. It uses its innovative water filter technology (HEPA 13) to churn out 99.9% clean exhaust air, which is a great benefit for allergy sufferers. Its sleek design allows for ease of movement, and storage. Besides helping to get your floor all spick and span with its vacuum function, the DS 6.000 is also great for cleaning up upholstery, carpets, ceilings and bed linen, with the right nozzle or attachment for each task. Last but not least, it is very affordably priced as compared to similar models on the market.
Available online on Lazada.
⇒ Related Read: Kärcher Vacuum Cleaner Testimonials From Mothers
2. A Power Vacuum
Try: BOSCH Vacuum Athlet
Vacuum effortlessly without having any wires getting caught in your way.
The new Bosch Vacuum Athlet boasts a cleaning performance that is comparable to a corded Bosch 2,400-watt vacuum cleaner. Coupled with a long-lasting operation of up to 60 minutes thanks to the Bosch Lithium-Ion Technology and the unique Bosch SensorBagless™ Technology – the new Athlet ensures convenience, and maximum dust pick-up on all floor types. You can now enjoy cordless operations and easy maintenance with automated sensors that light up when filters need cleaning.
At approximately 3kg, the Athlet is a lightweight, and with its low centre of gravity and balanced ergonomics, it handles comfortably. Fitted with a flexible nozzle attachment, it is extremely easy to manoeuver to reach around and underneath sofas and cupboards and in tight spaces.
Plus, stand to save more in the long run as there are no additional costs thanks to washable filters that require no replacement throughout the lifespan of the appliance. Without a cord dragging behind it, the cordless Athlet can be dismantled into three parts and stored away neatly in an instant.
Available at all leading departmental, electrical stores island-wide and LAZADA.
3. A good old trusty Sponge
Try: Scotch-Brite Anti-bacterial Sponge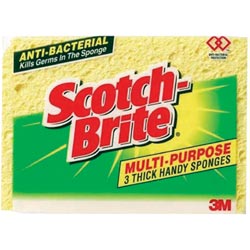 Able to absorb 12 times its weight in water, the Scotch-Brite® Anti-Bacterial sponges make soaking up spills a breeze. Tough, strong and versatile, these sponges are ideal for wiping and cleaning all sorts of household items and appliances. They're also anti-bacterial, helping you keep your sponges smelling fresher for longer. Suitable for cleaning ovens and microwaves.
4. A Steam Cleaner for all floor surfaces and to kill bacteria
Try: Kärcher SC 6.800 CD
Another premium water-based cleaner from Karcher, this nifty device handles virtually all your cleaning needs. Using steam pressure and a VapoHydro function, you can iron clothes, curtains, clean windows, upholstery and floors! Plus an added bonus – it comes with a childproof safety lock, so you don't have to worry about little fingers getting burnt.
⇒ Related Read: Cleaning Is Now A Breeze Of Steam
* * * * *
Do you have any house cleaning products you would like to recommend? Share them with us!
Want to be heard 👂 and seen 👀 by over 100,000 parents in Singapore? We can help! Leave your contact here and we'll be in touch.