The new Kärcher Vacuum Cleaner (DS 6.000) with water filter provides you with a fresh new concept of a vacuum cleaner. Unlike conventional vacuum cleaners with filter bags, the new Kärcher DS 6.000 with water filter works with the natural concept of water. The water acts as a filter and swirls with high speed; causing the dirt that is sucked to go through the swirled water. In this way, the dirt is trapped in the water and filtered in a highly efficient manner.
Want to know what it's like using the new Kärcher DS 6.000 Vacuum Cleaner?
Read on to find out what our mummies had to say.
Mummy #1
"My girl is currently 4 years old and she has eczema and a sensitive nose. When she's in contact with any irritant, this will trigger rashes, runny nose and sometimes even cough.
I find the new Kärcher DS 6.000 Vacuum Cleaner machine very user friendly. I especially like its water-filter feature instead of a dust bag which makes clearing and cleaning the machine after use a breeze. After using the vacuum cleaner, my little girl seems to have less frequencies of nose irritation. I noticed she did not rub her nose and sneezed as much as before. As for me, my sinus problem seems to have improved as well.
I tried it on our bed for the first time and were amazed on how dirty the water has become after use. We did not expect the water to be so dirty as we thought our bed should be quite clean! I am going to teach our helper how to use the machine so that she can clean our house using the new water-filter Vacuum Cleaner from Kärcher."
– Clara See Lee Khoon, mother of 4 year old girl
Mummy #2
"I have two Shetland Sheepdogs, a 1-month old boy infant and an 18-month old girl toddler who's got really sensitive nose and skin. My baby daughter has eczema just like me.
What I like most about it is that it came with a lot of other accessories which allow me to use the vacuum cleaner for all other dust traps around the house, such as sofas, beds, linens, carpets. I was even given one accessory which allowed me to use the vacuum on my parquet floors, which is awesome. A single vacuum cleaner that can keep my entire house clean and dust free! German engineering – what can I say? They think of everything!
I believe using the latest water-filter vacuum cleaner from Kärcher has helped in reducing my children's allergies as well as my own. My baby boy hardly has any sinus issues since after we introduced the machine in our home, and my baby girl's eczema is also under control. These allergies are typically triggered by dust. I am so happy that I now have the Karcher DS 6.000 Vacuum Cleaner to help me keep these allergies away!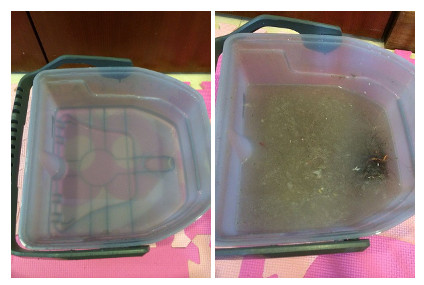 I have always wanted a vacuum cleaner with a water filtration system so I can see how dirty or clean my house is just by using the vacuum. It never fails to amaze me when I see the amount of dirt this machine can pick up, just by looking at the water tank after every use. I am so happy to own one of these vacuum cleaners now, because it not only helps keep my house clean and dust free, it helps to bring our dust-triggered allergies under control. I am a very happy user! :)
– Rena Tan, mother of two
Did you know? Kärcher's DS 6.000 vacuum cleaner has been approved by the British Allergy Foundation to significantly reduce allergen content in the environment, such as dust, mites, animal fur, pollen or mould.
Mummy #3
"I found the new Kärcher Vacuum Cleaner easy to use and not as treasonous as my old vacuum cleaner. Before, I was using a handheld vacuum and that left me with sore hands and arms.  The new Vacuum cleaner is lighter and easy to use. It is also safe and has child friendly (there are safer child mechanisms). This means I can use it even my daughter is around.
Previously, I had to bring my daughter out of the area where I am vacuuming as she might start to itch and sneeze (due to the dust). But now, I don't have to worry about that due to the strong filtration system. She doesn't complain anything about her skin itching or sneeze as often. I would definitely recommend these to my friends, especially to those who have skin allergies children at home.
– Jill Balcos, mother of a 7 year old child
⇒ Related Read: A Dust-Free And Allergen-Free Home
Mummy #4
"My two young boys have sensitive airways, so trying a vacuum cleaner that doubles up as an air purifier was a huge plus point. Plus we get a fair amount of dust in our home as we live near an expressway. With this new vacuum cleaner by Kärcher, I can kill two birds with one stone! I get a clean floor and clean air – the floor is not only crumb and dirt free, the air also smells clean and fresh. Best of all, no filter bags needed!"
– Dorothea Chow, Mother of two boys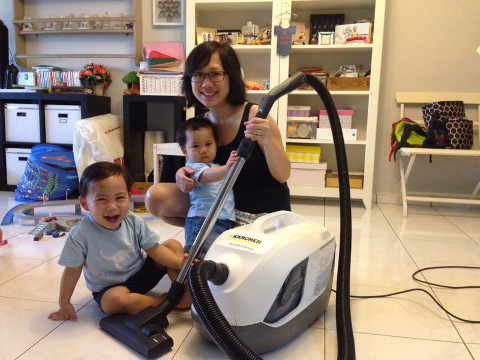 Want to be heard and seen by over 100,000 parents in Singapore? We can help! Leave your contact here and we'll be in touch.