Baby Pixie – for girls and boys
BabyPixie is an online store selling made in Singapore designer quality and value priced children clothing. Their 2017 CNY collection has been launched and they are having a sale on past designs.
Price range: $35 – $48
Website: www.babypixie.com

Miz Apparels – for mummies and girls
Located in the CBD, Miz Apparels is a must-see for women working in the area. Miz offers ladies apparel and accessories sourced and manufactured in Korea, including a 'Mummy & Children' section. Prices are on the steep side, but you get your money's worth in impeccable workmanship and quality fabric. Do note that each design comes in limited quantities so the nicer ones always run out fast.
Where to find:
1 Raffles Place #04-16/17
Singapore 048616
Tel: 6536 7220
8A Marina Boulevard
#B2-13 Marina Bay Link Mall
Singapore 018984
Tel: 6636 8513
Website: mizapparels.com.sg

Joli Pretty – for mummies and girls
Joli Pretty is an online shop which was set up to share the love with modern Cheongsam that brings its charm in shapes and prints that fits our modern lifestyles. Every piece of fabric is handpicked and sourced from Singapore, the U.S, Japan, Korea and other parts of Asia.
Every Chinese New Year, they will introduce a collection of mother and daughter set. Their handmade dresses for little princesses are treated the same way as mama's, with soft cotton lining, zakka tag which is gentle on delicate skin. The little cheong sams even come with side pockets, to put your little girl's ang baos or toys.
Pre-order: You can place your order via email, indicating your choice and sizes.
Price range: $45 – $149
Website: jolipretty.com
UPDATE: Most of the pieces have been sold out.

Little Qipao – for mummies, girls and boys
Uptown Kidz was established in year 2006, selling unique and fashionable children clothing and accessories from Korea and Hong Kong. They also design and manufacture in-house collection, one of them is Little Qipao which is the highlight of every Chinese New Year.
Price range: $49.90 and above
Website: www.facebook.com/littleqipao. Selected designs at Pop up stores at Takashimaya Level 4 & Isetan Scotts level 2 & Nex.

The Missing Piece – for the whole family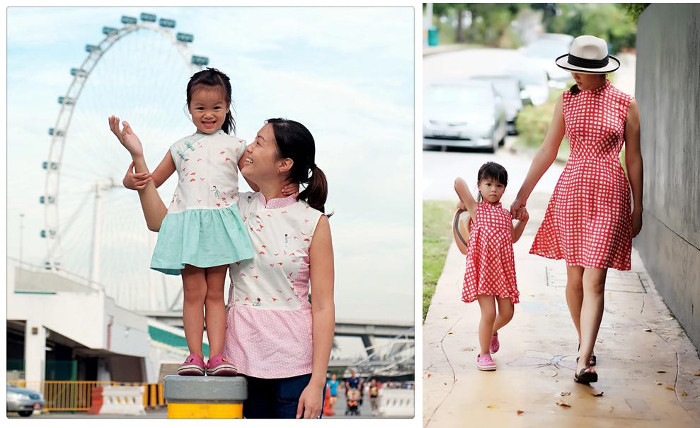 The Missing Piece is a homegrown store in Singapore committed to providing limited edition contemporary matching prints for the whole family. Making it their mission to source for materials, with handpicked details, that appeal to the little ones and provide ultimate comfort in Singapore's tropical weather. From father-son outfits to mother-daughter matching tops and cheongsams, they have it all for a coordinated family day out.
Price range: $29.90 – $165.90
Website: iwantthemissingpiece.com
See also: Where to buy matching outfits for the whole family

Elly – for girls and boys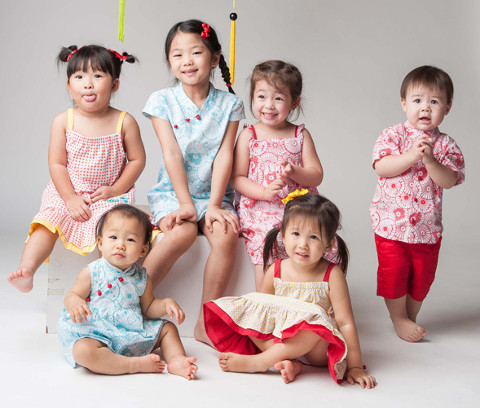 Elly is a home-grown children's fashion label created in 2009. Their designs are guided by the principle that children's clothing can be beautiful without compromising comfort and practicality. Even though it is the fashion for children, Elly is about making each collection fun and distinctive.
Price range: $39 – $69
The Elly Store is at #02-29 Cluny Court 501 Bukit Timah Road Singapore 259760
Website: www.ellyloves.com or ellyloves.wordpress.com

Zalora – for mummies
Online marketplace Zalora has in stock Cheongsam dresses from several brands.
Price range: $29.90 – $148.00
Website: www.zalora.sg/women/clothing/cheongsams

Our Bitsy Prints – for mummies and girls (selected designs only)
Started by a duo who are so in love with modern Cheongsams, they wish they could go around wearing them every day! Touted as one of the very first online modern Cheongsam shops in Singapore, they hope to share their love for the everyday Cheongsam at an affordable price. Some of their designs are also available in children's size.
Price range: $98 – $148
Website: www.ourbitsyprints.com

Lark and Peony – for mummies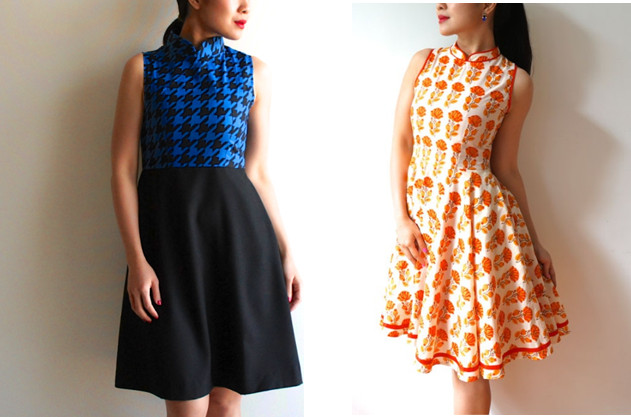 Lark and Peony's main focus is the modern Cheongsam that uses beautiful quality fabrics mainly from Japan, Australia, USA and other parts of Asia. Conceptualized and designed for the modern woman, they endeavour to revive the nostalgic love of Cheongsams among contemporary dressers by weaving modernity, comfort and sensibility into every piece.
Price range: $148 – $188
Website: www.larkandpeony.com

Tong Tong Friendship Store – for mummies and girls
Tong Tong is a fresh take on the tired stereotypes of Chinese clothing, creating wearables that don't shout "costume" and pieces that don't look out of place. Light-hearted and quietly quirky, but always with a respectful nod to tradition, the clothes are inspired by the classics, but thoroughly in-tune with the modern woman. Tong Tong Friendship stores are one of the pioneers in Singapore introducing wearable contemporary cheongsam dresses.
Price range: POA (Price on application)
Tong Tong Friendship Store
100 Beach Road,
#01-05 Shaw Towers
Tel: 6396 3887
Opening hours: Mon – Sat 12 – 8 pm
Closed on Sundays & Public holidays
Website: www.tongtong.sg

Ong Shunmugam – For mummies
Launched in 2010, Ong Shunmugam is a contemporary women's wear label with a simple quest to craft beautiful clothes by focusing on sartorial construction instead of fast fashion; on cut and fit before look; on longevity over excess. Ong Shunmugam collections have been presented at Audi Fashion Festival and Future Fashion Now events.
Available through their atelier, website and a tightly curated guerilla gallery, their pieces are often one-offs or produced in lean quantities.
Price range: S$399 and up
Website: www.ongshunmugam.com

The Lady General – for mummies
Based and designed in Singapore, cutting through the traditional barriers of the Cheongsam with wearable silhouettes, luxurious fabrics and couture finishing. Their dresses are ethically produced with fabrics hand sourced from Asia and Europe. Available in limited quantities online.
Price range: $129 – $179
Website: www.theladygeneral.com
UPDATE: The Lady General is taking a short break. Stay tuned as they will be back!
If you find this article useful, do click Like and Share at the bottom of the post, thank you.
Want more comprehensive info? Check out our e-guides here.