Does your child have sinus or allergies? How can you reduce some of your sinus and allergies at home for yourself or your child?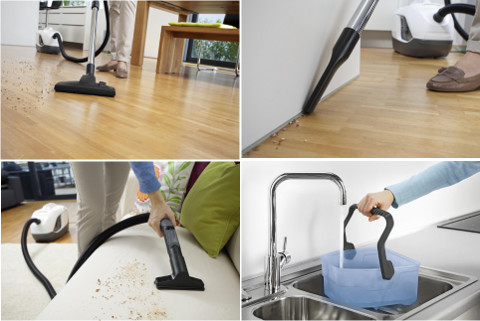 We all know the job of a vacuum cleaner. With today's modern advancements, most vacuum cleaners are now enhanced with water filter technology. Air filters in vacuum cleaners also makes a huge difference. Air filters can help to reduce the levels of allergens. For example, electrostatic and high-efficiency particulate absorption (HEPA) filters can effectively remove many allergens from the air.
What makes Kärcher's DS 6.000 vacuum cleaner stand out from the rest of the vacuum cleaners out there? Hear what four parents have to say.
#1. Chan Ching Lim
"Being a full time working mum with no helper, the Kärcher DS6000 Vacuum Cleaner is indeed godsend. The vacuum cleaner is super user-friendly and very easy to fix, operate and clean up after use. It sweeps and sanitizes all at once, leaving the floor clean and virtually dry! Best of all, the dust particles are trapped in the water, and I don't have to worry about airborne dust when cleaning the water filter container after use.
With the help of the DS6000, we also won the hygiene battle against the dust and dirt. My whole family was free from sinus (less sneezing and coughing) during the weeks I used the machine. Now, I am more at ease regarding the cleanliness and hygiene of my house and find that I have more time to spend with my kids. I would like to thank The New Age Parents and Kärcher for this amazing vacuum cleaner!"

Fact: Kärcher's DS 6.000 vacuum cleaner has been approved by the British Allergy Foundation to significantly reduce allergen content in the environment, such as dust, mites, animal fur, pollen or mould.
#2. Lim Si Hui Agnes
"The first time I used the machine, I was very surprised by its strong suction power. It definitely picked up all the dust from every inch of my floor. The HEPA 13 Filter, coupled with an innovative water filter technology is another plus point for me as it filters out the dust and prevents any micro dust particles from spilling out. I believe these particles are the cause for my family allergies.
After vacuuming the entire house, it came to the dirtiest part of the job – clearing away the waste in the machine. But alas, to my surprise, it was so easy and not so dirty after all. No dust bag or flying dust, simply just pour away the dirty water from the water tank, rinse it a little with running water and hang it to dry up. Just 3 simple steps and the machine is ready for use again.
If you have young children or family members with allergies or sinus, this vacuum cleaner would be a great investment. Because my husband's allergic reactions decreased considerably after using this vacuum cleaner. Cleaning has never been easier with this 'baby'. Thank you Kärcher!"

Fact: Unlike conventional vacuum cleaners with filter bags, Kärcher DS 6.000 vacuum cleaner water filter works with the natural concept of water. It is is equipped with a HEPA 13 Filter, coupled with an innovative water filter technology makes use of a three-stage filter system. This ensures that the exhaust air emitted is 99.9% dust-free.
#3. Chew Chun Pheng Jocelyn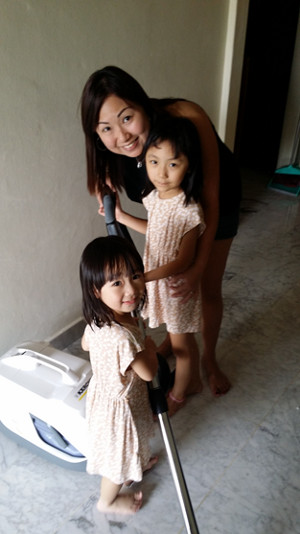 "This vacuum cleaner has done a wonderful job in keeping my house dust-free with its strong suction power. Besides my hard floors, I also used the machine to vacuum textiles such as my carpet, sofa and mattresses. I'm surprised (and shocked) by the amount of dust particles collected in the water tank after vacuuming.
Ever since I started using Kärcher Vacuum Cleaner in my regular cleaning routine, my kids seem to have lesser attacks of cough and flu. In fact, my youngest child had bronchitis some time back but now his condition is stabilized and all is well. My husband, who has sinus since young also commented that he felt a difference in the air quality and less episodes of running nose. I'm really glad to be using the Kärcher DS6000 Vacuum Cleaner!"
Related Post: Kärcher Vacuum Cleaner Testimonials From Mothers
#4. Tan Yew Meng Keith
"The vacuum cleaner is easy to fix and dismantle. It is so user friendly that my son actually enjoys vacuuming the house with me. My son also loves to drink milk on the sofa and sometimes he spills his milk on the sofa. The sofa already has some past milk stains on it. Because the sofa is not washable, I would just use a wet cloth to wipe it.
Since I was using the Kärcher DS6 Vacuum Cleaner to clean my living area, I just tried my luck to test it on the sofa too. To my surprise the stubborn marks got lighter and the sofa looks cleaner. After vacuuming my sofa, I was pretty amazed by the water colour in the water tank. This means my sofa was really dirty and the machine was able to suck the stubborn dirt and dust that was embedded in my sofa for many years (yikes).
Goodbye stubborn dust and dirt! Now my son can drink his milk happily on my sofa."
Fact: Kärcher's DS 6.000 is suitable for hard floor, edges and corner, textile surfaces, carpet and textile floor.
Features of Kärcher DS 6.000
Energy-efficient suction turbine
Fresh exhaust air
Smaller, lighter and quieter than the existing DS 5600
Newly designed – more modern
No filter bags are needed
If you find this article useful, do click Like and Share at the bottom of the post, thank you.
Want to be heard and seen by over 100,000 parents in Singapore? We can help! Leave your contact here and we'll be in touch.