Gone are the days when you could trot out of the house with your teeny-tiny bejeweled clutch or trendy branded handbag. As a mum, you're more likely to favour large bags to carry all the bits and bobs, necessities and distractions that one needs with young kids in tow.
We asked three mums to share with us about their choice of diaper bag, and about what goes into those bags on a regular basis.
Mummy Candy: Mum to two little girls, Tessa (3 yo) and Reina (1 yo), so that's two kids' worth of barang to cart around! Her faithful bag from Skip Hop Duo has been her main tote every single day since she became a mum.
The bag:
I like how everything is neatly organized and easily accessible. The bag is hardy enough that I can 'throw it around' and not have to worry that it will break. I love how it looks and all the pockets for convenient stowing of my various items. I really pack it to the max! My only wish is that it could be machine washable.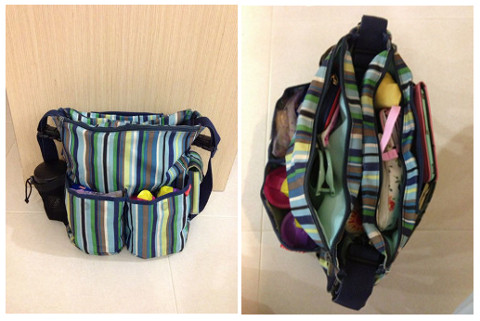 Candy's must-haves:
#1 iPhone
For capturing precious fleeting moments, whenever and wherever.




#2 Tango wet bag
It holds all my diaper changing essentials and comes with a wrist strap which makes it easy to pull out in changing rooms, even when my hands are full. Sometimes, I use this as a cushion for baby's head when lying down on hard surfaces!
#3 Packet drinks holder
Little hands tend to squeeze packet drinks too tightly, causing the contents to spurt out. This holder helps Tessa to drink her packet milk when we are on the go – even in the car – so it's a must for me! Mine is from Babies'R Us from Japan. I love it because it's compact and pretty.
What else is in the bag?
My wallet, handphone, house and car keys, Pet Pet diapers (cheap and good!), Johnson & Johnson wet wipes, Mustela barrier cream, Johnson & Johnson moisturizer, a change of clothes for the girls, jackets for cold weather, water bottles, a thermos flask for Reina's food, a food bag (which holds the girls' bibs, spoons, Lifebuoy hand sanitizer, and food scissors), Mopiko (Tessa tends to get bitten a lot!), aloe vera gel, packet drinks holder, snacks, and sometimes a small book or toy for entertainment purposes.
* * * * *
Mummy Liling: Mum to Seth (7 mo), an active little fellow who has just begun to crawl. Her Charlie diaper bag is from the brand SoYoung, bought online from the US, and delivered back home to her waiting arms by a friend who was in the US at that time.
The bag:
I love it for the size, sheer number of compartments and how everything is kept neat and dry. There are enough compartments for both mummy and baby's things, which definitely reduces any confusion or mad search for different items. The bag comes in a range of gender-neutral colours, so it looks good on daddy too. ;) This means my hubby is more than happy to help share the load, quite literally! My only gripe about it is that the bag is a tad heavy on its own, even when empty.
Liling's must-haves:
#1 California Baby calendula cream
I've found this very effective for diaper rashes and sores. A couple of months ago, my family was in the US where the air is quite dry. Seth developed a diaper rash, and Desitin actually worsened it! But when I tried this cream, the sore area healed significantly in a matter of hours.
#2 Ikea washable bibs
These are cheap and perfect for food and drink spills on-the-go!
#3 Bebe au lait nursing cover
Definitely my faithful companion whenever I need to nurse Seth outside – and it helps me do it in style!
What else is in the bag?
My wallet, umbrella, keys, microfibre cloth (for when baby grabs my specs and they need a quick clean), my handphone, Drypers diapers, Tollyjoy unscented wet wipes, a silicon placemat for mealtimes, a changing mat which came with the diaper bag, Desitin barrier cream, "Ru Yi" oil (for sudden tummy pains or gas), and a pair of my baby's shoes.
* * * * *
Mummy Sara: Mum to spunky Tasha (3yo), she confesses she has quite a few diaper bags on hand. However, she ranks her Ju-Ju-Be and SkipHop as her twin favourites, each with its own merits.
The bag:
I love both my SkipHop and Ju-Ju-Be diaper bags. The SkipHop is my super light, all-terrain bag. It's sort of like my rough-and-tumble bag. I bring it along anytime I know I'll likely be expected to set it down on sand, grass, or any other dirty or dusty places. My Ju-Ju-Be's too precious for that, but it does hold a ton of stuff and is the winner in the organizing department with its gazillion pockets/slots/compartments. I also appreciate the anti-bacterial, Teflon-coated fabric, which is completely machine washable. Unfortunately, it's definitely heavier than my SkipHop, because of its construction and materials.
Sara's must-haves:
#1 SKP plastic bags
These are just 70 cents for 30 pieces! Very useful for dirt diapers, soiled/stained clothes, used tissues, snack wrappers, etc.
#2 Pigeon anti-bacterial wipes
The package is the perfect size, and doesn't run out as quickly as those mini packs that a lot of brands have. I use it to disinfect (at least cursory) restaurant tables, high chairs, dropped toys, in addition to the usual wiping of food-smudged faces and soiled bottoms.
#3 Pull-up diapers
I tend to go more for the premium brands, but I don't really have just one brand that I use. Pull-ups are just much more compact than regular diapers, and easier to change than the tabbed ones. Currently, I'm using Huggies DryPantz, because the smallest Pampers Easy-Ups are still a little big for Tasha.
What else is in the bag?
Ziploc bags, a small towel, Tasha's Beaba sunglasses, RuMe reusable shopping bags (different sizes), spare set of clothes for Tasha, water bottles for Tasha and me, Bath & Bodyworks PocketBac hand sanitizer, and my "ouch pouch" (a small mesh pouch containing bandages, my meds, nail file, mosquito repellent patches, etc).
By Dorothea Chow.
* * * * *
What are the items you simply have to have in your bag? Share them with us in the comment box below!
Like what you see here? Get parenting tips and stories straight to your inbox! Join our mailing list here.