As my firstborn Sam (now at 16 months) was diagnosed with chronic eczema when he was an infant, I am relatively cautious with the type of creams I apply to his body. I have tried and tested many barrier creams and nappy rash creams in the market, but they have not been effective on Sam's skin. Just like what I did with all the other nappy rash treatment creams, I did a background check and my own research on Bepanthen® before trying it out on Sam.
When I first got to know that the Bepanthen® Nappy Cream Ointment is a non-fragrant, non-colourant (pigment) product, free from parabens (a type of chemical preservative) and other preservatives, it gave me the first level of assurance that the cream was safe for Sam's sensitive eczema skin. Unlike the other barrier creams that I have tried, Bepanthen® has a silky and smooth texture feel.
For babies… and mummies too!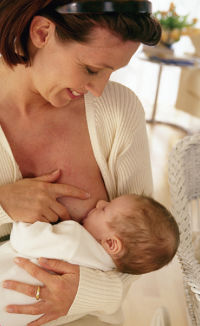 Nipple creams have been my best friends ever since I embarked on my breastfeeding journey as I absolutely fear sore or cracked nipples. This is why I was pleasantly surprised to find out Bepanthen® also contains a natural active ingredient (dexpanthenol), suitable for mothers who have sore or cracked nipples caused by breastfeeding. A dual-function cream, this is a plus point for breastfeeding mothers. Currently expecting my second child, I tried the cream and it helped to moisturize the dry areas and eased the soreness.
Letting your baby skin breathe
Unlike conventional thick pastes, Bepanthen® is transparent, has no special fragrance and is not as oily as other fragrance-free creams. It doesn't make my skin feel 'clogged'. It has a more breathable texture, allowing the skin to breathe and keeping Sam's bottoms healthy. Furthermore, I only needed a small dap (about the size of a 5-cent coin) for my boy's entire nappy area.
Rash no more
I tried the ointment on Sam's bottom where there was visible irritating nappy rash. After two hours, I was surprised to find the rash clearing up and looking less reddish and fierce as it did before. After trying out the product for a couple of days, I also noticed it helped to keep his nappy area moisturized, and even healed some of the mild rashes that he had earlier. I tried it on a fiercer rash that looked like hives, which he had due to an episode of high fever (like Roseola) but the rashes didn't go away overnight after the application. Perhaps the rash needed something stronger or time to heal.
Pros
It has a natural ingredient, dexpanthenol, a pro-vitamin B5, which encourages regeneration of skin cells allowing better protection and healing of baby's skin
It can be used as a barrier cream for babies and a nipple cream for mothers
It is Fragrance and parabens-free, making it safe for sensitive babies' skin
More affordable than other creams (The recommended selling price of Bepanthen® Ointment is $9.50 per 30g unit)
Cons
As it is ointment based, you may find Bepanthen® slightly oiler than other baby creams
You will have to try the product to determine the suitability and effectiveness for your baby as different babies may respond differently to the products in the market
If you are looking for a suitable barrier cream for your baby's delicate skin, I would recommend parents to try a fragrance and parabens-free one such as Bepanthen® as they are generally safer for babies with eczema or sensitive skin. I would definitely give this cream a shot for my second baby due in August!
About
Bepanthen® product is clinically proven to both prevent and treat nappy rash. The product contains 5% of dexpanthenol, a Pro-Vitamin B5, which is known for its skin healing and repairing properties. The presence of this natural ingredient gently aids natural recovery of sensitive skin while keeping it soft, smooth and moisturized.
Where to buy
Bepanthen® can be found in Shopee, Guardian, Watsons, Unity, Giant Hypermarket, NTUC Fairprice stores, Cold Storage outlets & Hospital Pharmacies.
By Yvonne Chee.
* * * * *
Like what you see here? Get parenting tips and stories straight to your inbox! Join our mailing list here.
Want to be heard 👂 and seen 👀 by over 100,000 parents in Singapore? We can help! Leave your contact here and we'll be in touch.