A newborn may sleep up to 16 hours a day or even more but often in stretches of 3 to 4 hours at a time. Although many cultures may endorse co-sleeping, it is recommended against bringing your infant to sleep in bed with you for safety reasons. While in deep slumber, there is a risk that your baby can suffocate or get strangled when sharing the same bed.
It is therefore important to make careful considerations while purchasing a baby cot for your newborn which they may use until they are 2 – 3 years old moving on to a full-sized bed. Here are some things to consider before purchasing a cot:
Types of Baby Crib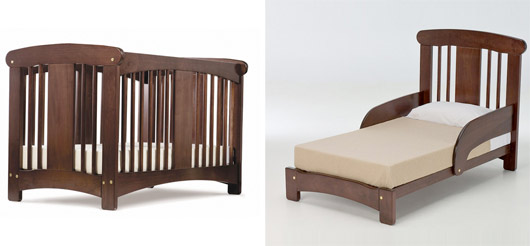 Baby cot can have the standard or convertible type. Standard cots either have a single or double layer drop side which allows for easy access to bring your baby in and out of the cot.
The convertible cot will be able to last your child till at least 5 years old. It acts like a crib during the first 3 years of your child then it could be use a toddler bed when your child grows up. Some can even be turned into an adult-size bed. Naturally, the convertible baby cot costs much more compared to the standard baby cot. There are also some cots that can be used as a changing table for your little ones. Do assess your needs before making a purchase.
Safety
It is always important to observe the safety of the baby cot. Here are some things to note:
Distances between cot slats are no more that 6cm to prevent their hands from getting stuck in between.
Dropsides when lowered are at least 23cm above the mattress support, when dropsides are raised, they are at least 66cm above the mattress support to prevent babies from falling off the cot.
Secured dropside locking mechanism. It is recommended to be able to lock or unlock with just one hand as you usually have to carry or support your baby with the other.
No loose or peeling paint, rough corners, edges or splinters.
Mattress
It is not hard to find the perfect fit for the baby mattress.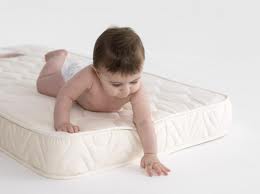 Always remember to measure the baby cot because purchasing the mattress. The perfect fit is one that will fit into the baby cot very tightly without any gaps in between. The biggest allowance between the cot and the baby mattress is one finger. It is important to check the mattress regularly and replace if you can easily insert two or more fingers into the gap.
Too soft mattresses can also pose risks toward your baby. Because it is too soft, the baby may sink into the folds thus restricting their movements. In worst scenario, this can lead to suffocation and even death. So here's the tip. Babies do not usually suffer from back pains so it will be perfectly fine to provide them with a firm baby mattress – simply choose a mattress that will give your hand just a slight bounce.
Tips: Always putting your baby in the crib for sleeping will help signal to the infant that this is the place for sleep. Keep in mind, though, it may take a few weeks for your baby's brain to signal the difference between night and day. Unfortunately, there are no tricks to speed this up except to be as consistent in your routine as possible.
This post is brought to you by Infantino Enterprise.
If you find this article useful, do click Like and Share at the bottom of the post, thank you.
Want to be heard and seen by over 100,000 parents in Singapore? We can help! Leave your contact here and we'll be in touch.