Research has shown that the first few years of a child's life are the most crucial period in terms of the child's brain development. The experiences they had in their childhood life shapes the way the children learn, think, and behave for the rest of their lives. Thus, parents should address the importance of early learning and exposure to heighten the child's holistic development. Selecting the right school for your child is essential to help your child learn skills and knowledge that will make them successful in life. Furthermore, when a child starts school in their early years, they become accustomed to interacting with other children and adults.
However, many parents may face the dilemma of choosing the right school for their child due to the wide range of pre-schools or childcare centres that are available in Singapore. These schools offer different learning approaches or curriculum and sometimes you may wonder what they actually mean and how it will actually help your child learn and develop into competent individuals. Thus, in a nutshell, we will like to introduce to you the different kinds of learning approaches that local preschools and Childcare Centres adopt that will aid you in making a better decision when choosing a school for your child.
Learning Center Approach
Learning centers or commonly known as learning corners are areas within a classroom with a collection of activities and materials for children to explore and play with. These materials are prepared by teachers to reinforce, extend and/ or enrich skills and learning. These activities and materials can be used independently by the children, individually or in groups, or even with the teacher's direction. Learning centers are an excellent way to individualize the curriculum to meet the varying needs of young children. Examples of learning centers in the school include – Library center, manipulative center, dramatic play center, block center, water/sand play center and more.
Most schools in Singapore set up learning centers in combination with other approaches to enhance the children's learning and development.
More information on Learning Center Approach can be found via gigglepotz.com.
Literature-based Approach
A literature-based curriculum uses meaningful children's storybooks as the main learning focus to help children develop life-long learning skills. The class activities and learning focus on different aspects and subjects found in the storybook, usually for a couple of weeks. This curriculum is designed to get young children to be excited about books and learning and cultivates their innate ability to become inquirers, independent thinkers, creative innovators, risk-takers and effective communicators.
Some school/s that offer this approach: Singapore's First Literature-Based Curriculum for Pre-School – Little Skool-House International
More information on Literacy-based Approach
Montessori Approach
The Montessori approach to learning is based on providing a rich environment of quality learning to children using exploratory materials. These materials will help to enhance a child's critical thinking skills, promotes their independence and gain mastery of skills and knowledge.
Montessori believes in 5 basic goals:
To awaken the child's spirit and imagination;
To encourage the child's normal desire for independence and high sense of self-esteem;
To help the child develop the kindness, courtesy, and self-discipline that will allow him or her to become a full member of society;
To help children learn how to observe, question, and explore ideas independently;
And, having created a spirit of joyful learning, to help the child to master the skills and knowledge of their society.
In the Montessori Approach, learning is guided through short presentations, where the teacher guides the children's learning through the use of Montessori materials. There are 5 specific subject focus, namely – 'Practical Life; Sensorial; Language; Mathematics and Culture'. After the presentation, the children are allowed to concentrate on learning the activity themselves.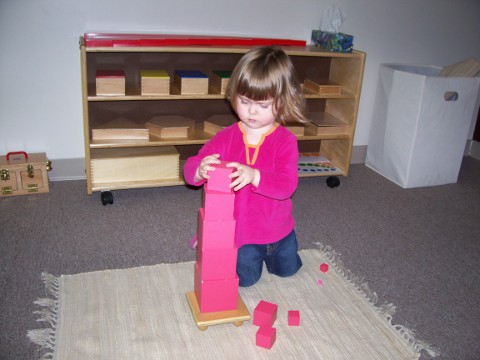 "Montessori gives your child a strong basis in the most formative and important years for developing into a responsible, happy and fulfilled person" (Maria Montessori, 1870-1952)
Some school/s that offer this approach: Greentree Montessori, Modern Montessori and Brighton Montessori
More information on Montessori Approach.
Play Approach
There have been pressures to get children ready for academic-driven focused learning and preparation for a primary school that has caused many early childhood programs to forsake the importance of learning through play. In fact, play is the foundation for academic learning. Abundant research has shown that play is essential in early childhood years to help each child reach their fullest potential. Centers who adopt the play approach believe that young children do not grasp knowledge and concepts through worksheets and rote learning, they learn better and efficiently through concrete learning experiences that are hands-on and interactive.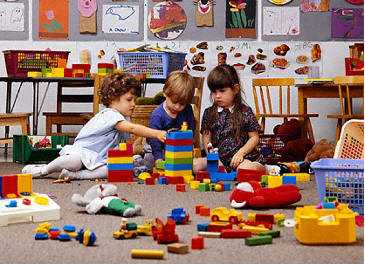 In fact, most pre-schools in Singapore adopt a play-based curriculum where children literally learn through active play experiences. The young mind is not capable of formal logic and abstract thinking. Play is how children have fun, explore, acquire skills, experience success, and build self-esteem. Through active play experience, children learn and explore the world that they live in.
When children play, they are also exploring and enhancing their ability to
tackle problems and respond to challenges
be independent, resilient and confident
persevere and concentrate
socialize and interact with children and adults
develop knowledge and self-esteem
fine/gross motor skills and general physical development
develop skills in language and literacy; math, science and etc
Play is the most natural way for young children to learn. Meaningful play experiences stimulate children's amazing minds and unleash their fullest potential – learning and development. Through play and active exploration, children pick up life-long skills and become life-long learners.
A wide range of schools in Singapore offers this learning approach.
Some schools that offer this approach: EtonHouse Pre-school, Kiddiwinkie Schoolhouse and School House by the Bay.
More information on Play approach
Project-based Approach
Children have the innate ability to explore their intermediate environment.
The Project Approach builds on children's natural curiosity, enabling them to interact, question, connect, problem-solve, communicate, reflect, and more. It is a form of learning intended to bring about a deeper meaning in what the children are learning. Unlike the traditional and structured way of learning, the project approach focuses on active participation in real learning based on children's interests and abilities. The project focus usually evolved from a particular theme or subject that the class has an interest in, and children get to lead and decided what they want to learn and explore.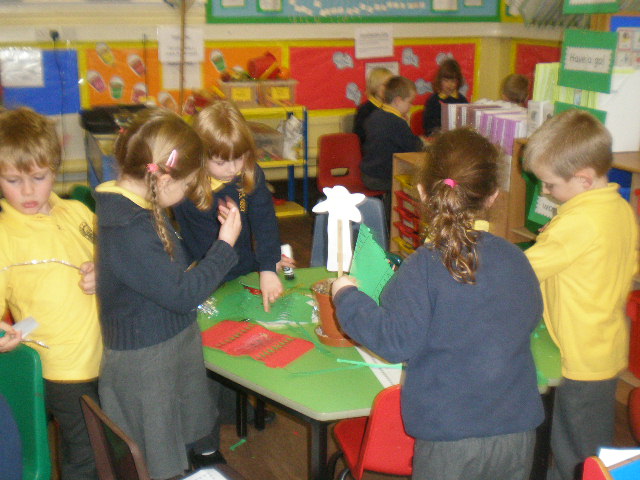 This kind of real learning extends beyond the classroom to each student's home, community, nation, and world. It essentially makes learning more authentic and fun when children are active participants of their learning and shapers of their worlds.
Some schools that offer this approach: Creative O Preschoolers' Bay and dyssey The Global Pre-school
More information on Project-based Approach
Reggio Emilia Approach
Reggio Emilia Approach encourages children to acquire skills of critical thinking and collaboration through self-directed learning. The program focus on the principles of respect, responsibility, and community through exploration and discovery in a supportive and enriching environment based on the interests of the children through a self-guided curriculum.
Besides, the curriculum also builds children's ability to problem-solve real-life events that unfold among peers, with other opportunities for creative thinking and exploration. Often, teachers work on projects with small groups of children based on her observation of children's interests during play and exploration. The children also engage in a wide variety of self-selected activities typical of preschool classrooms. Many a time, the school uses a wide range of natural or recycled materials to aid children's learning and exploration that will help them value the resources and appreciate the natural elements of the Earth.
Some schools that offer this approach: Between Two Trees Preschool and Blue House International
More information on Reggio Emilia Approach
Other pre-school / child care centres in Singapore that offer a different approach:
Little Skool-House International
At The Little Skool-House International, the curriculum is constantly adapting to the changing needs of our society. It is based on well-founded research and best practices in early childhood education. The curriculum is guided by 6 principles aiming to achieve total balance in all areas of the child's development. Each child is unique and this is reflected in the Little Skool-House's classrooms and the children's portfolios.
More information on Little Skool-House
MindChamps Preschool

At MindChamps PreSchool, it provides children with a battery of advanced learning approaches based on the latest understandings of early childhood mind and personality development. There are different kinds of programs and learning taking place in a days' program that strives to support and enhance children's development and capability.
More information on MindChamps
Learning Vision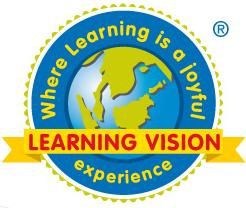 At Learning Vision, the curriculum is child-centered and empowers the students to become critical thinkers and learners. They grow up to be confident and ready for school and inspired by the love for continuous learning. The children are actively engaged in hands-on learning experiences through making independent choices and selecting their own activities. There are endless opportunities for them to explore, experiment, inquire, investigate, interact and discover ideas and concepts.
More information on Learning Vision
Each approach offered here has its own strengths and weaknesses as well as areas of difference. Some of the local preschools or childcare centers offered a balanced of different approaches combined in the curriculum. You can make an arrangement with the school to check out the environment, learn more about the curriculum as well as observe how the teachers engage and interact with your child.
Apart from understanding more about the wide range of approaches offered by different preschool and child care centres, parents may want to take into consideration how the program enhances and supports children's creativity.
Being creative means there are opportunities to (not limited to these areas)
think of new ways to do things
look at something in a new/different way
express self differently
solve problems and come up with unique solutions
create something that is new, different, original
Creativity? Is it really important for these young learners? How does it help my child to learn and develop?
The opportunity for children to unleash their creativity is not only a fun and enjoyable process. In fact, other aspects of children's development are enhanced in the process of being creative, such as:
Self-expression: Children can express what they see, feel, hear, and think; it can help a child find their own unique style
Curiosity: Children are allowed to follow through on their hunches, impulses, and natural desire to find out what things are, how they work, what will happen "if"
Exploration/Experimentation: Children can try different ways to use an object, toy, or work on a project
Imagination: Children are free to fantasize, engage in imaginative play, or come up with many possibilities for whatever they are focusing on, often trying things or coming up with possibilities we think are 'impossible'
Open-ended thinking: Children are stretching their thinking skills by not having to come up with only one possible outcome or answer
Opportunities for creative expression set the stage for other areas of the child's development. They provide a foundation for your child to acquire problem-solving skills, feel competent and confident about themselves, develop a sense of uniqueness, and help to expand their intellectual or cognitive skills, and more. These are important skills that children can use in their daily life now and in the future.
Therefore, the opportunity for children to unleash their creativity should be incorporated into the daily program. The goals of a preschool program that parents should look out for, should be one that fosters a love of learning and prepares your child for their future through creative preschool teaching.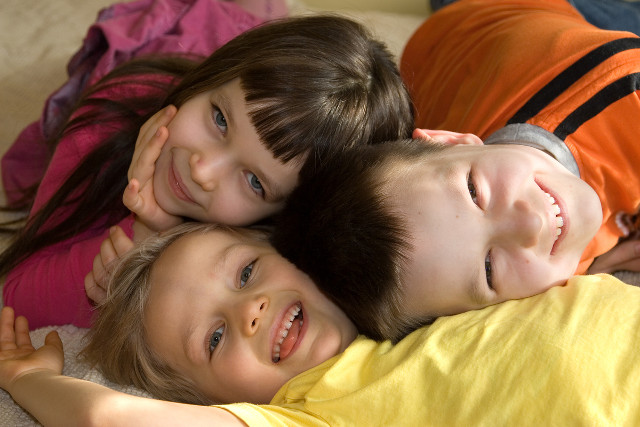 As parents, we want the best start for our children. However, we should not attempt to push too hard to move our children along the path that we want for them. Choose a school that your child likes to be in and one that you feel will nurture and support your child's learning and holistic development throughout his preschool years.
If you child is going to school for the first time, check out these Tips For Handling The First Day Of Preschool.
By Crystal Tan.
* * * * *
Have you heard of other learning approach? Is your child enrolled in a preschool or child care centre? If yes, we will like to hear from you! If you find this article on choosing a school for your child useful, feel free to forward it to your friends.
Want to be heard 👂 and seen 👀 by over 100,000 parents in Singapore? We can help! Leave your contact here and we'll be in touch.