Baby's grown up and you are now in the midst of upgrading your nursery to a child's room. Clueless on where to begin? Help is here! Here are some things to look out for in furnishing your growing child's room.
1. Safety, Always The Top Priority
As with a nursery, quality and safety should be your top priority when it comes to choosing furnishings for young children. There should not be any sharp edges, exposed electric sockets, and small detachable screws, locks or strings. Materials should be non-toxic and environmentally friendly.
2. Ace For Space
One great way to save space is to have under bed storage. This is not only great for storing your child's toys, it also makes it super accessible as kids play with their toys on the floor 90% of the time. The wardrobe needs to accommodate your child's growing stash of clothes, bags and books. Opt for full-length cupboards, drawers below the bed, bunk beds, and loft beds. These double up as furniture and storage spaces, which are great ways to save space in a small-sized bedroom.
3. Choosing The Right Colours
If you look at the colour wheel, each colour has its own complementary colour. When these colours are placed side by side, they create a strong contrast and reinforce each other. If you are looking to use more than one colour for the room, you might want to match the main colour of the room with its corresponding complementary colour.
For example, orange is the complementary colour for blue. Adding in elements of orange (an orange bookshelf, photo frames, table etc.) will make the blue walls pop and add vibrancy to the room. You can also throw in some lime coloured items here and there (plushies or storage bins) to make it an even more fun colour scheme. The key thing to note: Do not go beyond three main colours.
4. Colour Me Up! Choosing Colours For Your Child's Bedroom Walls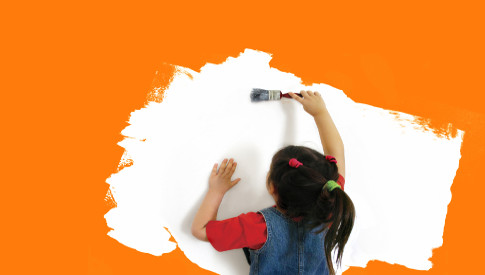 Can't decide on the colour scheme of the room? Here's a list of colour you may want to consider.
Colour theme you are looking for: Non-gender based
Go for Neutral Hues such as…
Yellow: A bright and lively colour, yellow signifies joy, happiness and optimism. If your child has 'cheery' disposition and is always smiling, this colour might suit his/her personality.
Orange: Another cheery colour, orange represents energy, enthusiasm and warmth.
Green: A colour closely associated with nature, youth and generosity, this colour may best be used for children who love nature.
Colour theme you are looking for: Specifically for a boy or a girl
Go for Gender-centric Hues such as…
Blue: The colour for boys, blue also represents peace, harmony and trust. Complementary colour – Orange
Lavender/Violet: A cool colour, lavender symbolizes femininity, grace and elegance. Complementary colour – Green
Pink: The colour for girls, pink is all about love, care and tenderness. Complementary colour – Green/Yellow
Other neat tricks:
To make the room taller or wider, paint stripes
Vertical stripes add height to the wall, while horizontal stripes widen the room
Mirrors help create an illusion that the bedroom is huge
Choose lighter shades and soft pastel colours
Darker colours emits a more serious and mature feel
5. Personalize & Fantasize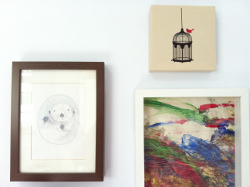 A room is not just a room, but a place of comfort and solace for your child. Your child has to feel that the room belongs to him or her. For your child to have a sense of ownership, let children have a say in how they want their room to be like. Of course, their requests have to be practical and feasible too! You can start by asking them if they have any preference for the theme or colour scheme of their room.
Here are some other ways to personalize your child's room.
Frame my name: You can also get wooden letter blocks of his name or display your child's name somewhere easily seen in his room.
That's my first painting: You can put photos of your child growing up in his or her room. Framing and displaying your child's drawings, paintings, writings will also add that special touch.
I love…Hang things that your child love or has a liking to. For example, if he loves trains, you can print a training chart or a diagram featuring all the different trains in the world.
6. This Bed is Just Right: Finding the Right Furniture
Furniture for young children is built to last. The manufacturing, material and durability of the furniture should never be compromised. The bedroom should grow with the child, which brings us to the practicality and functionality of the furniture. Go for moveable furniture instead of fixed furniture to cater to your child's needs in accordance with their developmental milestones.
7. Bed For Two: Tips For Choosing Children's Bunk Beds
Be sure to keep children under the aged of 7 off the upper level of the bunk bed
Have safety rails and ladder, regardless of the children's age
Bunk beds must be sturdy, check with the supplier on the type of wood used
Good quality furniture will have a good finish
Check that the spacing of rails is narrow so that your child's head doesn't get caught in it
As the years go by, your child should be able to play around and 'grow' with the furniture, not just through his childhood years but for post-childhood, pre-teen years as well. You wouldn't want to see your kid outgrow the furniture in the bedroom so quickly because that means you got to fork out more money to purchase new furniture.
* * * * *
Like what you see here? Get parenting tips and stories straight to your inbox! Join our mailing list here.
Want to be heard 👂 and seen 👀 by over 100,000 parents in Singapore? We can help! Leave your contact here and we'll be in touch.