Weaning refers to the period during which an infant is gradually introduced and becomes accustomed to a range of foods. Up till the age of six months, all the nourishment an infant needs comes from either breast milk or infant formula milk. After six months, weaning becomes important in order to meet the changing nutritional needs of the growing infant.
Infants should gradually be introduced to a wide range of foods with different tastes and textures. Do remember to give your baby time to get accustomed to the new foods, as well as to set their own pace of feeding.
An infant's first food must suit his ability to eat. As such, the first food should be soft, smooth and runny in consistency. As an infant's ability to chew and bite develops, texture of the food can be varied (e.g. mashed, lumpy, minced), to allow the infant to experience a wider variety of food.
An infant should be exposed to a variety of foods from the four main food groups:
Rice and alternatives (e.g. cereal, potato, bread)
Vegetables
Fruits
Meat and alternatives (e.g. fish, chicken, beancurd)
Some of these weaning foods are as follows: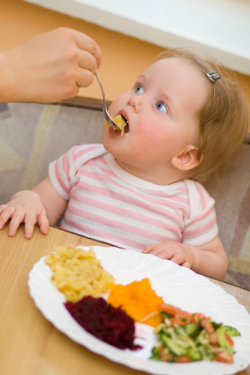 1. Rice is a good first weaning food as it is least likely to cause any allergic reaction. Infant rice cereal is relatively bland in taste and is thus likely more acceptable to babies especially when mixed with breast milk or formula. It also provides necessary iron at a time when the infant's levels of iron are most depleted – this usually occurs at around six months of age.
2. Sweet potato and butternut squash are good sources of vitamins and fibre, have a smooth texture when pureed, and mix well with other vegetables.
3. Carrots are rich in vitamin A, and make an excellent weaning food as they are naturally sweet.
4. Spinach is rich in iron, calcium and vitamins (A, C, K and folate).
5. Broccoli is a popular weaning food due to its easy-to-grip stalk, and is another great source of vitamins, minerals, calcium and fibre.
6. Apple and pear are great first fruits, and are easily digested when cooked and pureed.
7. Banana and papaya do not require cooking, and can be easily mashed up with a spoon or fork. Banana can also be served in large chunks for baby to hold and gnaw on.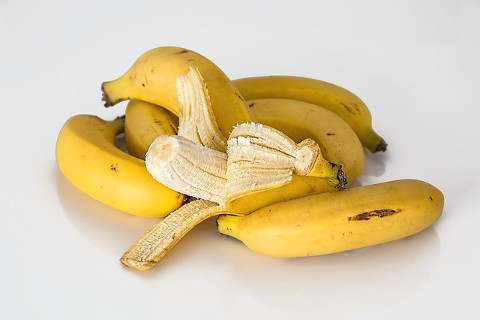 8. Tofu (Soy beancurd) is rich in iron, protein and calcium, and is a very versatile food which can be eaten raw, sautéed, or incorporated into soups. It also serves as a good baby finger food, and is a great alternative for meat. Tofu (along with other protein sources like meats) is generally given around eight months old as it may be more difficult to digest.
9. Legumes (e.g. lentils, chickpeas) are rich in protein, fibre, vitamins (A, C, folate), and minerals (including calcium and iron), and are typically introduceed at around eight months old, as it may be more difficult to digest.
10. Water and Juices: Although the infant will still drink plenty of milk when they start solids, they can also begin to enjoy other drinks during mealtimes. Water or well- diluted fruit juices (one part fresh fruit juice to 10 parts boiled cooled water) can be given.
Remember that good eating habits start early, so it's important to introduce your baby to a wide variety of foods during the weaning process. Experimenting with new and varied textures early on also leads to fewer food refusals and a better acceptance of new foods later on in childhood.
By Dr Tan Zhen Han from SBCC Baby & Child Clinic (Mount Alvernia).
Practice Address:
Mount Alvernia Medical Centre (Blk A)
820 Thomson Road #01-01/02
Singapore 574623
Tel: (65) 6354 1922
For more information, go to www.sbcc.sg
This article was first published in The New Age Parents e-magazine.
* * * * *
Like what you see here? Get parenting tips and stories straight to your inbox! Join our mailing list here.
Want to be heard 👂 and seen 👀 by over 100,000 parents in Singapore? We can help! Leave your contact here and we'll be in touch.