Surrounded by greenery and sounds of nature, the Nature Playgarden at HortPark is designed with pre-schoolers in mind to encourage children to spend more time outdoors and reconnect with nature.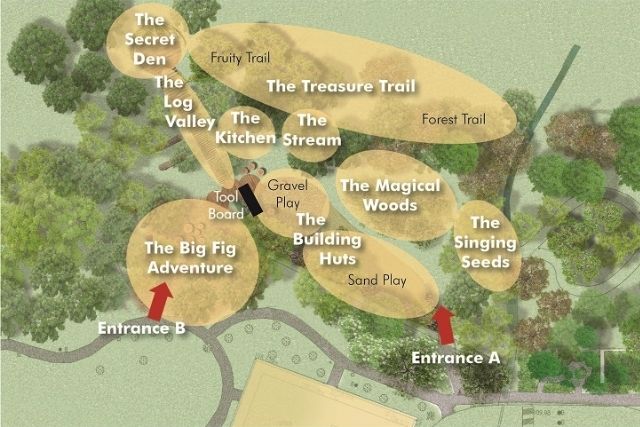 Photo credit: NParks
➡️ Related Read: Benefits of Exposing Your Children to Nature
Let children's imagination run wild as they explore the nine different play features!
1️⃣ The Building Huts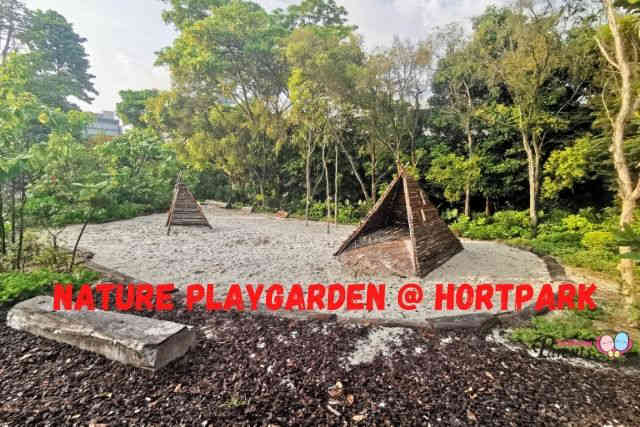 Children can work together to build houses and castles using natural materials such as timber cookies, wooden poles and tools provided at the Tool Board next to The Building Huts. This encourages children to use their imagination.
2️⃣ The Singing Seeds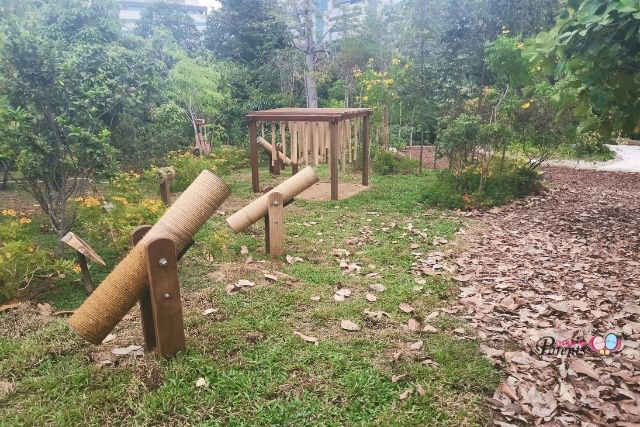 This area for musical play is made up of hanging bamboo poles of different sizes, creating different pitched chimes as children move the poles, or when the wind blows. There are also hollow musical seesaws and wheels filled with seeds from the Saga Tree (Adenanthera pavonina), Rubber Tree (Hevea brasiliensis) and seed pods of the Rattleweed (Crotolaria retusa), where children can rock and spin to listen to the percussion of the rolling seeds.
3️⃣ The Magical Woods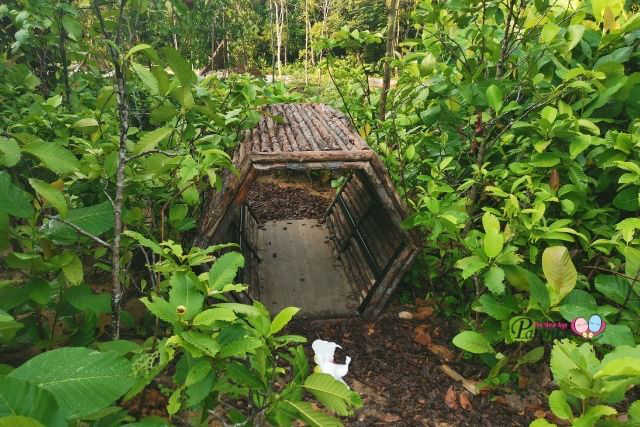 Children can also get up close to the plants and observe birds and insects that pollinate the flowers and eat the fruits of the Dillenia species.
4️⃣ The Stream
Children will encounter water flowing through a series of channels carved from logs. The sight and feel of water stimulates the senses and allow children to explore materials that can float or sink, and manipulate the flow of water as they construct their own dams in their imaginative play.
5️⃣ The Kitchen
This area for kitchen play has a table surrounded by fruit trees in The Treasure Trail where children can pretend to cook with some cooking tools.
6️⃣ The Big Fig Adventure
Besides a material connection with nature, the stepping stones allow the children to challenge themselves as they climb, balance, or jump, and develop their motor skills and physical fitness.
7️⃣ The Log Valley
Connecting the The Kitchen to The Big Fig Adventure is a series of crossing decks made of logs. After rain, children can also observe the flowing water in the drain, enhancing the experience of the place through seeing and hearing water, and alludes to the natural process of the water cycle.
8️⃣ The Secret Den
Children can take shelter from the elements, or to spend some quiet time individually or bond in small groups under a grove of bamboo. The sunlight streaming through the bamboo also creates diffuse lighting with changes in light and shadow as time passes, adding an extra dimension to the space.
9️⃣ The Treasure Trail
Things to Note:
The playgarden is closed on Mondays for maintenance (except when Monday falls on a designated public holiday).
Although HortPark is opened from 6am to 11pm, the playgarden is lit by natural sunlight only. For your own safety, please refrain from entering at night or during bad weather.
How to Get to Nature Playground at HortPark Singapore
Address: 33 Hyderabad Road Singapore 119578
Bus: 10, 30, 51, 57, 61, 93, 97, 100, 120, 143, 166, 175, 176, 188, 963
Nearest MRT: Pasir Panjang MRT
Opening Hours: 6am to 11pm
Admission: FREE
Website: nparks.gov.sg/hortpark/nature-playgarden
Places within HortPark to check out:
HortPark Playground

HortPark Butterfly Garden

HortPark Water Garden
Nearby places to check out:
Alexandra Arch

Southern Ridges
* * * * *
Like what you see here? Get parenting tips and stories straight to your inbox! Join our mailing list here.
Want to be heard 👂 and seen 👀 by over 100,000 parents in Singapore? We can help! Leave your contact here and we'll be in touch.