When is the best time and what is the best method to introduce your child to letters, sounds and words?
All you need are two main ingredients – start them young, and make it fun.
And what spells fun to kids?
Play of course!
But first, let's find out why play is so important.
Why Play?
#1 Play is an integral part of a child's well-being and happiness. Even the United Nations enshrines play as a basic right for all children.
#2 Play and learning go hand-in-hand. In the history of Early Childhood Education, play pedagogies have always been core features.
#3 Play is how children make sense of their world. This is the time when they organise and make sense of their social world through their interaction with people, objects and representations.
Did you know that skills associated with play lead to better grades too?
In one study, it was found that a child's social skills in third grade were the best predictor of academic performance in eighth grade.
So how does the British Council integrate play in their curriculum to deepen a child's learning of English?
British Council's New Nursery Programme: Learning Time with Shaun and Timmy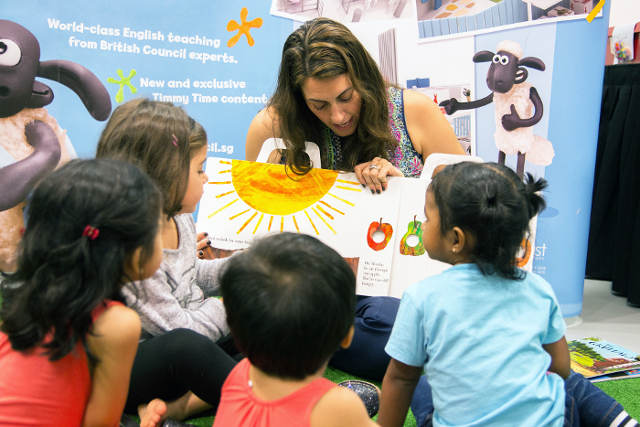 In partnership with the world-famous Aardman animation studios, their Nursery 1 – 2 course "Learning Time with Shaun and Timmy", is themed around the famous children's film and TV characters, Shaun the Sheep and the lamb of the flock, Timmy.
Through engaging lessons based on real topics and themes from the episodes of Timmy Time, the Nursery 1 curriculum aims to build your child's awareness of sounds, pre-reading and writing skills.
What's unique is that the classes also focus on key social skills, such as managing feelings, relating to others and participating confidently.
In the Nursery 2 curriculum, play takes the form of interactive and fun games, to build confidence, creative thinking and socialisation skills.
Expect role playing and speech and drama sessions to build your child's confidence.
Students will also be introduced to single letter sounds both orally and in written form through British Council's Timmy Time Phonics programme. Phonics learning is linked to the lesson's focus to give students context to new sounds and letters.
See also: Interview With Lia Testa Teismann, Academic Manager At British Council
Never Too Early To Set A Strong Foundation
British Council's Nursery Programme sets the foundation for literacy and writing. By the end of their pre-school programme, your child will be reading with greater confidence and fluency!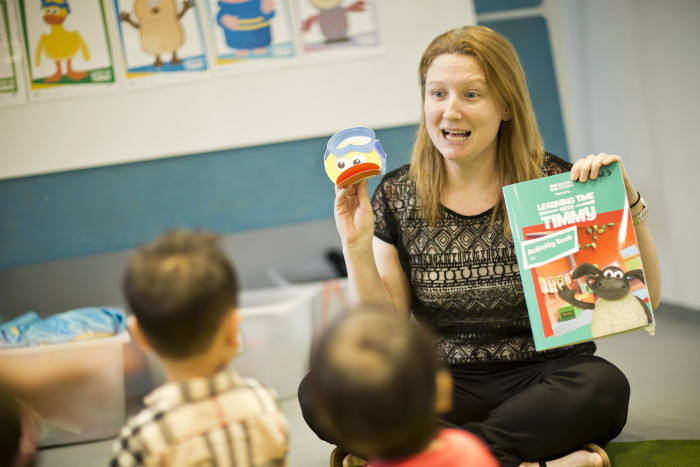 What your child will experience in the Nursery course:
kinaesthetic activities and games
thematically linked arts and crafts projects
participate in storytelling
role play and speech and drama
class discussions
learn simple phonics through Timmy Time Phonics programme
What your child will gain:
a life-long love of learning
early reading and listening comprehension skills
the ability to recognise and read letters, numbers and shapes
the ability to identify single letter sounds both orally and in written form
a wide range of vocabulary
a broad set of socialisation skills
the ability to speak with greater confidence
Why British Council?
British Council is the UK's international organisation for cultural relations and educational opportunities. For several decades, the British Council has helped elevate the English standards of pre-schooler, primary and secondary school students in Singapore. Through well-planned courses by highly-qualified and experienced teachers, their pre-school enrichment course hopes to nurture children's interest in the English language, through a fun, interactive and playful learning environment.
Now Offered at Tampines!
Stay in the east? British Council is now offering its Nursery 1 course at their Tampines centre from 2018. The Nursery 2 and Kindergarten courses are also available at their Napier Road Centre, Marsiling Centre and Toa Payoh Centre.
For more info, visit www.britishcouncil.sg/english/courses-pre-school/nursery.
This post is brought to you by British Council Singapore.

If you find this article useful, do click Like and Share at the bottom of the post, thank you.
Want to be heard and seen by over 100,000 parents in Singapore? We can help! Leave your contact here and we'll be in touch.