Lia has been teaching for nine years, five of these at the British Council Singapore. She is married to Matthew, a General Counsel and has two children, Josephine, 7 and Quentin, 3. She is particularly interested in teaching secondary students, but really loves all types of language learners!
Besides enjoying developing course materials and teaching vocabulary, the 36-year-old mother also reads, does yoga and learn new languages in her free time. We spoke to Lia on how motherhood has changed her.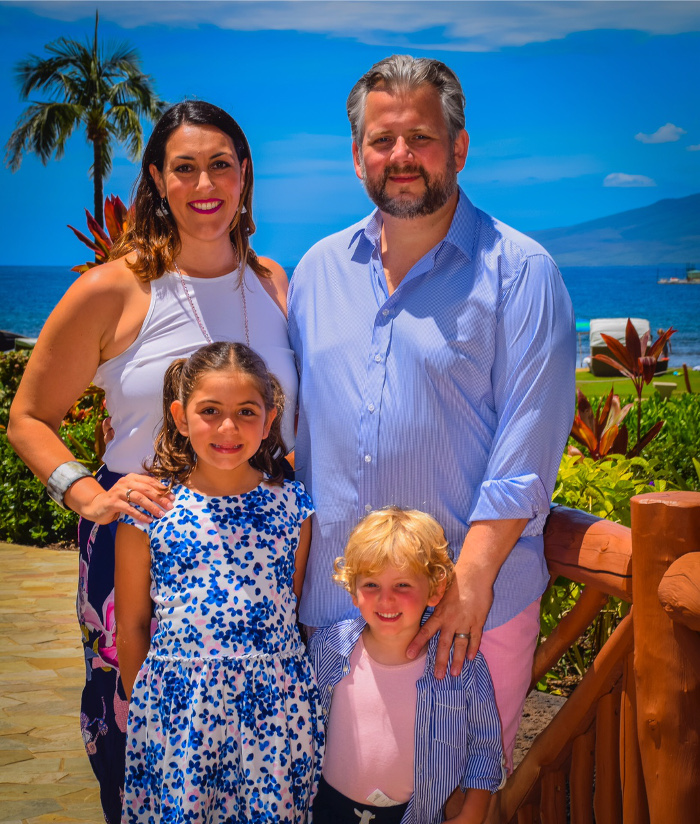 Hi Lia! We heard you've lived and taught in France, Monaco, South Korea, the USA and now Singapore. What was it like living and teaching in these countries?
I have really enjoyed living and teaching in countries around the world. I have been able to get to know each culture closely and I have learned unique things from all of these places and my experiences there. Each country has inspired my teaching and me as a person and a mother.
Monaco and France encouraged me to enjoy life, have a work-life balance and taught me the importance of sitting down together as a family for meals. South Korea opened my mind to how hard it is to adapt to a language with a different alphabet and it made me more curious about cultures that were very different from my own. The work ethic in Singapore among both parents and students always motivates me to keep pushing myself to develop and grow. I was born and grew up in America and I think my confidence and curiosity come from my time living and working there.
I have also had the opportunity to meet great people in all these countries and now I have friends all over the world. It's always difficult deciding where to go on holiday and who to visit. My Christmas card list is longer each year!
At which country did you give birth and raise your children? What was the experience like?
This is my second stint in Singapore. I had my daughter Josephine at Gleneagles Hospital here almost exactly 7 years ago – she proudly calls herself Singaporean now that we are living here again. I had my son Quentin three and a half years ago in Monaco when we were living there.
Giving birth in both places was great and I had positive experiences both times, but they were very different! In Singapore, I saw my doctor every three or four weeks and towards the end, once a week to make sure everything was okay. He was very thorough and careful. In France, there is a much more laid-back approach to delivering children. I was left to my own devices a lot, which in a lot of ways was helpful in keeping me calm. If they were so calm, everything had to be okay, right?
A funny anecdote about the differences between the two countries – My doctor in Singapore said to be careful to limit my alcohol intake to three glasses a week while I was pregnant, but that most foods in Singapore were clean enough to not cause a problem. In Monaco, my doctor gave me a long list of food to avoid – ham, soft cheese, salad, etc. – and to not drink any alcohol. If I needed a release though, three cigarettes a day were ok!
What was the biggest challenge you faced after becoming a mother? How did you overcome it?
As a teacher, I know that if children are a bit slow to pick up a skill, cutting in straight lines or phonics blends for example, they will eventually pick it up – the pace at which they learn these skills is certainly not a sign of their intelligence one way or another. As a mother, though, it's hard to "talk yourself off the ledge" when you see that your child is the one that isn't doing arithmetic as well as their peers or jumping on one leg or whatever benchmark skill they "should" be on. I try to let the logical teacher manifest herself to my children and not the panicked mother that I am inside!
How do you think motherhood has changed you for the better?
Motherhood has made me more patient and more selfless. As a mother, I think you learn quickly that life isn't all about you, even if you thought it was before you had children. Learning to put these traits into practice with my own children has made it easier with my team of teachers at work, my students, my girlfriends and my husband.
On motherhood: What surprised you the most?
How much time my kids want to spend with me! And, how much energy spending time with them takes. I like a little downtime by myself to read or do yoga, but with kids, carving out that time for yourself can be very challenging.
On the other hand, it's lovely how happy my kids are when I come home from work. Even though I've spent the day with other people's children and I'm quite tired, seeing how thrilled my children are to see me gives me a boost of energy to play dollies or super-heroes or whatever the current interest is.
What's your parenting philosophy? Does your teaching philosophy spill over to your parenting methods as well?
My parenting philosophy is to let them grow and develop at their own pace. I try not to push but instead get involved in their interests. For example, my daughter does Taekwondo and recently started sparring.
In order to progress to the next belt level, she needs to spar with a peer and demonstrate a pattern of movements – kicks, blocks, punches, etc. She loves the sparring but struggles before each test, gets nervous, doesn't want to go and so on.
I try to walk this fine line between not pushing her – so that the activity is still fun – and still encouraging her to keep going and do her best.
I've learned that the best way to do this is to get involved. I get her to teach me each belt pattern and then we practise together. When she looks confused, I tell her I'm confused too and that we should practise that bit together more. That seems to have worked.
My teaching "persona" definitely spills over! One thing I learned early on in my teaching career is to check that students understand what you say when giving instructions or teaching a new concept.
So when I'm giving instructions at home:
"Josephine, please put on your white sandals. No, you can't wear your flip-flops"
I'm always adding a checking question:
"Which shoes are you going to put on?"
("White sandals, mama")
"When are you going to do it?"
("Now, mama")
I've even been known to do it to my husband:
"So, honey, which three things are you going to pick up at the grocery store?"
He doesn't love it!
Do you think being in the teaching sector helps you in your parenting skills? If yes, how so?
My experience in the classroom has certainly made me a very good bedtime story reader, field trip chaperone, homework tutor and nursery-rhyme singer. I know a lot of the best and most popular children's literature and I'm very up to date on what's trending with kids and teens!
As far as the important skills – patience, encouragement, setting a good example, disciplining – knowing the theories and best practices in the classroom absolutely help me parent with more wisdom and confidence, at times. It certainly doesn't translate to carrying it out with my own children all the time.
One thing I've learned is children want attention from their parents and teachers – and they will get it any way they can! If we praise them with lots of attention for all the good they do, I have found that they will do more good.
With my own kids, for example, I try to be consistently positive about their achievements. I try to use positive reinforcement as much as possible – rewarding them for good behaviour and doing my best to ignore bad behaviour. If I do have to draw attention to the negative, I try my best to point it out and then elicit from them why it isn't good to behave that way. Sometimes I go back to my checking questions! Are you going to do that again? (No, mama) what will you do instead…
We heard your 3-year-old son doesn't watch cartoon and is a great fan of  a particular rock band?
My son, Quentin, is currently obsessed with the rock band, Led Zeppelin. Instead of watching cartoons or playing with cars, he listens to Led Zeppelin over and over while either strumming his ukulele or playing an air guitar. He can identify Robert Plant, Jimmy Page, John Paul Jones and John Bonham and which instrument they play, how old they are, what they wear, what they like and he knows most of the group's songs. His favourites are Houses of the Holy and Kashmir.
I think Quentin genuinely believes that he is Robert Plant. He won't let us cut his hair. He wants to wear button down shirts open "to be like Robert Plant" and he reminds anyone who will listen that he has blond hair like Robert Plant. (The blond hair is a bit of an anomaly in our mostly brunette family)
The other day we went to the hair salon for my daughter.
He had recently had a haircut, so I said, "We're only cutting Josephine's hair today; you want to keep yours long, right?"
He said, "Yes, because I'm Robert Plant."
Then the stylist said, "Yes, if you cut it, it won't look like Robert Plant anymore."
Well, my three year old heard "It doesn't look like Robert Plant anymore" and spent the rest of the time in the salon crying that he doesn't look like Robert Plant!
Photos courtesy of Lia Testa Teismann and British Council.
* * * * *
Like what you see here? Get parenting tips and stories straight to your inbox! Join our mailing list here.
Running a service or business targeted for parents? Reach out to a wider audience in our Best Enrichment Classes compilation. Leave your contact details here and we will get in touch with you.