Thinking of updating your child's room? As children are extra sensitive to colours, having a better understanding on the basic principles of colour psychology can help you in picking a suitable hue for the walls.
Colours not only have the power to change the appearance of a bedroom but have also been said to evoke emotions and affect moods. Based on the colour choices, a child's environment can either excite, inspire, soothe, or even agitate. The principles of colour psychology should only be treated as a basic guideline rather than hard and fast rules.
The colour experts at AkzoNobel, producer of leading decorative paint brand Dulux, weigh in on 5 popular colour schemes for children's bedrooms, and how it can create a positive everyday environment for your child.
1. Green
Green, the colour best reminiscent of nature, has a calming and soothing impact on a child. Research shows that incorporating shades of green within the room has the effect of improving a child's reading speed as well as comprehension ability. Pair this with wood furniture pieces for an earthy jungle vibe.
2. Orange
Associated with youth and friendliness, this warm shade is great for encouraging confidence, extroversion and independence in children. Orange also inspires communication and cooperation due to its social nature which puts people at ease.
⇒ Related Read: 8 useful tips to build confidence in children
3. Red
Red, with its energizing abilities, is great for stimulating your child's mind. However, red works best as accents as research shows that overusing red could cause aggressive behaviour and an inability to focus. Use red to create shapes or patterns on a plain wall for a fun effect!
4. Blue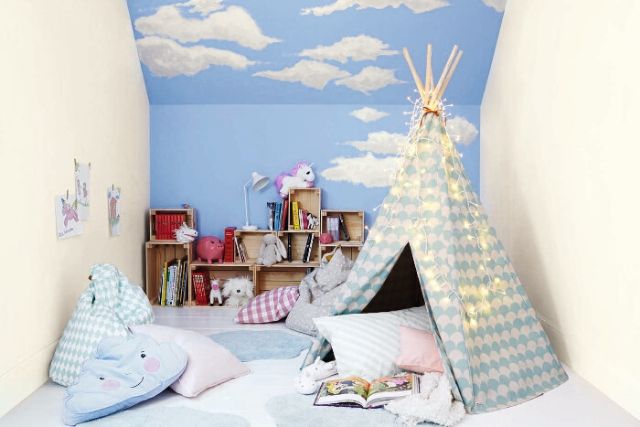 Using blue creates a soothing and relaxed environment, which decreases feelings of anxiety and aggression, as well as lowers blood pressure and heart rates. This is an especially useful colour for children who experience tantrums or face any behavioural issues.
⇒ Related Read: Toddler room ideas: Special small spaces
5. White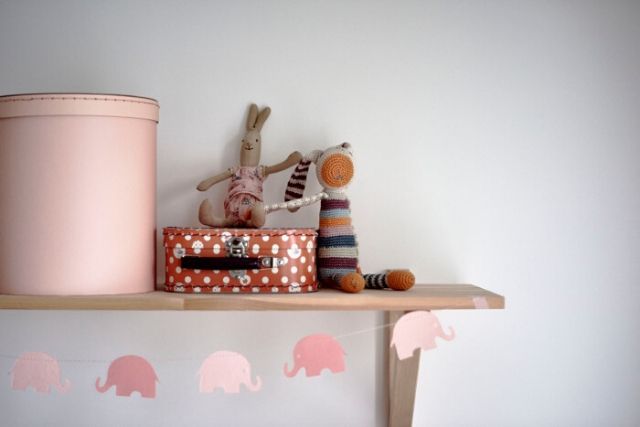 Children's rooms do not always have to be dressed in bright colours in order to invoke a sense of fun. Opting for a neutral colour such as white can create a bright, open space for your children.
Soft whites typically have a soothing effect, while cool whites can aid in concentration. White walls also act as a great canvas for you to play around with brighter forms of furniture pieces.
Don't be afraid to get experimental and incorporate various colour schemes into your child's room! Harmonizing both green and yellow tones is a great way to get creative and inject some fun into the room. A study from The American Medical Association shows that using such natural colours to bring a sense of the outdoors into your children's room will give them the chance to immerse into nature, resulting in smarter, healthier and happier children. Such colours can also help spark your children's creativity, imagination, and interest in the outdoors.
➡️ Related Read: Why You Should Let Children Experience the Great Outdoors
Get your kids involved!
According to Dulux research, 92% of kids say that they would spend more time in their bedrooms if they had helped to plan it themselves, as doing so allows them to develop a strong sense of ownership. Dulux's innovative new tools allow families to do just that. With the Dulux Visualizer app and the Dulux Colour Play Testers, you can now "see" and "test" wall colours together with your kids in a fun and interactive way even before the actual painting process.
The Dulux Visualizer 3.0 mobile app incorporates augmented reality and video visualization to help you better see the desired coloured pairings in any room setting. The Dulux Colour Play™ Tester comes in handy for testing out actual colours on the walls. Available exclusively to Singapore, this innovative palm-sized paint tester allows surfaces to be applied quickly and evenly. With over 2,000 available shades, the options are endless.
For more information, visit here.
If you find this article useful, do click Like and Share at the bottom of the post, thank you.
Want to be heard 👂 and seen 👀 by over 100,000 parents in Singapore? We can help! Leave your contact here and we'll be in touch.