Singaporean-designed Seal Characters Up the Cool Factor at Snow City
Chipsley family joins Arctic Avengers to help spread love for our environment
Snow City today welcomed the Chipsley family to join its current stable of Arctic Avengers to help visitors discover more about combatting global warming. Consisting of six arctic seal characters, the Chipsleys were created by Singaporean entrepreneur Benny Tay to celebrate universal love for one another and for the environment that we live in. The characters have amassed more than 600,000 fans online and are expected to contribute to the Snow City's average annual visitorship of 250,000.
The unique showcase will offer students and their parents more reasons to wind down and chill out after the school examination period. Visitors can participate in storytelling sessions designed to raise environmental consciousness. They can also explore the interactive snow cottage that features four of the Chipsley characters, and a short tunnel that offers exclusive access to the Chipsleys' slide carved from snow. The Instagram-worthy snow-capped scenery also includes majestic snow sculptures of the Chipsley characters.
"Last year was the hottest year ever recorded globally and the trend is continuing into 2017. It is extremely timely for Snow City to host the Chipsleys now and offer activities that are tied to bringing awareness about climate change issues that the world is faced with. The collaboration will offer fun and inspiring moments that also make visitors think about environmental issues and how we all have a role to play in protecting our planet," said Norazani Shaiddin, General Manager, Snow City Singapore. "We are also extremely proud to feature a fellow Singaporean's creation. Benny Tay is passionate about the cause and we hope that the Chipsleys continue to spread the word about loving our families and the environment beyond Singapore."
The conceptualisation for Chipsleys began in 2013 as a show of Tay's affection for his wife during their courtship days. Without any training in the arts, the interior designer developed a family of six artic seals that he hopes to introduce to the rest of the world. The Chipsleys gained a spike in popularity last year via social media platforms and have been invited to participate in toys, licensing and attraction fairs within the region. The Chipsley's Facebook page is projected to hit its first millionth fan by the end of the third quarter this year.
"The Chipsleys represent a family of love, looking for a home to settle around the world while making a conscious effort to conserve the environment. I wanted to create something that Singapore can call its own. While these spirited seals have won over the hearts of many young people, especially children across Malaysia, Indonesia, Vietnam and Hong Kong, we hope that more people in Singapore can identify with the Chipsleys and enjoy fun times with their loved ones at Snow City," said Tay.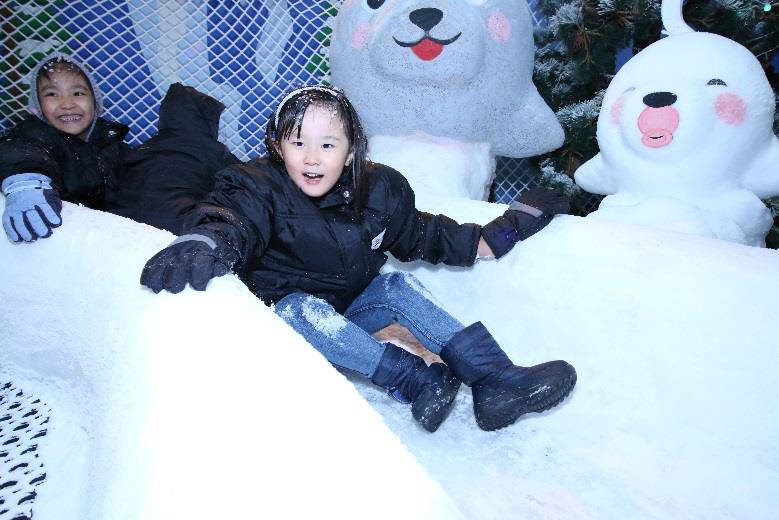 In addition to snow play and photography, visitors can immerse themselves in learning how global warming caused the Chipsleys to lose their home in the North Pole to an avalanche. Fun-filled activity booklets will be available for young visitors. Fees for one-hour snow play sessions are at $12 per child and $15 per adult for Singapore Citizens and Permanent residents, and $18 for foreign visitors. Bundled deals are available for visitors entering more than one attraction at Science Centre Singapore, through SISTIC.
Photos Credit: Science Centre Singapore
---
Chipsleys Background
The Chipsley® Family originated from the North Pole and lived in their cosy cottage at the foot of a snow mountain. One unfortunate day, while the Chipsley Family were out on a picnic, the melting snow caps caused by the rising temperatures of Global Warming destroyed The Chipsley® Family's cottage and they were left homeless.
With dangerous snow avalanches and the shrinking glaciers, Chipsley now feels that the North Pole is no longer a safe place to stay and is travelling the world with his family to find a new place where he can call Home.
Chipsley® continues with his wacky ideas (business and personal) while his pups embark on their own adventures; all this time, with Khippy trying to keep them from going out of control as the Chipsley® Family travels the world to find a new home.