A big part of the Christmas period is the shopping for presents – bigger, better, more beautiful than last year's. Then, there are the usual staples of planning and preparing Christmas lunch or dinner, finding sparkling new outfits for the family, setting up and decorating the tree, writing endless Christmas cards, wrapping presents, catching up with friends back for the holidays, making a trip downtown to see the Christmas lights, etc… and its no small wonder we often end the season of joy exhausted, broke and disillusioned.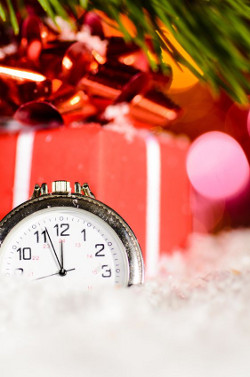 The Battle Against Time
Sometimes, we tend to focus so much on the details that we forget the bigger picture. We lose out on what really matters. As we try to juggle all the Christmas 'necessities' and activities, we tell ourselves that the family just has to roll with the punches. We comfort ourselves that whatever time we have with the kids, we'll make it quality time.
All year round, we're fighting for time. Any parent will testify that there are not nearly enough hours in a day. Having the space to just be with our family and not be running an errand or clocking in homework hours is a rare luxury few can afford on a daily basis.
Christmas shouldn't have to be that way too.
Your children don't just want the remnants of your time – even if it is well-spent. It's no use giving them lots of quantity time while your heart and mind are far away, but it's just as futile offering them mere minutes of your undivided attention at the end of the day. Your children want you – in fact, they need you, although they may not say so.
There is no better gift, than being in the present
This Christmas, aside from that beautifully wrapped gift you've prepared for putting under the tree, take up a personal challenge to give your family something truly special – the gift of your presence.
It will take some huge sacrifices on your part. It may not burn a hole in your pocket, but it can write you off some "friends'" social lists. Your house might be far from being magazine worthy. You might not ever find the 'perfect' dress. And your Christmas card list will definitely be cut down to size.
But what will you gain? Oh, the benefits are priceless! A joy-filled heart instead of a calculating one. Paint stains on your hands from card-making instead of finger cramps from too much writing. A slightly lopsided Christmas tree, but one strung with love. Less picture-perfect photos to print, but more irreplaceable, magical memories.
➡️ Related Read: Where to Buy Christmas Trees in Singapore
The Gift Of Nothing
In his book, "The Gift of Nothing" by Patrick McDonnell, Mooch, a cat, wants to give his friend, Earl, a special Christmas gift. He racks his brains for ideas, and checks out the stores, but to no avail. Finally, he has a brainwave! He takes a big box from his storeroom and wraps it up with a bow. Earl opens the beautifully wrapped box and is surprised to find it empty.
"There's nothing here," said Earl.
"Yesh!" said Mooch. "Nothing… but me and you."
So Mooch and Earl just stayed still
and enjoyed nothing
and everything.
This Christmas, choose to give your family the gift of your precious time.
It will cost you nothing, but it could mean everything to them.
By Dorothea Chow.
This article was first published in The New Age Parents e-magazine.
* * * * *
Like what you see here? Get parenting tips and stories straight to your inbox! Join our mailing list here.
Running a service or business targeted for parents? Reach out to a wider audience in our Christmas Gifts compilation. Leave your contact details here and we will get in touch with you.