Down The Rabbit Hole
Date: 7 July to 29 October 2017
Time: Wednesday – Thurday 9.30am – 5.30pm | Friday – Sunday & Public Holidays, 9.30am – 6.30pm
*Closed on Mondays and Tuesdays.
Admission: Free
Down The Rabbit Hole is an interactive visual arts exhibition that invites you to hop, skip, climb and crawl to explore the hidden world of animals that live underground. Meet some unexpected furry friends, amazing insects and tiny little creatures and be wowed by their mysterious underground homes as you make your way through the installation.
About the Artist
Poh Ya See is a mixed media artist whose practice weaves current social trends with personal experience. She constantly seeks to put a smile on the faces of her audience by expressing quirky and whimsical narratives in her art pieces through a pallet of cheerful colours and a medley of motifs.
---
Baby Space
Date & Time: 14, 21 July, Friday at 10.30am and 1pm
8, 9, 15, 16, 22, 23 July, Saturday and Sunday at 10.30am
Admission fees: 1pm and 3pm $18 per parent-baby pair
For more information, visit here (pre-registration is required as slots are limited)
Baby Space is a multi-sensory installation designed for babies 16 months and under. It is where contemporary dance, music, poetry and visual art meld together to form an immersive encounter with the arts. Babies will be encouraged to interact with the dancers and explore the installation in their own unique ways even after the performance is over.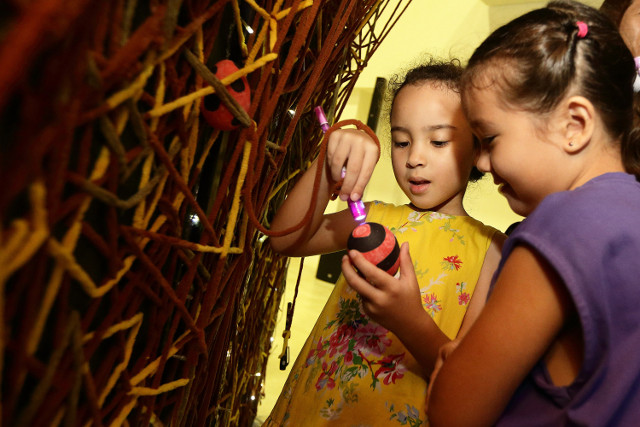 About the Creator
Dalija Acin Thelander is an award-winning choreographer, theatre maker and cultural worker based in Stockholm, Sweden. Her work aspires to contribute to the notion of choreography as an expanded practice and focuses on the sensuous interrelationship of body, mind, and environment. She is involved in the research and creation of contemporary dance for babies and children and lectures on the importance of these early encounters with art.
She is the initiator and coordinator of the Generator, a collaborative platform that develops dance theatre for children in the Balkan region. She is also the co-founder and coordinator of Station Service for Contemporary Dance Belgrade and co-founder and co-curator of Kondenz, a festival for performing arts, in Belgrade, Serbia. She is also the co-founder of Nomad Dance Academy for which she initiates, curates and produces numerous programmes and productions.
---
Gardening Workshops At The Good Garden
Date: Year-round programme
Time: Wednesday – Thurday, 9.30am 5.30pm | Friday – Sunday & Public Holidays, 9.30am – 6.30pm
*Closed on Mondays and Tuesdays.
Admission Fees: Free admission during the opening month of July 2017
Fees apply from August 2017 onwards
For more information, visit here
The Good Garden will be home to a host of gardening workshops brought to you by Cultivate Central throughout the year. Participants will get the opportunity to engage with and experience nature, creativity and art through the wonderful world of urban food gardening. Our series of Creative Urban Gardening workshops will offer a seed to plate experience that will help foster a deep connection with food and where it comes from. Join us at The Good Garden to get your hands dirty while you work with nature.
About Cultivate Central
Cultivate Central has been dedicated to helping people grow food in small urban spaces since its inception in 2014. It aims to make growing food and living sustainably second nature to children. The team behind Cultivate Central comprises of permaculture designers and apprentice urban farmers.
Permaculture design principles aid in creating beautiful and bountiful compact food gardens and building spaces to encourage observation, artistic expression, creative problem-solving and play. The team designs and creates simple urban food growing solutions to give everyone living in the city the opportunity to grow some food despite space and time constraints.
Photo credit: Courtesy of the National Arts Council