There is something alluring about rows of freshly baked bread and pastries, all lined up in trays staring back at you. If you are a bread or pastry lover, it would be hard to walk past by Swissbake without stepping in.
Home-Made Freshness In Every Bite You Take
With over 51 retail outlets, bread corners and cafes across Singapore, Swissbake offers an assortment of fresh premium bread and confectionery. Founded 11 years ago by award winning Swiss Pastry Chef Mr Xavier Baumgartner; Mr Xavier's philosophy behind Swissbake is to use the finest quality recipes from natural ingredients.
Swissbake Cafes
Did you know they also have their own cafes? 14 to be exact, with 1 more cafe slated to open by the end of this year.
The cafés are designed with a touch of European feel. A relaxed and friendly atmosphere, it is a great place for catching up with old friends or having lunch with your colleagues. Now, time to fill our bellies.
Make it a set meal
We chose our lunch set menu and made it a meal. You can choose any of the two items below for only $5.90!
Caesar Salad, Fruit Salad, Potato Salad, Soup of the day, Cake of the day or a hot drink. Salads and soup comes in a small size portion
The set menu comes with an appetizer, a main dish and a dessert. For our appetizer, we settled for the classic Caesar Salad. For our mains, we were recommended to try the Smoked Salmon Rösti ($10.90).

Smoked Salmon Rösti
Crispy on the outside and soft and moist on the inside, the lightly salted baked rösti topped with melted cheese is matched perfectly with rich sour cream sauce, accompanied with fresh smoked salmon and a side serving of salad. A wholesome meal that has protein, carbs and fibre, if you are looking for something flavourful and need your dose of Omega-3, we say go for the Smoked Salmon Rösti.
A veggie lover or vegetarian? Swissbake menu is also vegetarian-friendly, with choices such as the Vegetarian KraftKron Sandwich ($8.90) and Cottage Cheese Flip Sandwich ($8.90).

Cottage Cheese Flip Sandwich
We gave the Vegetarian KraftKron Sandwich a try as the name and looks of the bread caught our eye.  Made of wheat, malt and rye flour, this bread is packed with dietary goodness such as soya bean, linseed, sunflower seed and oats. The bread has even been recognized and awarded with the healthier choice symbol by the Health Promotion Board.

KraftKorn Vegetarian Sandwich
Slightly harder than your average wholemeal or white bread, the KraftKorn has a nice crunch to it. This is probably due to the array of seeds and oats packed inside. What we like is the distinct nutty and rustic aftertaste. The nutty taste of the bread, coupled with the creamy and rich texture of the avocado, cheese and tomato fillings – yum!
If you happen to have a love-at-first-bite-moment for this bread, you may purchase it at their bakery outlets.

Kraftkorn bread Ingredients: Wheat Flour, Rye Flour, Soya Bean, Malt Flour, Salt, Water, Yeast, Oats, Sunflower Seeds, Linseeds. (No added Sugar or Eggs).
Craving for something 'meatier' or need your meat in every meal? Try their Chicken Schnitzel Rosti ($10.90) or Black Pepper Chicken Flip Sandwich ($8.90).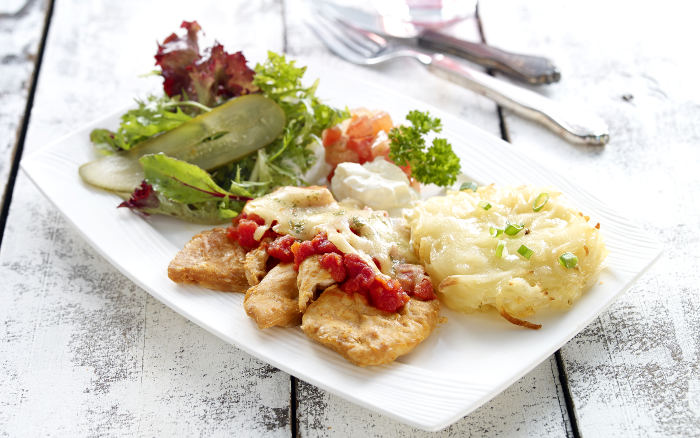 Chicken Schnitzel Rosti
Be it a weekend brunch or lunch, Swissbake menu offers a nutritious spread of sandwiches featuring their unique baked bread.
Calling all frappes, lattes and cake lovers, you are in for a surprise.
SwissBake recently launched a new range of deliciously concocted frappes and lattes. Blending ingredients you would find in classic cakes and putting a fun twist to your normal lattes and frappes, you can now drink your cake in a cup!
Swissbake assortment of drinks
The classic cake flavours include Black Forest Frappe ($6.90) and Red Velvet Frappe ($5.90). For cookie lovers, there is the Cookie Fudge Frappe ($6.90) and for those who prefer something fruity, try the Peach Cobbler Yoghurt Frappe ($6.90) or the Apple Pie Yoghurt Frappe ($6.90).
TNAP Picks:
The red velvet cakes we've tasted are normally a little too sweet for our taste buds. So it was to our surprise that the Red Velvet Frappe not only retained the distinct taste of cream cheese found in a red velvet cake, the level of sweetness was just nice. We couldn't stop once we took a sip of this!
Would you like a cookie to go with your coffee? How about blending them together? Made of a smooth chocolate milk base with chocolate fudge at the bottom, we love the cookie crumbly bits in the Cookie Fudge Frappe.

Cookie Fudge Frappe (R) and Red Velvet Frappe (L)
If you're looking for something lighter and refreshing, we recommend their iced tea drinks and sodas.
Sweet Delights
Swissbake newly revamped cakes
For the sweet-tooth, no meal is complete without desserts. Swissbake new revamped cakes prepared by their European Pastry Chefs range from sinful chocolate cakes to luscious exotic fruit cakes.
The cake of the day to was the Champagne cake ($4.90 per slice). Made with layers of fluffy vanilla sponge, champagne ganache and topped with white chocolate powder spray; this heavenly slice of dessert was the perfect dish to end our wholesome lunch. As the name suggests, there is a small hint of alcohol in the cake.
Slice of heaven! Swissbake Champagne Cake
That's not all, here's another piece of good news! From 2 Sep – 5 Oct 2014, Get 1 Crumble + 1 Specialty Drink at only $9.90!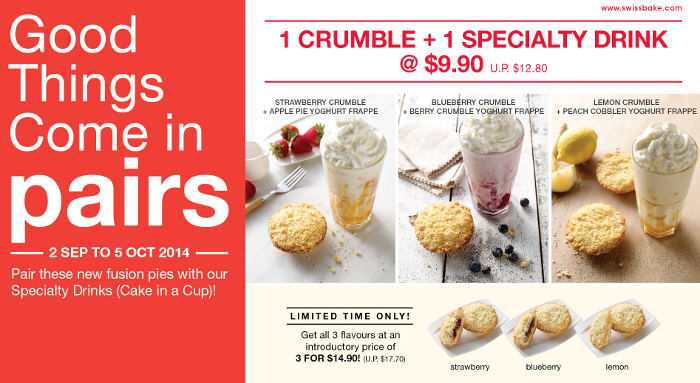 Hungry? Have a hearty healthy meal and sip your cakes at the following Swissbake Café Outlets:
• Anchorpoint | Anchorpoint , 370 Alexandra Road #01-05/06
• Bedok Mall | Bedok Mall, 311 New Upper Changi Road, #01-01
• The Central | The Central, 6 Eu Tong Sen Street #01-53
• Changi Link (UE BizHub East) | Changi Link (UE BizHub East), 8 Changi Business Park Ave 1, #01-27
• City Link Mall | City Link Mall,1 Raffles Link #B1-03
• HarbourFront Centre | Maritime Square #01-58/59/60
• International Plaza | International Plaza , 10 Anson Road #01-38
• Kallang Leisure Park | 5 Stadium Road,#01-26
• Marina Bay Link Mall | 8A Marina Boulevard #B2-47
• NEX | 23 Serangoon Central #02-14
• One Raffles Place |One Raffles Place Tower 1 #B1-04/05
• Plaza Singapura | 68 Orchard Road, #01-50
• Rochester Mall | 35 Rochester Drive, #01-03
• Singapore Management University | SMU School of Accountancy and School of Law, 60 Stamford Road, #01-11
Visit Swissbake website for more details on their cakes, cafes, and bakeries.
Like Swissbake Facebook page for special deals and the latest updates!
Images by Swissbake
If you find this article useful, do click Like and Share at the bottom of the post, thank you.
Want to be heard and seen by over 100,000 parents in Singapore? We can help! Leave your contact here and we'll be in touch.