Being a single parent in Singapore is doubly hard. At times, single parents not only need to face discrimination; be it from relatives, friends or society, they also need to bear the weight and stress of having to raise their child / children alone.
How Can We Help?
What can we do as a relative, friend, or fellow citizen when we meet with single parents in our social circle? Are our actions and treatment towards them discriminatory, or one of empathy and understanding? How can we show our support to this group of people, that they are also not alone?
⇒ Related Read: Parenting Guide for Single Parents
Below are some platforms with the resources and expertise to assist single parents in Singapore.
Single Parent Support Services
National Council of Social Services (NCSS) has Single-Parent Programme to support and promote the psycho-emotional well-being of single-parent families. The services they provide include family casework and counselling, support groups, programmes for children, and public education.
In 2005, Singapore Ministry of Social and Family Development (then known as Ministry of Community Development, Youth and Sports) also came up with a comprehensive guide for single parents, covering topics from divorce, finding a place to live, looking for a job, making arrangements for your child and moving on.
Advocating For Single Mother's Rights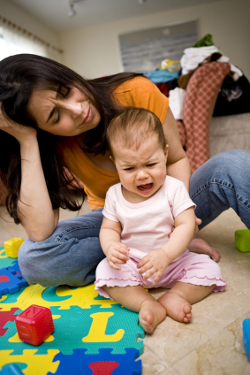 A few organisations have also stepped up to reach out and assist this group of women. One example is 'WeCare For U', a project initiated by NTUC Women's Development Secretariat (WDS) advocating for single mother's rights and benefits. WDS holds regular interactive sessions as a platform for single mothers to voice their concerns and queries. Hearing their concerns, key leaders and decision makers from WDS will also be present to provide mothers with pertinent information and resources.
During the last session held in September 2013, WDS Director Sylvia Choo shared, "As a caring nation, we should help all individuals to progress especially those who belong to the vulnerable group. Whatever reasons that led them to be a single mum, we can see that they are working very hard for their children to have a good future."
To date, there are 492 single mums and 983 children under this project. They have released a Guide for Single Mothers and feature stories of single mums who have found work-life harmony.
⇒ Related Read: Do Working Mums Need More Workplace Protection?
Pushing For Equality In The Workforce For Single Mothers
Besides offering assistance to single mums via WDS, NTUC has also started working with unions to help more unionised companies provide better flexibility in workplace arrangements and the company's leave structure. One such example is to expand the scope of selected leave category to cover parental or family care, like expanding existing critical illness leave, which is meant for workers to look after family members in intensive care, to cover looking after family members who require medical attention.
NTUC also targets to have 50% of unionised companies provide some form of flexibility in workplace or leave structure by 2015; advocating for better jobs and pay for all workers, including single mums.
Related Post: Should Single Mothers Enjoy The Same Perks As Married Mothers?
Review Housing Policy for Single Mothers or Fathers
Speaker of Parliament Halimah Yacob has also urged the government to review its housing policy for single mothers. Speaking at a forum organised by the NUS Alumni Association on 27th November 2013, she said,
"One of the biggest struggles of single mums is the difficulty in getting housing. So I hope that at some point there can be a review of the policy, (and) single mums can also apply for a flat because the point really… is the children, concern for the children, that the children should not be affected because the mum is a single mum." (Channel NewsAsia, 2013)
Currently, single mothers in Singapore who are divorced or widowed, already have access to other benefits such as pre-school subsidies and ComCare, which provides social assistance for low-income families. However, single unmarried mothers are not eligible for housing subsidies. They fall under the singles scheme where they can only buy a flat upon reaching the age of 35.
* * * * *
What do you think of the current policies for single parents in Singapore? Do you think more can be done?
Want to be heard 👂 and seen 👀 by over 100,000 parents in Singapore? We can help! Leave your contact here and we'll be in touch.