Located on the second floor of Vista Point and located in close proximity to Woodlands and Admiralty MRT stations, Learning Vision @ Vista Point boasts a spacious activity area with specially designed learning corners filled with resourceful materials and multimedia facilities. Offering childcare services and preschool programmes for toddlers aged 18 months to children aged 6 years, Centre Principal Tsui Fern took The New Age Parents to tour the Centre and here are a few things that caught our attention.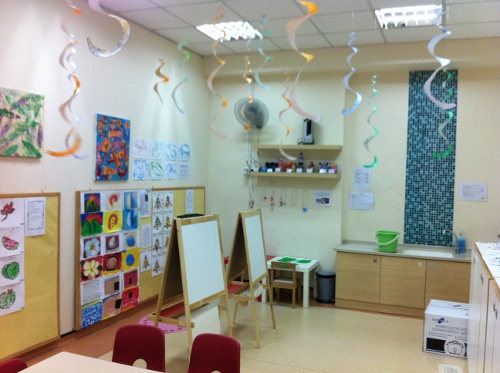 An Open Classroom
Adopting the idea of an open classroom setting, the centre is spacious, with clearly delineated learning corners and classrooms. There is the Atelier, where children express their creativity in various forms of art mediums and their works are proudly displayed. Other areas include the Malay language area, the Chinese Lab, Water Play corner, Block Play corner and Puzzle Play corner.
The open classroom concept supports the three key principles of Learning Vision where children are viewed as
The protagonist (active participants)
Teachers as facilitators and
A strong emphasis on the learning process.
The flexibility of space and materials in an open classroom also promotes greater interactivity among children.
According to various research studies, students in open classrooms not only found school more enjoyable, they were also able to think more critically and were more respectful to the diversities of other students. At Learning Vision @ Vista Point, the younger age groups have their own classrooms to help them get familiarised with their school routines, but children from Nursery 2 onwards enjoy the open learning space.
Located near the centre's office, the Piazza, which is one of Learning Vision's unique features, is an open area where children, teachers and parents come together. The centre also has a separate large music room with full body mirrors on one end. Here, children can jingle and jive during music and movement sessions without any inhibitions.
Offers Two Second Languages – Malay and Mandarin
Learning Vision @ Vista Point is perhaps only one of the few centres in Singapore to offer two mother tongue languages in its programme. It offers Mandarin for all children and Malay for Malay children. Mandarin lessons are conducted every day by the teachers in the Chinese Lab, while an external Malay language teacher comes in once a week to conduct the Malay class for all the Malay children at the centre.
Low Child to Teacher Ratio
Another attractive highlight is the low child to teacher ratio at all Learning Vision Centres. Staying true to the belief that children in the formative years require dedicated attention from teachers and peers, Learning Vision adopts a child-teacher ratio which is lower than MCYS requirements. According to MCYS standards, the teacher-child ratio for K1 and K2 is 1:25. However, Learning Vision teacher-child ratio for K1 and K2 is 1: 18. Similarly, for Play Group and Toddlers, MCYS teacher-child ratio is 1: 8, where Learning Vision's ratio is 1:6. This means more undivided attention for your child as teachers will have more time to focus on individuals within the classroom setting.
A Trip to Innova Primary School
Since 2011, the Kindergarten 2 classes have been going to Innova Primary School for their first taste of Primary School life. Each K2 class also embarked on a project for their field trip to the Primary School. Flipping through the pages of the project-work file, Principal Tsui Fern explains, "Not all the K2s go to Innova Primary School after they graduate, but it's an excellent opportunity for them to have a glimpse of Primary School life."
She adds "Besides touring the school premises, Innova Primary called in a parent volunteer to hold a story-telling session for our kids. Our K2s also had a 'recess session' where they bought their own food with their own money at the school canteen." From the photos, writings and art work done by the students after the trip, it was evident that this was indeed an eye-opening and enjoyable experience for them.
With a pool of dedicated teachers and innovative curriculum, Learning Vision continues to cultivate passionate young minds to grow into confident, well-rounded, critical and creative thinkers.
To find out more about Learning Vision @Vista Point, please call 6781 0888 or email Tsui Fern at tsuifern@learningvision.com
For more information on Learning Vision, visit www.learningvision.com
Like what you see here? Get parenting tips and stories straight to your inbox! Join our mailing list here.
Want to be heard and seen by over 100,000 parents in Singapore? We can help! Leave your contact here and we'll be in touch.