In Celebration Of Its 100th Anniversary, Pilot Pen Singapore Collaborates With Rainbow Centre To Create Limited-Edition Pen Sets For Charity.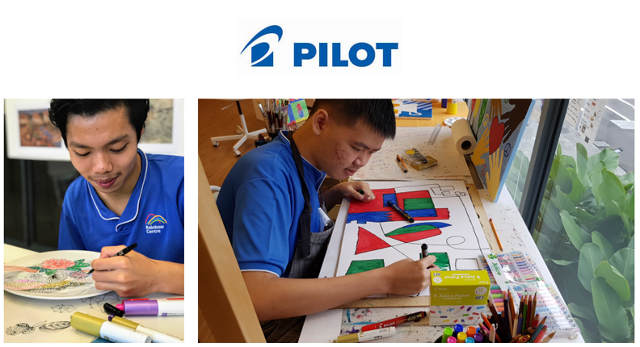 Rainbow Centre's student artists, Danial Isaac Bin Abdullah and Bill Austin Utama, showcasing their creative prowess through the 'Colour Our World' campaign with Pilot Pen Singapore
This September, join Pilot Pen as the world's leading stationery brand pays homage to its 100th anniversary with all-good intentions. Through an artistic collaboration with Rainbow Centre, the campaign – named 'Colour Our World', saw the brand launching sets of four limited-edition pens, created exclusively to raise funds for the local social service organisation for persons with disabilities.
Rainbow Centre envisions a world where persons with disabilities are empowered and thriving in inclusive communities. It works with partners, like Pilot Pen, to create opportunities for persons with disabilities to make the most of their abilities and participate meaningfully in society. The practice of art enables its students to express their inner thoughts, perspectives and emotions.
Retail Therapy With a Heart – Limited-edition Pen Sets for Charity
Working with graphic elements such as lines, patterns, and shapes, the student artists' original creations were translated onto the barrels of Pilot Pen's popular Acroball ballpoint pens
For the launch of the campaign, four student artists from Rainbow Centre's Talent Art Programme created original artworks using Pilot Pen's products such as the Pilot Pen Juice Paint and Frixion Magic Wand markers.
The four student artists channelled their creativity and talents to produce artworks that spoke to their life experiences, emotions and interests. Aside from canvas, the artworks were also created on other mediums such as plates, lampshades and vases. Whilst the end creations looked vastly different from each other, aesthetically and even in artistic genre, the young artists drew from a collective concept for 'Colour Our World'. The artworks featured graphic elements of geometry such as lines, patterns, and shapes to bring to life their inner world and creative talents.
Upon completion, the artworks were digitalised, with portions of the artworks specially selected to adorn the barrels of the Pilot Acroball ballpoint pen, a favourite amongst Singapore youths. The pens were then packaged in sets of four, and sold exclusively online at S$10 per set, via the 'Colour Our World' microsite hosted by Pilot Pen Singapore.
18-year-old Danial Isaac Bin Abdullah, one of the four student artists involved in the campaign, shared, "We had a lot of fun working on 'Colour Our World'. It is a meaningful project for us and I am really proud of our creations. We cannot wait to share our pen designs with others – I hope they will like what they see."
All original art pieces created for 'Colour Our World' are also up for auction and open for bidding – all funds raised from the auction, as well as from the sale of the pen sets, will go to Rainbow Centre to help fund its student programmes.




More About Colour Our World' – Celebrating Limitless Creativity Through Acceptance And Appreciation
The artistic collaboration with Rainbow Centre sets the perfect stage for the four youth talents and their creations to be a testament to what creativity and self-expression look like without limitations. "Colour Our World' spurs the student artists on to express their unfettered creativity beyond the limitations of their disabilities, from a well-meaning space of acceptance and appreciation.
The campaign also aims to serve as a bridge for others to experience the artworks immersed in the context of the student artists' unique backstories, for a personal touch.
To get your hands on these feel-good limited-edition pen sets and support the students of Rainbow centre in their pursuit of creativity, head on to Pilot Pen Singapore's microsite to shop for a cause, while stocks last. The original art pieces created for the campaign are also up for auction online on the microsite and will be available for public viewing at venue sponsor, The Cathay, for the month of September 2018.
All proceeds, including the online auction of the original art pieces, will be generously donated to Rainbow Centre as part of Pilot Pen Singapore's Corporate Social Responsibility (CSR) efforts.
To find out more about the campaign and to purchase the pen sets or place a bid for one of the original art pieces, please visit here
View the art pieces in person at The Cathay (Internal Atrium), 2 Handy Road, for the entire month of September 2018.
If you find this article useful, do click Like and Share at the bottom of the post, thank you.