Mealtimes are fundamental daily pit stops that drive a child's growth journey. They also create bonding moments for parents and their little ones.
However, many parents face mealtime stress with the top concerns being the time taken for their child to finish a meal, whether their child is getting a balanced diet for growth and when the child is not eating properly during mealtime.
We speak to Dr Michelle Tan, paediatrician and consultant in the division of paediatric gastroenterology, nutrition and hepatology, National University Hospital (NUH), Singapore about childhood nutrition and feeding-related issues in children.
1. My child is not finishing any of the meals that I've prepared. How can I ensure that my child is still getting all the important nutrients?
Aim to still give a well-balanced diet with foods from each food group at each meal so as to maximise the consumption of as much nutrition as possible. Providing a variety of foods from each food group allows your child to obtain different key nutrients and keeps meals interesting.
Other than main meals, snack options can also be nutritious. Try to avoid snacks that contain calories mainly from sugar or fat with little dietary fibre, protein, vitamins or minerals.
Consumption of these snacks may result in an unbalanced intake of energy vs. essential nutrients, leading to deposition of fat tissues. Hence, a healthy and balanced diet should be nutrient-dense over energy dense so that children can get the key nutrients – protein, vitamins and minerals that are essential for growth.
Some healthy snacks that parents can provide their children include bananas, dry fruits, and whole-grain cereal. Moreover, nutritional supplements can also be considered on a case-by-case basis to ensure the child meets daily nutritional needs and maximise growth potential.
2. When should I be worried that my child is not eating well? What can I do during such periods of 'food strikes'?
Poor or inadequate nutrition can affect immunity, causing children with nutritional deficiencies to fall sick more often. When children fall sick, nutrient resources get diverted to fight infection and support recovery and therefore fewer nutrients are available for growth.
Moreover, sick children usually have a poor appetite which makes nutrient intake even lower. Therefore, children who fall sick often are particularly at high risk of malnutrition.
There are recommended solutions that all parents can follow during mealtimes to encourage their child to finish the meal such as:
Instead of serving just 3 big meals a day, it is useful to encourage appetite by serving small meals and snacks at consistent times of the day, with 2–3 hours between each meal and snack time, allowing the child to become hungry before the next meal.
Avoid distraction by seating children at a table for meals and snacks, minimising the use of electronic devices at mealtimes, as this takes away the interaction during meal times.
Systematically introduce new food – provide some of the child's favourite foods together with a small amount of new food. If the child refuses a new food, offer just one bite of the new food without bribing or forcing.
Parents should be good role models. Families should eat together to allow interaction and bonding and parents themselves should eat the foods that they are encouraging their children to eat.
If your child's poor eating habits persist, you are encouraged to consult their doctor or dietician to get more detailed advice.
3. My child dislikes trying new food or food with unfamiliar textures. How can I help to expose my child to different kinds of food?
You can involve your child in the mealtime process to increase their interest in new food and variety. You can take them grocery shopping to get them familiarised with the different foods.
By making it an adventure when familiarising them with the different food items, they may have a different outlook on certain foods they used to shy away from due to unfamiliarity.
In terms of accepting textures, you may have to gradually increase the texture of the foods over time and different occasions so that your child can eventually accept food that is of a more challenging texture.
4. Is it necessary to include nutritional supplements apart from my child's daily meals during this critical period of growth?
To maximise the natural growth potential and nourish your child optimally, supplements can be useful in supporting the critical growth period when their food intake is incomplete and when they are unable to consume adequate calories and nutrition from their meals.
⇒ Related Read: Power Up! Top 10 Immunity Foods For Children
5. What are some family mealtime rules that should be set?
Distractions should be removed by turning off screens and devices during mealtimes to focus on building conversations during mealtimes. By taking the focus away from their screens or devices, it would better support family bonding time.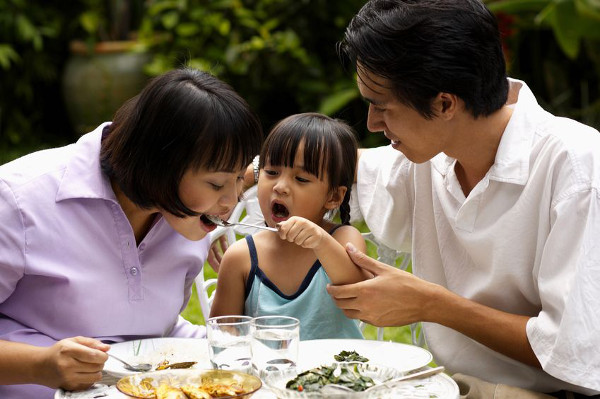 It would also be beneficial for the family if a mealtime routine was established. Mealtimes that stretch over 30 minutes should be respectfully ended so that both parent and child can get the much-needed relief. Additionally, when a child is familiar with a mealtime routine, it becomes a calmer experience for everyone involved.
6. What should a balanced meal for young children consist of?
The general feeding guideline for young children is:
– For children aged 1-2 years:
2-3 servings of brown rice and wholemeal bread
Half to 1 serving of fruit
Half a serving of vegetables
Half a serving of meat and others
One and a half serving of dairy foods or calcium-containing foods
– For children aged 3-6 years:
3-4 servings of brown rice and wholemeal bread
1 serving of fruit
1 serving of vegetables
1 serving of meat and others
1 serving of dairy foods or calcium-containing foods
You can refer to this link for more details.
* * * * *
Like what you see here? Get parenting tips and stories straight to your inbox! Join our mailing list here.
Want to be heard 👂 and seen 👀 by over 100,000 parents in Singapore? We can help! Leave your contact here and we'll be in touch.