Singapore's Merlion, located at Merlion Park, will turn 50 on 15 September this year. Having maintained its good looks and popularity over the years, it will now be treated to a month-long party that includes food, drinks, shopping and a line-up of activities that pay tribute to its longevity.
The original Merlion statue was inaugurated at the mouth of the Singapore River in 1972 and has remained one of the country's top five free-access attractions¹. As Singapore welcomes back more visitors, the celebrations aim to raise awareness of our reimagined offerings, while highlighting the important role that tourism continues to play in Singapore's growth.
Mr Keith Tan, Chief Executive, Singapore Tourism Board said, "The Merlion is an enduring symbol of Singapore that is recognised around the world. It is also synonymous with tourism, which has helped to make Singapore a vibrant city and a home that Singaporeans can be proud of. After a difficult two years for our industry, it is timely for us to commemorate the Merlion's golden jubilee and invite both locals and visitors to join in the celebrations."
Experiences and events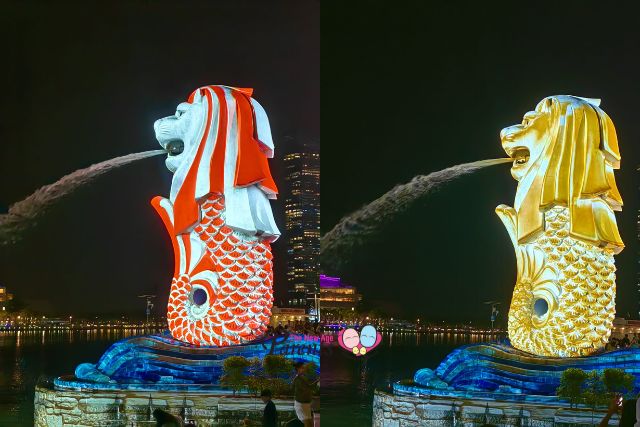 For the perfect selfie with the birthday boy, the Merlion Statue at the Merlion Park near One Fullerton will be lit up from 15 September till 29 September, from 6 pm to 12 midnight each day. The statue will continue to be lit throughout the Formula 1 Singapore Airlines Singapore Grand Prix 2022 from 30 Sept to 2 Oct. Merlion "hunters" can also explore the island to discover all six official Merlions through the "Merli-Go-Round x Merlion 50th edition" game on the Singapore Travel Guide app or find them through the Prudential Merlion 50 Hunt Challenge. For art aficionados, the Merlion can be found at National Gallery Singapore's latest exhibition "Nothing is Forever: Rethinking Sculpture in Singapore", while baking enthusiasts can sign up for RedMan Baking Studio's Merli Royal Icing Cookies Class.
The Fullerton Hotel, located near Merlion Park, will join in the jubilee celebrations by lighting up its façade in warm, golden hues during the month of September. As part of the "Merlion's Golden Jubilee Experience" from 9-10 September 2022, the hotel will also launch a family weekend stay paired with afternoon tea in a bumboat, offering photo opportunities including one in front of the Merlion Park. On 15 September, the hotel's employees, guests and visitors will be invited to join in a cake-cutting ceremony.
Food and drinks
The Merlion may be 50, but it still enjoys a good drink. From 1 August to 2 October 2022, Marina Bay Sands will launch limited edition beverages that draw inspiration from the Merlion's adventurous spirit, combining locally distilled spirits and homegrown botanicals. Highlights include db Bistro's Champagne Sling, KOMA's Pandan Dream and Spago's Purple Lion. From 1 to 30 September, guests can also indulge in Black Tap's whimsical Merli's Golden Jubilee, a strawberry ripple CrazyShake® topped with vanilla frosted rim, rainbow marshmallow twists, blue and while cotton candy, vanilla red bean taiyaki, and icing cookies. Further from home, STB's Japan office is leveraging the Merlion's popularity in Japan to create an original Dorayaki (Japanese red bean jam-filled pancake) for its partners, featuring the Merlion 50 logo and Merli².
Retail
Fans of the Merlion can also mark its jubilee with exclusive merchandise from local brands. Boldr, doob Bean Bags, Edupod, Fossa Chocolate, Lilo, Mer-Lion Games Studio, Oeteo, Prima Taste and Scent by SIX have come together to offer limited edition products featuring Merlion 50 or Merli. Bringing Singapore's destination brand "Passion Made Possible" to life, these products will be sold via the brands' distribution channels, and some will also retail at Design Orchard from 1 Sep – 4 Oct. The product range includes children's apparel and clothing, children's furniture, games and learning tools, as well as customised chocolates.
More activities will be launched in the coming weeks, including a chance for locals and visitors to share their personal stories and memories of the Merlion to win exclusive Merli merchandise using the hashtag #Merlion50. Details will be available soon on STB's Facebook and Instagram pages.
For more information, visit here.
---
Highlights of the activities and products as part of the Merlion's 50th birthday celebrations can be found below:
EXPERIENCES & EVENTS
• Merlion Park, 15 Sep to 2 Oct
From 15 September till 29 September, the Merlion Statue located at the Merlion Park at One Fullerton will be lit up from 6pm daily to commemorate the Merlion's 50th Anniversary. The statue will continue be lit for the Formula 1 Singapore Airlines Singapore Grand Prix 2022 from 30 Sept to 2 Oct.
• Merli-Go-Round x Merlion 50th edition, now till 30 Sep
The new edition of Merli-Go-Round x Merlion 50th edition will run from now till 30 September this year.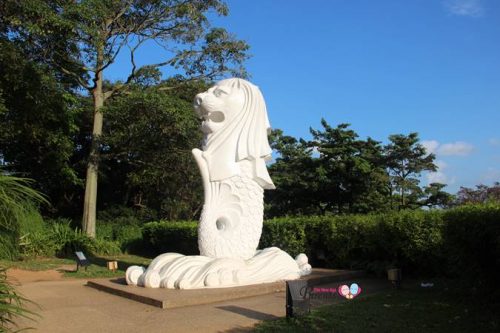 Follow Merli on an adventure to meet all six official Merlions in Singapore! Check-in at each location via the Visit Singapore Travel Guide app, and redeem a limited edition Merli Wrist Rest Plushie (while stocks lasts). Along the way, visit attractions such as the Singapore Cable Car at Mount Faber, or go for a nature walk at Lower Pierce Reservoir near the pair of Merlions at Ang Mo Kio Ave 1.
You can participate by downloading the Visit Singapore Travel Guide app, sign up for a Visit Singapore account, and follow the Merli-Go-Round x Merlion 50 guide to visit all 6 Merlions in Singapore. At each location, check-in via the app to complete the quests.
• National Gallery Singapore, 28 July 2022 to 5 Feb 2023
• Prudential Singapore's "Challenge Your Pulse", 9-22 September 2022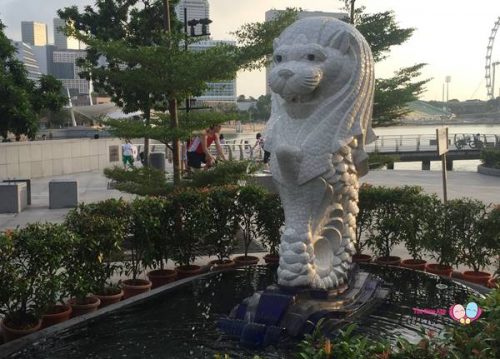 Celebrate the Merlion's birthday with a Merlion Hunt, where participants will be tasked to locate the various official Merlion statues in Singapore, as part of a series of fitness challenges.
To participate, download and register with the Pulse by Prudential app.
• RedMan Baking Studio by Phoon Huat
RedMan Baking Studio will offer an exclusive Merli Royal Icing Cookies Class, a hands-on beginner workshop where participants will learn various decorating techniques such as outlining and flooding.
*******************************
FOOD & DRINKS
• Marina Bay Sands, 1 Aug to 2 Oct
• STB Japan's Dorayaki for Merlion 50
STB Japan has created an original Dorayaki (Japanese red bean jam-filled pancake) featuring the Merlion 50 logo, Merli, as well as the "Passion Made Possible" logo, to be given away to local partners.
*******************************
RETAIL
• Boldr
To commemorate 50 years of the Merlion, BOLDR Supply Co. is releasing a special edition field watch. The watch embodies the Merlion's bold spirit, and is the first in the new BOLDR Safari collection, encased in 40mm stainless steel with 100m water resistance and a Japanese automatic movement. The BOLDR Safari Merlion 50 will be available for purchase this October.
• doob Bean Bags
The totesta' – a double-layered carry bag, featuring upcycled fabric left over from crafting bean bags – features Merli and comes in several hues inspired by local delicacies, such as "laksa", and "chendol". Handcrafted in Singapore, from bean bag fabric that is both machine-washable, and more comfortable than canvas material.
• Edupod
Edupod's latest series of furniture and learning resources showcases product designs that are uniquely Singaporean, and celebrate the 50th Anniversary of the Merlion, such as a high-chair featuring Merli.
*******************************
SOCIAL ACTIVITIES
• Photo Essay on Merlion for Singapore Heritage Festival
To celebrate 50 years of Merlion, a photo essay on the national icon is featured as part of the Singapore Heritage Festival this year. Titled "Celebrating 50 Years of the Merlion: Stories Behind the National Icon", readers will be able to learn more about the national emblem for tourism as well as the lesser-known stories behind the beloved icon.
¹ Prior to COVID-19, the Merlion Park was one of the top five free-access attractions and site among visitors in Singapore.
² Merli, a heart-warming and whimsical illustration of the Republic's mythical national icon. Merli, short for Merlion, is a character created by STB in 2018 to appeal to families with young children, one of STB's key target consumer segments.
* * * * *
Like what you see here? Get parenting tips and stories straight to your inbox! Join our mailing list here.
Want to be heard 👂 and seen 👀 by over 100,000 parents in Singapore? We can help! Leave your contact here and we'll be in touch.