Dr. Ebbeck discussed the importance of free play and self-confidence in his keynote.
More than 130 guests attended "Literacy and Your Young Child", a parenting seminar by The Little Skool-House International. The event was held at Suntec Convention and Exhibition Centre on Saturday, 26 July.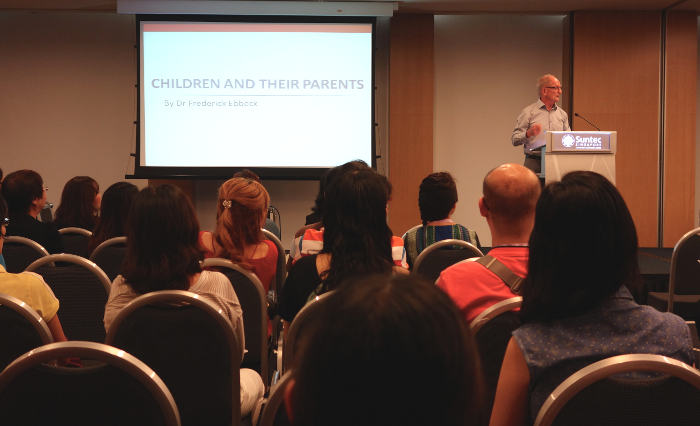 In his keynote, Dr. Frederick Ebbeck, Senior Academic Advisor at the SEED Institute, said that the most important thing we can do to assist our children's literacy and overall development is to help them feel confident that they "can". A positive self-concept will enable them in all learning aspects and empower them to be successful now and in the future.
So how do we help our children develop their self-confidence? The key is less pressure and more play.
"The child learns for the same reason that birds fly," Dr. Ebbeck said. "Children learn naturally. They don't need to be forced. They're learning all the time, especially when they're playing." Parents Daniel See Toh and Sim Siew See, who have a three and a half year old son, were encouraged by Dr. Ebbek's message. "We feel assured. There's a lot of methodology and pressure-cooking but we don't need to force our children to learn. He can learn at his own pace," they said.
After the keynote and Question and Answer segment, parents were invited to attend one of three available workshops led by education development specialists and experts. Parents learned how to enhance their children's literacy and language from infancy through pre-school in fun and creative ways, and most importantly – ways that work.
Parents played plenty of games at the workshops. One of them was Alphabet Balloon. Players went back-and-forth mentioning a letter, making the sound of it, and naming an object beginning with the letter—all without dropping the balloon.
Here are some useful facts and tips from the workshops:
SPEAKING AND LISTENING
Children speak because they have an innate need to communicate. There was a three-year-old boy who wasn't talking yet by the time he attended preschool, said Geraldine Teo, Education Development Specialist at The Little School-House International. His teachers observed that he was used to his parents guessing what he needed, so he didn't feel the need to say it himself.
To get him to talk, his teachers made him realize that it was necessary to use words to communicate. For example, instead of just giving him a book when he pointed at it, his teachers would ask, "Can you say 'book'?" Very soon, he couldn't stop talking!
Tip #1: Cut out or reduce screen time.
If all your kid wants to do is watch Frozen, isn't she at least learning some words? Not so.
Studies indicate that watching TV and other electronic devices such as iPads produces little or no benefit in children's language development. "Research shows that when young children watch TV for more than one to two hours, they fail to develop enough listening skills because they're too focused on the visuals," shared Dr. Ebbert. "In order to become readers, it is essential to be good listeners."
READING
Make reading time special. Many parents have bedtime routines with their children, and they often involve reading. Kids love reading the same book over and over. Having a favorite book gives children the power to know the story's sequence and to participate more. But if you have time, Australian children's book writer Mem Fox recommends reading three books a day with your child: their favorite book, a book that they're familiar with, and a new book.
Tip #2: Choose books that interest your child.
Mummy blogger Ruth Wong was concerned that her four-year-old son wasn't into popular books. "He likes reading about firemen and how things work. He doesn't really like fairy tales or the typical books that other kids like. I was worried that he was missing out," Wong said. "But I feel validated that as long as he's still interested in reading, it's okay."
Ultimately, the best way to get your child interested in reading is to expose them to books that speak to their individual interests. Just make sure that when you're reading to them, you sound interested, too – because they'll pick up on it.
Here are some favorite books among children. Choose books to read aloud that focus on sounds, rhyming, and alliteration.
Tip #3: Make the book come alive.
"Children love to dramatize," said Stella Pereira, Cluster Director at The Little Skool-House International. She advised parents to extend their children's favorite book to imaginative play by making simple props or taking on different characters. Act out their favorite part in the book together. It can be as simple as kicking your feet and pretending to blow bubbles to imitate a scene in Maisy Learns to Swim.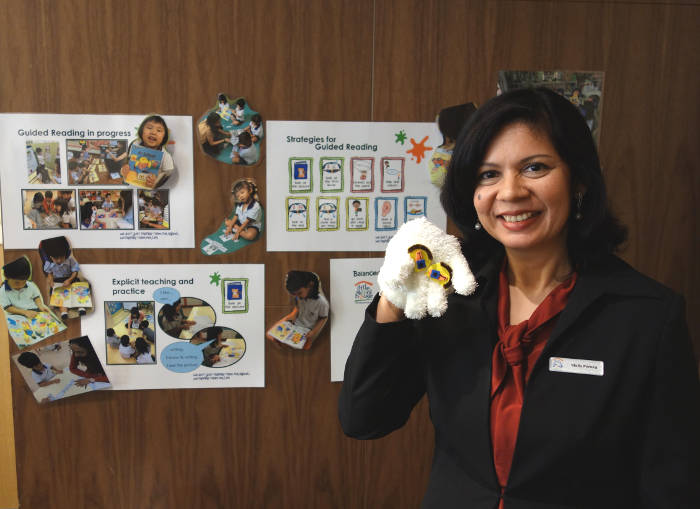 Lecturer Stella Pereira holds up a reading peeper puppet, which could be easily made at home.
WRITING
Tip #4: Engage in pre-writing activities.
Play-doh, scissors, and ball games strengthen concentration, hand-eye coordination, hand muscles, and mobility. Before writing the alphabet, children should practice drawing shapes. Once they can draw lines and circles, they'll have an easier time forming letters. But it doesn't always have to be done with pencil and paper. Try filling a Ziploc bag with sand and letting your child draw shapes and letters with their finger.
Henry Soh, a father of two girls ages 3 and 5, appreciated the out-of-the-box approaches. "It's easy to recreate at home, readily available, and not too messy," he said. "There are more ways to teach kids literacy that's not just giving them books."
Tip #5: When teaching your child how to write, don't start with "A" just because it's the first letter in the alphabet.
Instead, begin with the first letter in their name. They'll be much more interested in that! When they know how to write their full name, you can move on to the names of other family members or their favorite things. Eventually, they'll learn the entire alphabet.
Tip #6: Make spelling lists with words that interest your child.
If your child's birthday is coming up, ask her to tell you what she wants for her party. You can write them down, and that's a better spelling list than ten words that your child cannot relate to. Children are more invested in learning what is meaningful to them.
"Consider your kid's interests and if they are fulfilled," Dr. Ebbeck said. "The role of the home is here."
Make literacy exciting and interactive! Parents were given these fun and easy DIY games to play with their children.
Photos and text by Jenny Tai.
* * * * *
Like what you see here? Get parenting tips and stories straight to your inbox! Join our mailing list here.
Want to be heard 👂 and seen 👀 by over 100,000 parents in Singapore? We can help! Leave your contact here and we'll be in touch.