Question: Recently my 4 year old likes to sing songs in his own language. For example he will sing to the tune of "Old McDonald's" like this "balama bila pilaps papa banaha….." which is more like babbling. He knows how to sing with the correct words but he does not want. Does this means anything? He was a late speaker; he started speaking when he was 3 years old.
Answer: Language and speech delay do not necessarily work in tandem. A child could be cognitively developed in the language aspects but lack the adequate physical development to utter it in speech. Hence, creating their own personal language and expressing it through songs and for some children, through writing, is perfectly normal as they understand that language is used to communicate meaning and feelings. They are simply representing that in a form that they feel comfortable and confident with at that particular point in time.
Constant reminders and providing good models of the spoken language can help to alleviate the issues of mispronunciation to some extent. Children do outgrow any difficulties in pronunciation rather quickly. However, if you do have further concerns, I would suggest that you see a qualified speech therapist to seek for more advice.
LEAP Schoolhouse has an 'Ask and Learn' section every Thursday. If you have any questions regarding language or literacy development, feel free to drop your questions in the comment box below, or post them on LEAP SchoolHouse Facebook page.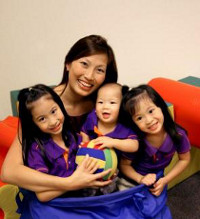 In this Ask The Expert section, we asked Esther Lim, CEO and Founder of LEAP SchoolHouse, about language and literacy development in children. Born and educated in Singapore, she holds a Master Degree in Education (NTU/NIE), Bachelor Degree in Arts (NTU), Diploma in Marketing – Top student for the year 2000 (Chartered Institute of Marketing). Esther has more than 10 years of teaching experience and has taught widely in both Secondary and Primary schools. She was also involved in curriculum planning and development work for the primary unit at MOE for several years. Esther has also conducted workshops and talks for educators, locally and overseas. Besides all the above credentials, Esther is also a mother of three children.
For more info, visit leapschoolhouse.com.sg
If you find this article useful, do click Like and Share at the bottom of the post, thank you.
Like what you see here? Get parenting tips and stories straight to your inbox! Join our mailing list here