With the launch of Singapore's First National Reading Day on 30 July 2016, the Ministry of Communications and Information (MCI) has came up with a special Ministers' Edition. Here is a list of recommended books from our Ministers and what were their recent reads. You'll be surprised at some of their book choices!
Singapore Prime Minister Lee Hsien Loong
(Photo credits: Prime Minister Lee Hsien Loong Facebook Page, NLB)
PM Lee completed not one, two but three books about the Middle East recently. Two of the books tell of the upheavals in the Middle East through personal stories, while another describes one of the most exciting military operations in history. This was in preparation for his trip to Jordan, Israel and the Palestinian Territories back in April.
After a holiday in Japan earlier this year, he is now starting on a biography of Tokugawa Ieyasu, a warlord who unified Japan. Despite his hectic schedule, our PM still manages to find time to read. Now, what excuse do we have?
What he said,
"I enjoy reading, but read less than I would like for pleasure. It is partly finding time, and also the effort of focusing on something not work-related."
---
Minister of State Chee Hong Tat
(Photo credits: MOS Chee Hong Tat Facebook Page, NLB)
Minister Chee recently spent the June holidays with his family. He read 'The Odd One Out' (Available on Amazon) with his youngest daughter, and shared on his Facebook that she loved looking through the pictures to spot the different characters. Each page in the book features fun rhyming couplets, beautiful and complexly patterned artwork, and a hidden surprise. A fun way to learn more about new words and phrases, this is a recommended read if you have a toddler or preschooler!
What he said,
"We want to encourage our children to enjoy reading to broaden their imagination and perspectives, beyond obtaining academic knowledge."
⇒ Related Read: Chinese Story Books Your Preschoolers Will Love
---
Minister for Communications and Information, Yaacob Ibrahim
(Photo credits: Minister Yaacob Ibrahim Facebook Page, NLB)
A self-professed book worm, Minister Yaacob picked up reading as a hobby in his growing up years from his siblings. He reads widely, across many genres, and just finished "The Forty Rules of Love" by Eli Shafak, a lyrical and imaginative novel about how love works, illustrating two parallel narratives that wove together beautifully at the end. We bet that was something you would not expect a Minister to read? He has also picked up a book discussing the liberal arts education system in the United States, as his children are going overseas to study soon.
What he said,
"Many of us lead very fast-paced lives. Which is why I find it all the more important to set aside time to slow down and pick up a good read for the quiet comfort it brings."
---
Coordinating Minister for Infrastructure & Minister for Transport, Khaw Boon Wan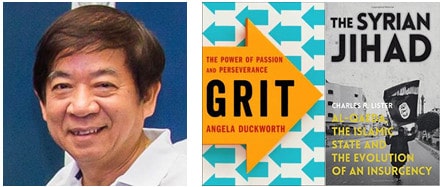 (Photo credits: Minister Khaw Boon Wan Facebook Page, NLB)
Minister Khaw's recent reads showed a balance between reading on world affairs and self-enrichment. He picked up "Grit" by Angela Duckworth (available on Amazon), a book which argues that the secret to outstanding achievement was not talent but a combination of passion and persistence.
What he said,
"Reading is a joy. No matter how heavy office work is, I make time for reading (just as I do for exercise)."
⇒ Related Read: How to Encourage Boys to Read




---
Minister for the Environment and Water Resources, Masagos Zulkifli
(Photo credits: Minister Masagos Zulkifli Facebook Page, NLB)
What he said,
"Back in my days, our school libraries were not as well-stocked as they are today… Today, however, I see a whole load of fantasy series."
After reading Ursula K Le Guin's "Earthsea trilogy" (Available on Amazon), Minister Masagos grew up with a penchant for fantasy books. He urged youths to read more, as "books ignite imagination and are far more rewarding than game consoles". We agree! Put your smartphones down and pick up a book instead.
⇒ Related Read: 5 Possible Reasons Why Your Child Dislikes Reading
---
Minister for Social and Family Development, Tan Chuan-Jin
(Photo credits: Minister Tan Chuan-Jin Facebook Page, NLB)
A firm believer that that reading contributes to lifelong learning, Minister Tan reads voraciously and widely; from graphic novels to military history accounts. Leadership and management books are his favourites. He also encourages parents to read to their young children as "it's a time where parent and child can interact, have fun, and build a relationship for life". Recommended reads by Minister Tan include "Good to Great" by James C. Collins (Available on Amazon) and "Thinking, Fast and Slow" by Daniel Kahneman (Available on Amazon).
What he said,
"I spent a lot of time reading when I was young. I don't think I was prolific nor very cheem (a Hokkien dialect term for 'deep') in that I don't have lots of deep profound titles to bandy around."
⇒ Related Read: Important Life Skills To Teach Your Children For Success
---
Minister for National Development, Lawrence Wong
(Photo credits: Minister Lawrence Wong Facebook Page, NLB)
What he said,
"One of my favourite past-times growing up was to go to the old Marine Parade Public Library every weekend to borrow my full quota of books."
Even though he has less time to read non-work related materials, Minister Wong makes an effort and takes pleasure to carve out pockets of time to read. His diverse taste has prompted him to seek out translated books written by non-English authors. A recent read was "Frog" by Chinese novelist and Nobel laureate for literature Mo Yan (Available on Amazon), which he felt captured the "many of the nuances of the original Mandarin text".
---
Let your love for reading be ignited.
The National Reading Movement is a 5-year campaign by the NLB to encourage all to Read More, Read Widely and Read Together.
Reference: Ministry of Communications and Information
If you find this article useful, do click Like and Share at the bottom of the post, thank you.
Like what you see here? Get parenting tips and stories straight to your inbox! Join our mailing list here.