Did you know that our early childhood experiences with our family greatly influences how successful or satisfied we are in our working life?
The buzz word of the 20the century. Many people may find this term daunting. But being an entrepreneur means more than holding a high position in a company; in fact we are all entrepreneur in our own small ways.
The lessons children learn through entrepreneurial activities can help them throughout their lives. Perhaps the first important lesson a child will learn is financial management. When children are exposed to money management at an early age, they will probably be better equipped to take on the challenges of budgeting and finance as an adult.
Another lesson learned is the concept of effort and reward. Children will be better to grasp and understand this concept as it is now something tangible, through their first-hand experiences. Third, entrepreneurial activities provide opportunities for your child to think about their passions, in turn, increasing their confidence level and self-worth.
How Do I Start?
No one is born with the skills and knowledge of a successful entrepreneur. There also no one sure way to ensure that our children can grow up to be the next Mark Zuckerburg or Bill Gates. Skills, knowledge, enthusiasm, perseverance and passion are just some of the traits one needs to possess. So how can parents help to instill such traits in young children?
Encourage your children to use tap on their likes, strengths and talents, or ask them if they have anything they believe in and stand for. The main source of motivation should not just be involved in earning profits, but nurturing creativity as well. Children should also be encouraged to have a sense of social entrepreneurship.
For starters, parents can expose children to age appropriate opportunities, such as making something to sell, or selling toys they have outgrown. As long as your child is old enough to understand the basic mental calculations and fundamentals of profit and loss, you can kick start his entrepreneurial journey. And what better way to kick off your kid's entrepreneurial venture with Sentosa!
'Playtrepreneurs' and 'Playtrons' wanted!
This March Holiday, Sentosa welcomes young entrepreneurs 'Playtrepreneurs' to trade, swap or sell their pre-loved toys, games, books and accessories at the first ever Flea Market for kids, Sentosa KidZ Flea.
If your child is between the ages 7 to 12, all you have to do is register your child and be there with him or her during the flea. At the KidZ Flea Market, the roles are reversed – watch your little 'bosses' in action, while you assist them with their business. Remember, the process is just as important as the product. If your child's ideas and actions are self-motivated, then go all out to support them!
Many would say, "It's never too late to follow your dreams."
We prefer to say, "It's never too early!"
'Playtreprenuer' Business Registration
Registration Period: 20 February to 9 March 2012, 3pm.
Booth Rental Fee: $40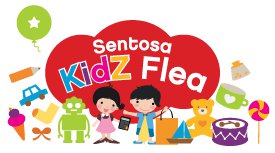 KidZ Flea Event Details
Date: 10 to 18 March 2012
Time: 2.30pm to 7.30pm
Venue: Merlion Plaza
Event Entry Fee: Free (excludes island admission and parking charges)
On 10 and 11 March 2012, 50 Blangah Rise Primary School students will operate the flea market and all proceeds will go toward their adopted charity, Hospice Care Association. In support of the school's Learning Journey programme, Sentosa will conduct a two-hour guest engagement training session for the students and share the island's service culture as well as tips on being good service ambassadors.
For the younger kids or 'Playtrons', the flea market will be buzzing with excitement and entertainment with performances ranging from magic to puppet shows.