Running their own business since 2016, Rhonda, 33, and Race Wong, 36, are also first-time mothers to two young children.
How do the sister-duo behind Ohmyhome, Singapore's leading proptech marketplace for housing transactions, juggle work and family?
We asked them what's their secret.

Race (L) and Rhonda Wong (R)
Hi Rhonda and Race! What's your daily schedule like on a typical working day?
Rhonda: Ashton, my boy who is 2 years old, visits me in the morning and serves as my 'alarm clock'. He wakes me with the sweetest kisses and we'll have breakfast. Work begins by 9am. Mornings are to complete work that is meant to be sent out.
Afternoons are generally for meetings. Each day passes too quickly and it'll be time to head back for dinner and my last chance of reading bedtime stories with Ashton before his goes to bed. Dinners are usually with family.
If Race joins us for dinner we would certainly chat about work because we are usually too busy to meet in the day despite working in the same office. After dinner, I'll work for another 2-3 hours before bed. Evening work most usually involves planning and strategy where I require more quiet time to focus.

Rhonda, with her son Ashton.
Race: My alarm goes off at 7am. I freshen up, check my mobile for any urgent messages and get ready for the day. I have a habit of listening to an audio bible or book while doing my makeup.
Once I'm ready, I'll get out of my room and join Cara, my one-year-old daughter, for breakfast. On days when my yoga instructor comes over, Cara will crawl around me in the gym while I do my yoga.
I drop Cara off at my parent's place and head to the office at 8.30am. The first half-an-hour of my work day usually determines how the rest of my day will flow.




There'll be a flurry of messages amongst my Ohmyhome teammates on the day's agenda. Between 9:30am to 12:30pm usually comprises of 2-4 internal meetings with my various department heads or staff members.
I normally lunch at my parent's place to see Cara and my parents. If it's a busy day, I'll invite my colleague over for a lunch meeting. Cara usually sits next to me during lunch. Right now I'm trying to teach her to eat on her own.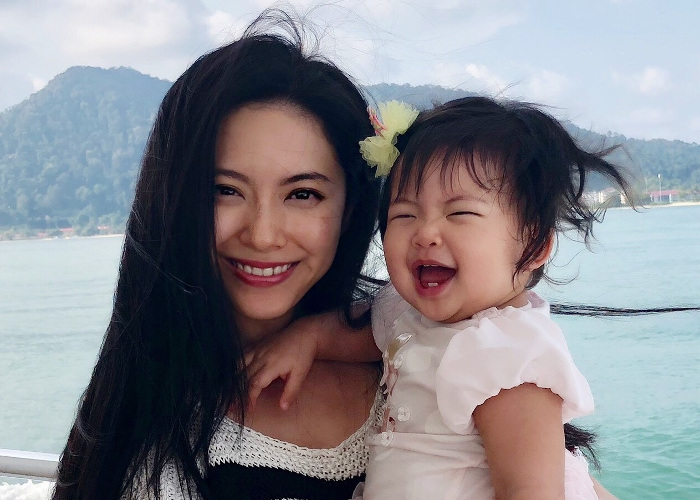 Race with her daughter, Cara.
Afternoons usually comprise of 1-2 meetings with external parties, some days like today I'll be out on roadshows and meeting with our app users. These 4 hours fly by and before I know it, it's 6pm.
I start thinking that I have to leave my office now or I'll miss the window to feed Cara and put her to bed. So I'll tell my team that I'll be back if they'll still like to see me otherwise we can catch up over the phone. I start packing up and rush home.
Dinner is the most important time for my husband and I to catch up on each other's day. After dinner, I either go back to the office or continue my work at home.
How has your own mother influenced you into the mother you are today?
Rhonda: Both my parents were often working during my growing up days but they'll always make time for dinners together and be present during the important days.
Seeing how hardworking my parents were in order to provide us with a better life made me appreciate my time with them very much and also made me understand the value of hard work.
Having been through such a journey, I feel comfortable being a working mom even though I know I'll be missing out on some precious moments with my little one. I know that it's okay for parents to not have to be by their child's side all the time.
If you have brought them up right, your absence in their early years does not make them love you less but instead have an appreciation towards your hard work and the time spent together.
Race: My mum, the kindest soul on earth, always taught me to be kind, to be gracious and to be generous. She has always been my role model and has always been supportive. Because of her, we hope to only be the best that we can be for our children and that they will also grow up to be kind and caring individuals too.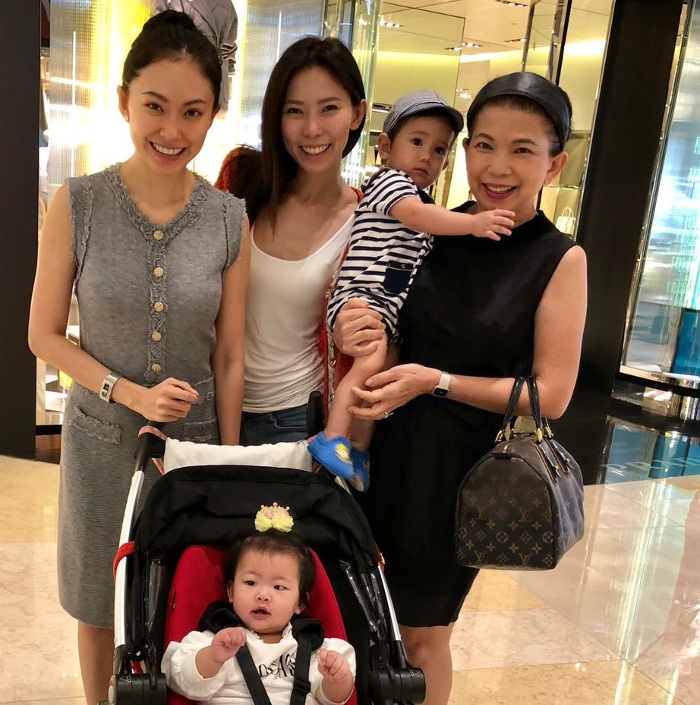 (L-R) Race, Rhonda and their mother, with their kids.
What are the life skills or values you learned as a child from your mother, which you hope to instill in your child in the future?
Rhonda: Kindness, empathy, generosity.
Her heart is pure and full of positivity, nothing can bring her down. I'm not sure if I've learnt enough from her but I certainly hope that my children would have the privilege of having her influence.




Race: Our mum is almost a perfect human in my eyes. She's good in business, an amazing cook and is always kind and generous. I learned from my mother that she's always able to give and offer help to someone in need. She has always been a giver, not a receiver.
I hope that Cara can learn to give and contribute to others to the world instead of being of a passive receiver. Also, that we are able to craft our future with the right values and hard work because my parents became successful only through sheer hard work and aligning themselves on a common goal, they have created a wonderful family, living comfortably in Singapore.
What made you decided to start your own company?
Race: The creation of Ohmyhome was inspired by the advancement and power of technology to create solutions for problems or gaps in the market. As we were already in the real estate market, innovating this market is only natural to us.
For the longest time, the real estate market had become stagnant and it had an urgent need to innovate, increase efficiency, save costs and provide smarter ways of doing things. We believe Ohmyhome is doing exactly that.
That's why we strongly believe in creating a one-stop solution for all housing transactions. Whether you want to buy, sell, rent, engage a professional fix-rate agent, mortgage or find a lawyer, you can find all these reliable solutions with us.
Rhonda: When friends and family who had difficulties in transacting their HDB came to us for help, it made us realise that the mass market sector could very well transact by themselves in a cost-free manner, if only they had the option to. All they needed was an app that simplified the entire process and allows them to connect with one another.
We set out to make housing transactions simpler, faster and better, putting the control back in the hands of the buyers, sellers, tenants and landlords.
Ohmyhome launched in 2016 and we're proud and humbled by the positive responses. Till date, Ohmyhome has helped to simplify numerous housing transactions and have successfully transacted a combined value of more than S$460 million.
What is it like being a mum in today's tech world? Were there any challenges faced when you were starting out the company?
Race: Being a mum in today's world is challenging because we are no longer able to control the kind of influence our kids are exposed to.
Rhonda: Change is a constant thing, especially in the tech world where change is at a higher speed than other industries. It doesn't matter if I'm a mum or not, I have to be on top of my game. At the same time, it is also very exciting, because of the limitless potential of the tech world.
One of the biggest challenges we had was explaining our offerings to people. Our DIY free posting and fixed-rate agent were such fresh ideas that it took time to educate our users to understand that it really, is free to post, search and connect with homeowners.
We have overcome much of the challenge by offering the best agent services at the best rates in town. Word of mouth referrals is very strong now as we have successfully transacted more than 1000 homes and there are more than 200 5-star ratings on Facebook.
What does your spouse do? How has he helped you in your entrepreneurial venture?
Rhonda: My husband is in the business of real estate, he does development management in Melbourne. He is such an understanding and supportive man, I am truly fortunate. He understands and respects my commitment towards my work, because he too, is someone who is very driven in his work.

Rhonda with her husband and her son, Ashton.
Outside of work, he's such a wonderful father to our son, he is an extremely 'hands-on' dad. Each and every bit of that helps me stay focus on my work.
Race: My husband is also in the real estate business specialising in students and workers accommodation. He definitely has been a huge inspiration to me. I often run my ideas through him and he never fails to give me valuable inputs and has even helped connect me to people who can potentially find me the solutions I need.
How did you deal with mummy guilt?
Rhonda: I constantly tell myself not to focus on the small stuff, but to make sure that I'm there for Ashton on the big things that matter. I know that Ashton loves me a lot, he's always kissing me and giving me cuddles, and this helps me deal with the fact that though I can't be there for him all the time, our bond remains very strong.
Race: When a woman becomes a mum, she should still remember that she is a woman and not just a mum. As a woman, we have many roles to fulfill, manage and grow into as we age. At the end of the day, we need to grow as a person, not just as a mum.
What are your own 'hacks' when it comes to juggling between work and family?
Race: What I do is to completely focus and give my 100% on a particular task at any point in time. For example, if I just have one hour with Cara in the morning, she has all my attention.
When I'm at work, my to-do list is in front of me and I focus completely on finishing my tasks. I am a positive person and I think the mindset of a person depicts how one feels about life and tasks.
Embrace all that you have, including the ups and downs because everyone's experience is unique. So, make the best out of you.
Rhonda: Have a routine that you can truly commit to.
On mornings that I do not have work to attend to before 9am, I would always spend time with Ashton. I lunch with him twice a week and put him to bed four times a week.
One evening a week after Ashton goes to bed, my husband and I would enjoy a quiet dinner together. Aside from all the above, my calendar would be committed to Ohmyhome.
It helps to have a routine and stick to it rather than play by ear because that results in procrastination, losing your sense of time and priorities.
Photos courtesy of Rhonda and Race Wong.
Want to be heard and seen by over 100,000 parents in Singapore? We can help! Leave your contact here and we'll be in touch.