Balloon sculpting, face painting, candy floss and a fairytale theatre show – these aren't the typical offerings you would find in a hospital, but on Sunday, 30 June 2019, scores of families joined in the fun at Gleneagles Hospital's 60th Anniversary carnival, "Healthy Ever After".
(Carnival-goer Alethea holds up her "Fairyium" proudly at the Terrarium-making station)
At Healthy Ever After, families with young children got to travel back to Once Upon A Time, embarking on a fun heritage walk to explore Gleneagles Hospital's rich history. Did you know that it was a luxury hotel in the 1950s before it became a hospital?
There was a delightful "fairytale" element in the whole carnival experience. From the captivating theatrical play by ANDSOFORTH and starring fairytale characters, to the fun-filled activity stations and enchanting décor.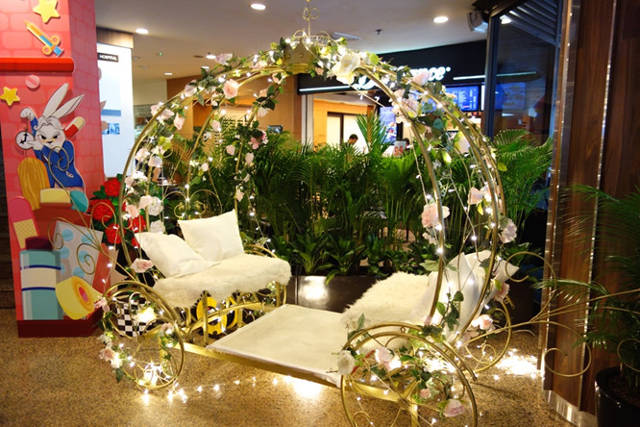 (Did we mention that there was a carriage strewn with fairy-lights? We definitely weren't the only ones snapping Instagram-worthy selfies there.)
Read on and get more behind-the-scenes glimpses of Healthy Ever After!
Heritage Trail Adventure
Each carnival-goer was handed a Gleneagles Hospital Heritage Trail booklet with a map. We were excited by this "treasure hunt" feeling of discovering the eight locations shown on the map, with each of them revealing interesting bits of the hospital's history.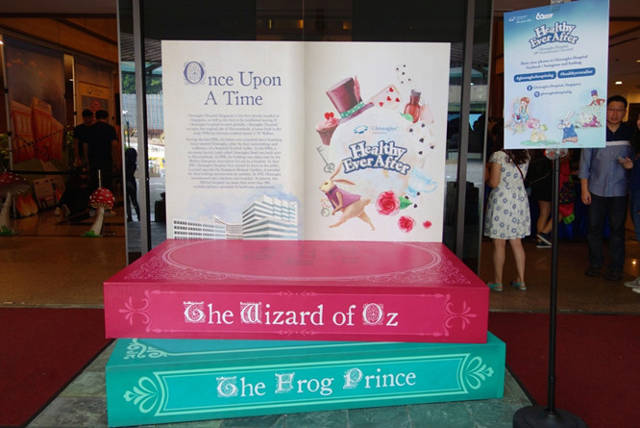 (The "fairytale" of Gleneagles Hospital, portrayed here on a giant storybook.)
Not every hotel becomes a 258-bed hospital, but such begins the story of Gleneagles' impressive 60-year history. It was the first of the 13 Gleneagles hospitals located in various locations around the world.
In 1959, the hospitals opened their doors to the public. Come 2021, when the new Napier Station on the Downtown MRT line opens, Gleneagles Hospital Singapore will be even more convenient to get to.
After collecting all eight stamps, participants also stood a chance to win an adorable Gleneagles teddy bear!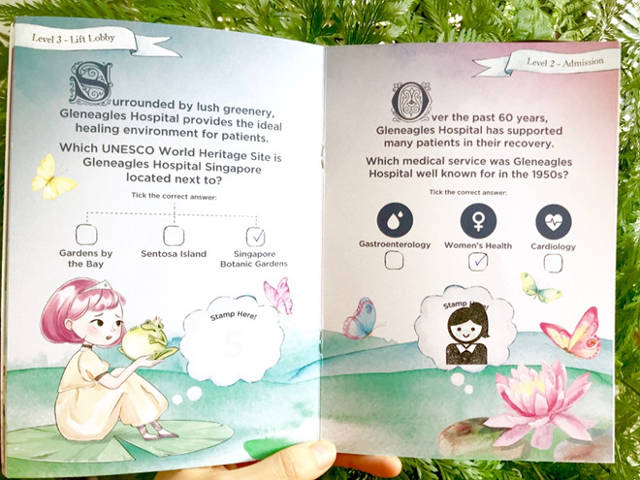 (Pages from the Gleneagles Hospital Heritage Trail fairytale booklet. You could bet that we adults were just as excited as the kids in collecting all the stamps! After that, we made it just in time for the theatre performance…)
Fairytale Theatre Performance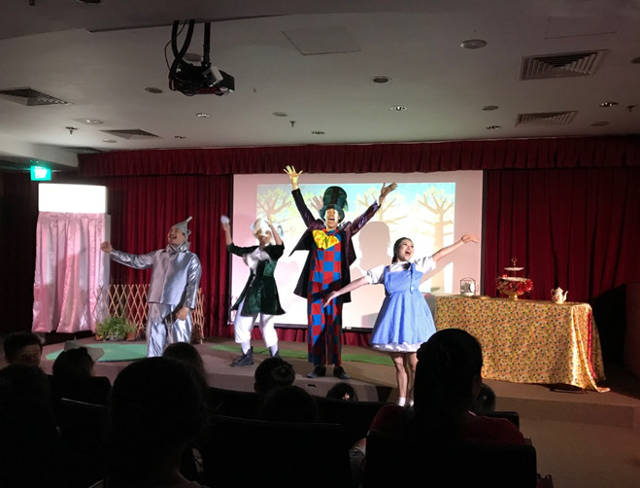 (Mr Tin Man, Miss Rabbit, Mad Hatter and Dorothy star in this delightful theatre performance by ANDSOFORTH)
Confession: Days after the carnival, we are still humming the catchy theme song, "Dr G" from this theatre show, which was as funny as it was interactive. Beloved characters from classic fairytales got to experience various light-hearted medical emergencies, prompting them to meet Dr G at the Gleneagles Accident & Emergency, where the average waiting time is only 30 minutes.
In the play's first act, Mr Tin Man experienced irregular heartbeats, causing him to get spooked easily. His dramatised high-pitched screams at the smallest scares prompted the audience to burst out in laughter. After Dorothy accompanies him down the yellow brick road to meet Dr G, Mr Tin Man finally got his heart fixed.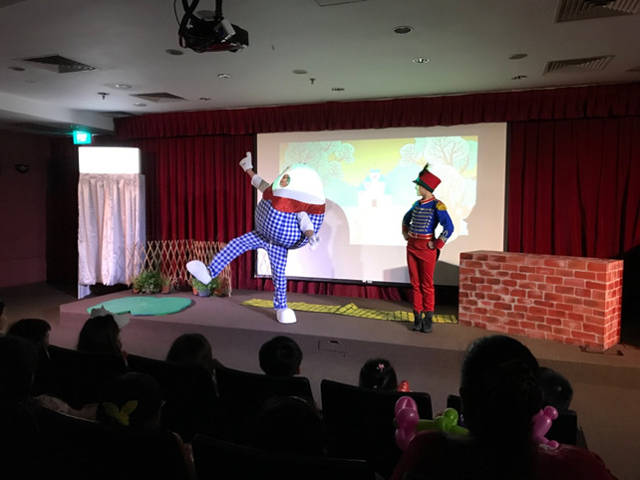 (Uh-oh, Humpty Dumpty cracked his shell! Off he goes to Dr G, who treats any matters of the bone (as well as the heart and stomach).
Similarly, in the second act when Humpty Dumpty falls down the wall, he goes with Soldier Jane to see Dr G for his orthopaedic emergency. Next came the Frog Prince, who suffered from a stomachache after eating too much sweets and cake, which caused excessive ribitting and burping. Finally, Miss Rabbit and the goofy Mad Hatter's tea time got interrupted when Miss Rabbit couldn't get over her nasty cough.
(The princess leads the audience in song as the Frog Prince works up the courage to visit Dr G for his stomach ache.)
Fortunately, Dr G worked his magic in all of these medical matters – with the input of the audience, that is. The kids' faces lit up at every interaction with the characters on stage. By the end, we weren't the only ones chanting, "Average waiting time is 30 minutes. Come see your friendly Dr G for any medical emergency!"
Fun-filled Carnival Activities
(Kids had fun at the Fast Track A&E medical activity station.)
Does your kid like playing "doctor"? At Healthy Ever After, there were medical activity stations for kids to learn about body anatomy, food plates, gastrointestinal health, and more.
One of our favorites was the Fast Track A&E station, where there was a fire scene with an injured victim on the ground; a cardboard ambulance that ushered kids to the A&E, where they learnt about medical emergencies. The kids enjoyed the hands-on activity of bandaging one another.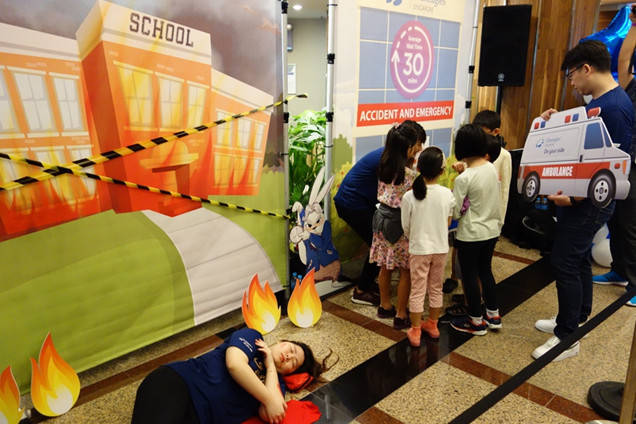 (We were impressed by the detailed props and acting. Note the burn victim on the floor.)
(After some instruction from the volunteer, a kid shows his bandaging know-how at the Fast-Track A&E medical activity station.)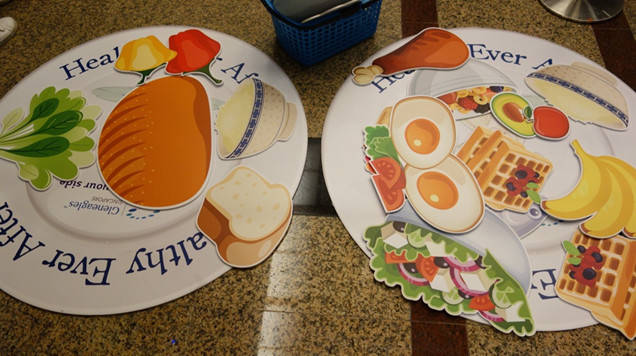 (Healthy meal, anyone? Here is the Food Plate gastro station, one of several medical activity stations that helped kids learn more about Gleneagles Hospital's medical specialties.)
Other free hands-on activities included bead art and terrarium-making. There was also a photo booth with props galore. And of course, it wouldn't be a fairytale-themed carnival without a bouncy castle.
Carnival-goer Ms Song, who attended with her 5-year-old daughter, probably put it best when she said, "This is a nicely-done, elaborate event. I feel like Gleneagles Hospital was very good at utilising this space. There are lots of activities for families here."
(What a way to burn off some energy! Arya, age 10, said that her favourite station was the Bouncy Castle.)
(Isabella, age 9, pictured at the beads art station, said that a big highlight was the theatrical show because she liked Mr Tin Man and Dorothy. Isabella and her sister, Arya, were both born at Gleneagles Hospital.)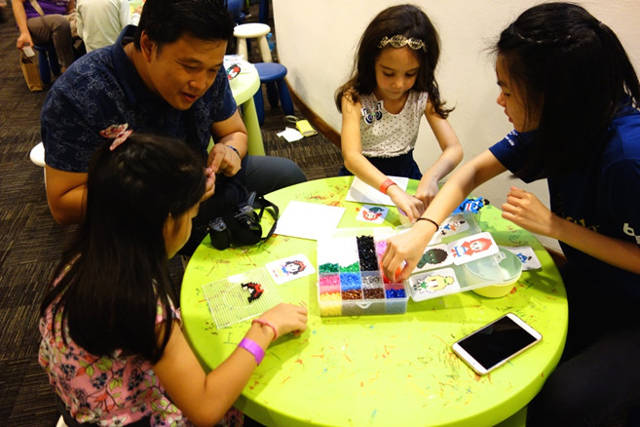 (Which fairytale character would you make at the bead art station?)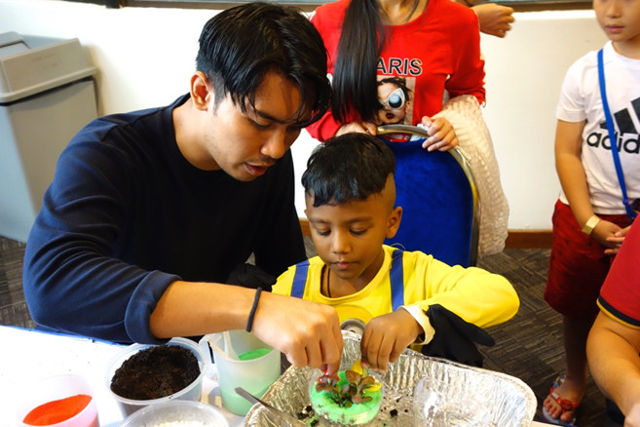 (Terrarium-making was a popular activity amongst both kids and adults. They got to make their own colourful plant worlds inside transparent egg-shaped containers.)
(Chris, age 5, said that his favourite station was Balloon Sculpting.)
Kids even got to join the 60th birthday cake-cutting ceremony alongside Gleneagles CEO Ms Hui Hwa Koh-Minjoot (who herself gave birth to her children at Gleneagles) and Guest-of-Honour, Dr Amy Khor, Senior Minister of State, Ministry of the Environment and Water Resources and Ministry of Health.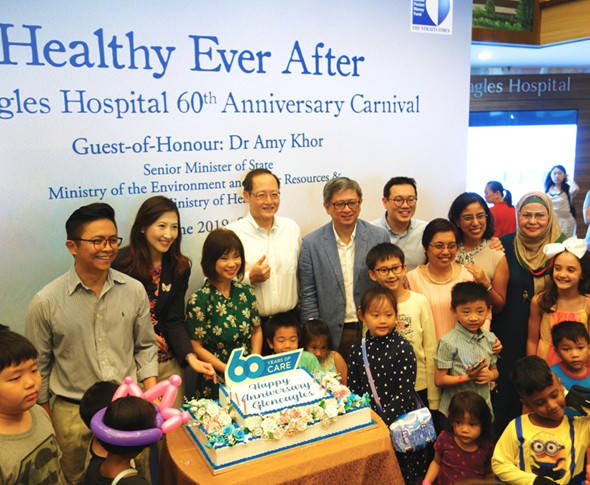 (Happy 60th birthday, Gleneagles Hospital!)
Gleneagles Hospital Singapore is one of the pioneer private hospitals in Singapore. It is also the first of all global Gleneagles Hospitals, providing a wide range of specialist, diagnostic and imaging services, and a 24-hour accident and emergency (A&E) and outpatient unit.
Since 2006, Gleneagles Hospital has been accredited by the Joint Commission International (JCI), an internationally recognised standard for patient and staff safety, reflecting the organisation's commitment towards quality healthcare.
Can't get enough of health tips from the fairytale characters? Click HERE to subscribe to weekly health articles and live Healthy Ever After!
This post is brought to you by Gleneagles Hospital.
Text and photos by Jenny Tai.
* * * * *
Like what you see here? Get parenting tips and stories straight to your inbox! Join our mailing list here.
Want to be heard 👂 and seen 👀 by over 100,000 parents in Singapore? We can help! Leave your contact here and we'll be in touch.