40 year-old Hwang Siew Ling never imagined starting her own business. The mother of two shares what she learnt while starting and growing The Party Stuff, how she managed motherhood and shake off the bouts of mother's guilt, and why she does not believe in work-life balance.
Image courtesy of Hwang Siew Ling
You started off in Investments, before starting The Party Stuff. What made you decide to do so?
I never imagined I would start my own business. It was almost like an option of last resort, as I wanted some flexibility so that I could fit in motherhood and yet still have a career. It is by no means shorter working hours, but it does provide some control over your time.
As to why party items – I have always loved cartoon characters. It is my personal quirk and up till today, I carry a Snoopy bag to work, use a Sesame Street pencil case and tell the time with my Micky Mouse watch. The Party Stuff was started based on many kids' themes, though we have now evolved to a much wider range focusing on more sophisticated and grown-up events.
You started The Party Stuff in August 2010 as a very small online business, with only yourself manning the entire show. How did you manage to grow it from an online shop to what it is today – a 3 brick and mortar retail shops and a larger online presence?
It all starts with that little spark of passion and then it's always a question of "What's next?" I spend pretty much every day thinking of what to do next, what we should improve on, and what new products we should bring in or manufacture. We have moved from just importing items to sell to self-designing and manufacturing some of our own party supplies. So that has been another new facet of the business.
We are also focusing more on providing our services to corporates as well as balloon printing services. I have been extremely blessed to have worked with many good colleagues along the way, who have contributed ideas, added their own energy and enthusiasm to the business, and offered support through the various stages of this company. Where the business is today is the combined effort of both past and present colleagues.
What was the biggest lifestyle change after you became a mother?
Everything changes! And the funny thing is despite how everyone tells you how life is going to change, everything that you read about becoming new parents warns you that life is going to change, it still hit me squarely in the face when everything changed! I would say the biggest change was how I was 'forced' into the acceptance of change itself!
Before motherhood, it was a fairly clear path, things were in control – mostly because the kids had not arrived. I generally don't like dealing with changes or unplanned, unscheduled things but motherhood has forced me to deal with changes and in fact, to embrace the spontaneity that kids inject into our lives. Having children pushed me out of my comfort zone. It is an ongoing lifestyle change as the challenges of motherhood changes as the kids move from one age group to another.
How old were your daughters when you started The Party Stuff?
My eldest, Kimberly was 3 and Kayley, my second child, was not born at that time.
In terms of parenting, what was the biggest change you had to make when you switched over from a corporate job to starting your own business?
Learning how to draw my own lines between work and family. When you run your own business, the lines start to blur between work and family because you have essentially taken on another 'baby'. I spend quite a bit of time working from home and I had to learn the discipline of carving out time to be fully available for my kids and not being half present i.e being physically there, but zoned out thinking about work. The reverse is true as well. I had to figure out how to carve out time for work without the kids around, which is why I land up working best in the early hours of the day or at night.
What was the most stressful period when you started the business and how did you overcome them?
The beginning was the most stressful. Venturing into the unknown is quite crazy and when you are on your own, there are so many details that being in the corporate world doesn't prepare you for! Managing stress – my greatest stress-relief has was/is my husband, who has been my greatest supporter and my sound board.
Work-life balance. Do you believe in it? If so, how do you strive to balance your career and family?
No, I don't. I do not believe in work-life balance as an optimal point in one's life that you need to work towards. I do not think there is a point where we can sit down and say "There, I have now achieved work-life balance". In fact, the word 'balance' itself is not used correctly and makes women wonder all the time, "Where is this elusive balance? What am I not doing right to achieve it?"
Don't chase the balance, or you will find plenty of reasons and excuses why your life is not optimal. Instead, focus on the now. Each and every day, we get pulled by different issues and there are conflicting demands on your time, all the time. I see it as prioritising the right things at the right time and making peace with yourself.
There will be days when work issues require me to focus more attention on that, and there will be days where my family requires my full attention. But there are also many moments where things don't work out so neatly and its part of the challenge. Thanks (or no thanks) to technology, I do have some days where I am literally answering work emails by poking away on my phone while getting dinner ready for my kids or holding the phone with one hand and hanging on to my screaming baby with the other hand. I am sure many mothers will attest to the sudden discovery of how many things one can do with just one hand while holding a kid in the other.
It is also about adjusting your own expectations; this can be how we perceive ourselves to be judged. I think sometimes social media doesn't help as most people only post happy, perfect moments giving lots of examples of super mummies who manage it all.
What I find works is to acknowledge the fact that something has got to give and being at peace with it. My home may not always be spanking clean, you may find loads of laundry piling up, but by not chasing the idea of a perfect parent, I think the kids have a happier parent who gets to enjoy their childhood journey.
Faced any mother's guilt when you had to work overtime? How do you shake it off?
I think this hits most mothers at one point or another and it isn't about whether mums work or not. Stay-at-home-mums have the toughest job in the world and some probably get hit by mother's guilt when they choose to get some "me" time as well. It was probably toughest when I was a new parent with my first girl and a lot of societal "shoulds" actually got to me.
But at the end of the day, I sincerely believe that a good mother is a happy mother. While my kids are definitely the center of my life, my world does not just revolve around them. My wish for my kids is for them to grow up to be secure and well-rounded adults. Hopefully, my husband and I are some forms of role models for them. The guilt still creeps in every now and then, but I think you have to stare it in the eye, and as long as you stay honest with yourself and you are not neglecting the kids, don't sweat the small stuff and stay focused on the big picture.
What are your girls' favourite items at your store? What's the bestseller at The Party Stuff right now?
My eldest girl (now 9) has grown up from having cartoon favourites such as Mickey, Toy Story and Frozen to more non-themed based items with floral or rainbow designs. My little one (who is 2 years old) pretty much likes any cartoon character that she recognises such as the minions from Despicable Me, Peppa Pig and Dr Seuss. Surprisingly, she loves Star Wars characters as well. She has been especially tickled by our BB-8 pinata and Stormtrooper airwalker (pictured below, together with a minion balloon). Despite the huge age gap, they both love balloons and I think this is a universal item loved by children and adults.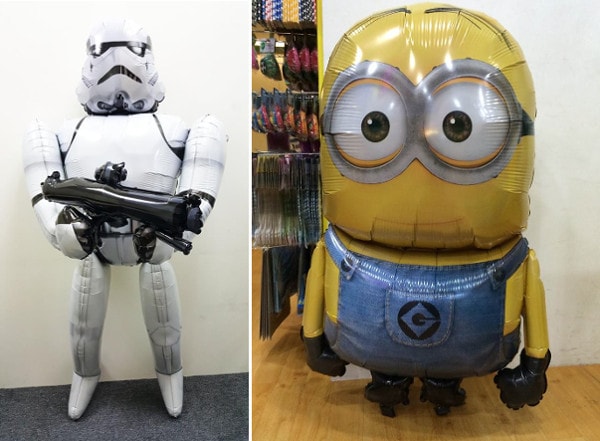 Image source: The Party Stuff Facebook page
This year at The Party Stuff, our key focus and our bestsellers are our balloons including our giant latex balloons, our mega alphabet balloons, as well as our animal walking pets, especially after introducing the special free delivery packages that comes along with these items.
To the budding mumpreneurs out there, what would you say to them before they make that leap of faith?
Starting your own business is more than a leap of faith. It is a marathon, with lots of slopes, unexpected turns and bumps along the way. In many ways, it mirrors motherhood and the business is another baby. You can't start a business and then draw the line between work and the rest of your life. Your work has become a part of your life and that is the choice that you have made.
There is nothing glamorous about having your own business. In fact, it is the reverse. In truth, it is a lot harder than working for someone else, but there is that advantage of having some flexibility to do things at the time you want to, and where you want to (in other words: midnight, at home, when the kids are asleep etc).
Be ready to roll up your sleeves, do things you have never done before, keep learning, and stay true to your principles because they will get challenged at some point. Remember to take care of yourself, amidst the crazy schedule. Find time to haul yourself to the gym or go for walks or whatever helps you rejuvenate. We tend to take care of everything except ourselves.
Complete this sentence. If I could turn back time, and change one thing in the world, that would be…
Nothing. Everything happens for a reason and I prefer to live life-based on gratitude and happiness. Everything that life has presented, whether good or not so good, has brought me to this point.
As we say at The Party Stuff, "Celebrate Today!
Enjoyed reading this or learned something new? Click the Like and Share button below!
Want to be heard 👂 and seen 👀 by over 100,000 parents in Singapore? We can help! Leave your contact here and we'll be in touch.