Beatrice Chia-Richmond is a multi-award winning theatre director and actress. Not only is she one of Singapore's most prominent creative figures, but she is also a caring, attentive mum to her 8-year-old son.
Since her directional debut in 2001 – which won two awards at the 2001 DBS Life! Theatre awards – Beatrice has directed over 40 productions. Among them are the acclaimed productions of BENT, which was awarded the prestigious "Play of the Year" in the 2003 Straits Times Life! Theatre Awards, and CABARET, starring Asian superstar Fei Xiang.
Other honors include the 2006 National Arts Council "Young Artist Award" – the nation's highest accolade for the arts, and being appointed Creative Director for the 2011 National Day Parade. Beatrice is the first female director ever to receive this appointment.
In 2013, she was appointed Creative Director of the highly anticipated Opening and Closing Ceremonies of the 28th South-East Asian (SEA) Games, slated for 5 June 2015. It's expected to be the largest ceremony held at the new National Stadium by far.
Despite her grueling schedule, Beatrice still finds time to be with her family in the midst of back-to-back meetings, show preparations, and rigorous rehearsals. She exemplifies an admirable ability to uphold her work ethic while being flexible enough to meet the demands of her professional and personal life. Through it all, she upholds a positive outlook on life and parenting and offers practical advice for other mums.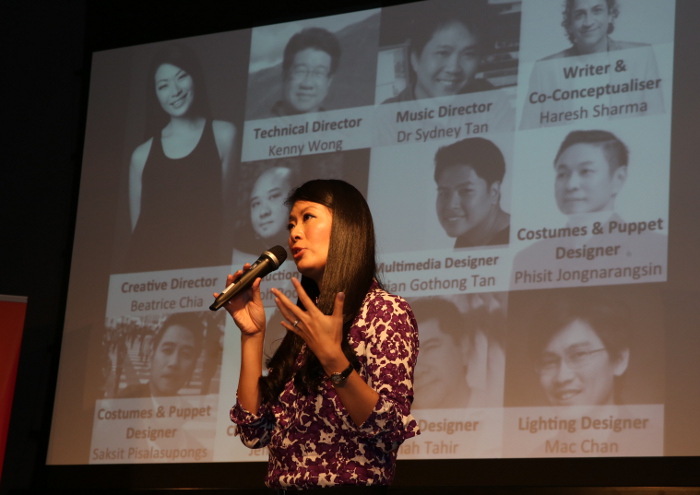 TNAP: What's your work schedule?
On weekdays I wake at 6:15 AM. It is usually a mad rush to get Sol, my 8 year-old, ready for school. While thankfully he never protests about going to school, he can be difficult to rouse. We leave the house by 7am. After I drop him off I'll come home and get ready for work.
The first meeting of the day usually begins at 9 am and is followed by back-to-back meetings throughout the day, interspersed with blocks of rehearsals for the SEA Games Opening and Closing Ceremonies.
Most days, I don't finish work till 9 or even 10 pm. On the odd days I do get off a little earlier, I try to rush home to see Sol, go through his homework, pay bills, or squeeze in an hour of yoga.
TNAP: When do you typically spend time with your kid?
At the moment, because of the SEA Games Opening and Closing Ceremonies rehearsals, it's been tough to spend quality time with Sol. The project is all-consuming. I make it a point to send him to school every morning, and if there is any opportunity during the early evening, to come back and have dinner with him.
Previously (before rehearsals began), the weekends were all about Sol. My husband Mark and I made it a point to take him for lunch, swimming lessons, catch a movie, and go cycling on Saturdays. Sundays are our family golfing days, so the three of us are usually on a golf course the entire day! It's a great way to spend the day together.
TNAP: What do you find tricky about your current work-life-parenting set up?
When I am preparing for a show and rehearsals have yet not begun, I like to imagine that we get a pretty good balance in. I would be able to get off work by 6 PM to head home to have dinner with Mark and Sol, go through homework with Sol, watch a little television (Sol loves his National Geographic programmes), then take a bath and go to bed. Weekends are all about family time.
But once rehearsals begin, all that goes out the window as the schedule is pretty relentless. I am definitely fighting for time in the day to spend with the family. However, Mark and Sol know that this is always only temporary and that rehearsals don't last forever. They have gotten used to the fact that once rehearsals hit, I'm operating in a different "time zone." They are awfully supportive so I am a lucky, lucky girl!
TNAP: What advice would you give to aspiring mumtrepreneurs?
My advice is that children thrive better on a consistent schedule. So even if you have a backbreaking schedule, try to keep the times you see your child consistent, rather than ad hoc moments. The inconsistencies build expectations and therefore disappointments.
➡️ Related Read: How to Create Consistent Routines For Children
Also, don't get trapped by guilt. It's not useful psychology to work under. Just work towards a regular schedule with your children and maintain it as best as you can.
Most importantly, don't try to be superhuman! No one is judging you!
This article was first published in The New Age Parents e-magazine.
* * * * *
Like what you see here? Get parenting tips and stories straight to your inbox! Join our mailing list here.
Want to be heard 👂 and seen 👀 by over 100,000 parents in Singapore? We can help! Leave your contact here and we'll be in touch.