One has been an early childhood educator for over a decade, while the other works with children with special needs. TNAP speaks to two early childhood educators on the biggest misconception people have about their jobs and what inspires them.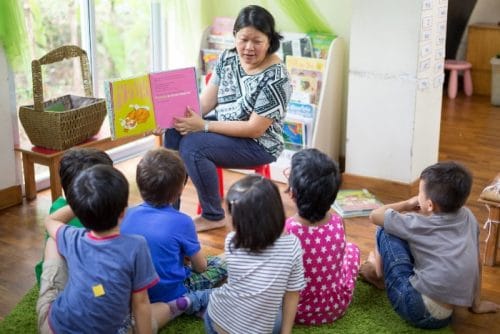 Who: Jenny Tan, 46 Teacher at Little Village
"There is no greater privilege than being able to learn alongside children and witness the growth they make in their learning and development."
An early childhood educator for the last 13 years, Jenny never dreaded or had a dull moment at work. She is also a recipient of the Leading Foundation Teacher Award in 2015, an initiative by the Leading Foundation which supports programmes in education and leadership, administered by the Community Foundation of Singapore.
Hi Jenny, tell us more about what you do!
The past years of my career have been particularly exciting. I started working at Little Village in 2012 and the philosophy the school holds has challenged me to reconsider how learning should and could be like for our children.
At Little Village, our primary goal is to honour, cherish and nurture our children's sense of wonder while cultivating in them the passion for learning. We believe in creating opportunities for making discoveries, widening and deepening understanding in the process of constructing knowledge; having children take ownership of their learning by initiating ideas and making decisions. We co-design learning experiences that are worthy of children's attention and effort and respect their voices; taking into account their strengths, passions, interests, experiences and questions.
What is the biggest misconception of what you do as an early childhood educator?
A great misconception people have of my job is that it merely involves keeping the children safe and "teaching" them "basic" things that may not be deemed as important. In a nutshell, people often think that I have an easy job! They cannot be more wrong!
Every child is different. They come to me with very different backgrounds, learning styles, learning needs and develop at very different pace. In order to meet the needs of the individuals, I have to differentiate my instructions and tailor their learning experiences I offer in my classroom. Trust me when I say that my work is far from easy.
What do you want everyone to know about being an early childhood educator?
The work of an educator is not easy and unlike many other professions, the work of an educator does not end at the end of the school day. There are lessons plans to be designed, observation and notes to put together, updates to be created for parents, resources to be made, etc. It is a profession that demands a lot of time, effort, passion and commitment… but it is also one of the most rewarding and privileged professions I can think of. I have the opportunity to make a difference to young hearts and minds and witness the growth of the children that I work with every single day and that is such a privilege.
How teaching and being with children inspire you?
I think there is infinite potential in every child and when we give them the time, space and opportunity, they are capable of making a difference to the larger world around them. Last year, the children I work were moved by the plight of the earthquake victims in Nepal. They asked the teachers if they could do something to help the victims and that was how a fundraising project began. The children decided to utilise the resources that were available such as the fruits that we grew in our school.
➡️ Related Read: Public Safety Advisory On Tremors Felt In Singapore
We made papaya jams and harvested limes, bananas and vegetables, which were sold to our school community. To ensure that the fundraiser would be successful, the children also asked to develop eye-catching posters to publicise the event so that they could attract the crowd and raise as much money as they could for the people in Nepal. They did so much. This child-led project eventually helped raise $1350 for Mercy Relief in a short span of two hours.
The children's heart for the people in need, courage to dream and most importantly, determination to make their dream a reality inspired me so much and made me realised how big a difference our very young children are capable of making when we believe in them.
Who: Chen Yit Toun Babe (pictured right), 53, Special School Teacher at Rainbow Centre Early Intervention Programme (Margaret Drive)
"They (the children she teaches) are my little super-heroes and heroines."
Babe believes people should not limit to what a child can or cannot do based on their condition or diagnosis. She is often amazed at how they have overcome many obstacles and made remarkable achievements later on.
What is the biggest misconception of what you do as a special needs educator?
The assumption that my job is difficult, there is little satisfaction, that my job needs great patience or that it requires a lot of giving on my part.
What do you want everyone to know about being an early childhood educator?
That I am the benefactor when I am working with children with special needs. I am learning life's lessons that no text book can teach me. I learn from the caregivers, children and my colleagues what compassion, dedication, perseverance, creativity, adaptability, tenacity and humility means. Above all else, the never-give-up spirit and the hope that ignites! Mother Teresa ever said "The miracle is not that we do this work, but that we are happy to do it". Being a special needs teacher has been the most fulfilling job for me.
How teaching and being with children with special needs inspire you
When I am able to celebrate the little successes alongside the caregivers and paraprofessionals, it gives meaning and great joy to my work and inspires me to carry on. Often times, it takes a lot of determination and hope for the child to overcome obstacles and difficulty to achieve a task that many would have passed off as simple, like dropping a hand-size toy into a container. What struck me the most is how many caregivers are undeterred by the countless failures and attempts. When they see their child finally succeed, the joy and happiness cannot be expressed with words. To be able to share this joy is to me, a priceless experience.
The Leading Foundation Teacher Award is an initiative by the Leading Foundation which supports programmes in education and leadership. It is administered by the Community Foundation of Singapore, a non-profit philanthropic organisation that bridges donors with community needs.
Photos courtesy of Jenny Tan and Chen Yit Toun Babe.
* * * * *
Like what you see here? Get parenting tips and stories straight to your inbox! Join our mailing list here.
Want to be heard 👂 and seen 👀 by over 100,000 parents in Singapore? We can help! Leave your contact here and we'll be in touch.