Parents of special needs children often struggle with public lack of understanding, scorn, pity and exclusion.
Granted Singapore is making moves towards being an inclusive society – with the Enabling Masterplans, successful Purple Parades and greater support for special needs families, there are many issues we hope more members of the public can be aware of.
Intellectual disabilities are not contagious
I recently heard about an incident where a group of youths with mild intellectual disability were on an outing to the movies with a volunteer. They were very excited about the outing.
One of the youths accidentally bumped into a pregnant lady. She wasn't hurt, but she started screaming at the volunteer and made remarks on why he had to take 'these kinds of people' out in the public and "What if my baby became retarded too!"
The episode affected the youths so much that one of them refused to attend any more outings and had to be coaxed for 3 months before he summoned up the courage to try again.
It's a myth that intellectual disabilities are contagious. Some developmental disabilities are a result of a disease, but developmental disabilities are definitely not contagious.
We welcome being welcomed
It is an Asian trait where we are embarrassed to impose upon other people if our children exhibit certain undesired behaviour when we are outdoors or at events. This may cause some special needs families to prefer isolating themselves than participating in events.
Hence, we're very appreciative when others make an effort to invite us and our children as part of the party.
We appreciate simple things such as when the organisers ask how they can assist to make accommodations for our family and when they share details in advance for us to prepare our children. These help make us feel included and welcomed.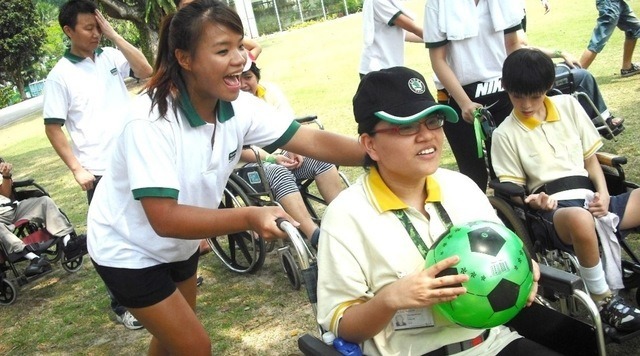 Participating in inclusive activities help our children become more confident, improve communication and have better mental health.
(Photo credit: SPD)
In fact, groups of special needs caregivers are also organising their outings and activities to reach out to more families with special needs. Ms Chia Min Lee, Early Intervention Programme Manager, SBCC Child Development Centre said,
"There has been significant progress made in creating an inclusive society in the past few years, and this is largely due to greater awareness, understanding and adaptability.

As we continue to build on this, the partnership between the government, educators and the public remains a vital part of creating an inclusive culture for children to grow up in."
If you would like to support families with special needs, don't keep us at arm's length.
Don't judge us if you don't understand our situation
What bothers many special needs families is impulsive judgment from others who haven't been in our shoes.
When our child repeatedly gets lost, some netizens may question the quality of our parenting. They may not understand how difficult it is to keep a tracker on our child who can easily remove it or the multiple solutions we have attempted.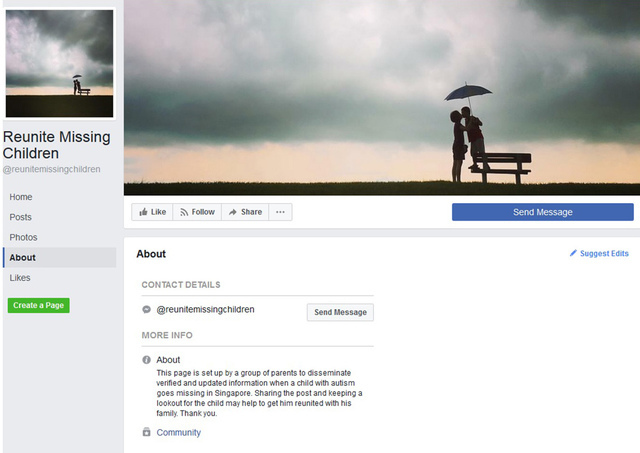 Facebook page 'Reunite Missing Children' seeks to help lost children reunite with their families
(Photo credit: AsiaOne)
Another issue is people taking photos and videos of our children exhibiting 'undesirable behaviour' in public and posting them on online platforms and forums without understanding and clarifying the situation in person at the scene.
The public may understand when our young child has a meltdown, but few may know what to do if our grown-up adult-dependent has a meltdown.
⇒ Related Read: When A Child With Special Needs Has A Public Meltdown: What To Do
Although we try to educate our children about private parts and how to behave in public, there could be lapses when our children revert to old habits, and unfortunately, their actions are captured by 'well-meaning' netizens to shame and mock online.
Support us, don't pity us
Pity focuses on what we and our child cannot do, which may not help us. Focus on our strengths instead – what we as parents and our child can do.
Pathlight student See Toh Sheng Jie (on the right) designed a dinosaur pouch that Mdm Ho Ching took with her to the White House.
(Photo credit: The Straits Times)
Support can come in many forms – just being there for us during hard times, listening without judgment, attempting to understand more about our daily lives, involving us and interacting with our children.
On how we can teach our children to interact with children with developmental delays, Ms Chia Min Lee from SBCC Child Development Centre shared,
"As parents, it is important to first understand that every child is unique and has special strengths. This understanding will help model empathy and inclusiveness towards everyone and your children will learn this from you.

Encouraging compassion and empathy by highlighting things that your child has in common with persons with developmental delays also helps them understand that everyone learns at a different pace, and shows them how to support their peers when needed."
We support research on special needs, but please consider sharing the results of your research with us instead of making it inaccessible to our special needs community. And if you meet a family with special needs, it would be great if you took a little time to say hi and chat with us.
To learn more about special needs, read Accepting Adults And Children With Special Needs.
To learn more about early intervention, read Early Intervention and Achieving the Promise of A Bright Future.
By Julia Chan.
* * * * *
Stay in touch! Subscribe to our Telegram here for all our latest updates.
Like what you see here? Get parenting tips and stories straight to your inbox! Join our mailing list here.