Most preschools welcome parents bringing in a cake for their child's birthday, and allowing the birthday boy or girl to come dressed up in style. What has also become the norm, in most preschools nowadays, is for the parents to prepare little goodie bags for the kids in their child's class. These can range from a simple tube of Mentos to a set of party themed stationery.
With the rise of childhood food allergies, it's best to be wise if you choose to have a goodie bag of food. Check with the teacher on what allergies your child's classmates have, lest you give them something harmful. Even better, stay away from the norm of store-bought snacks completely.
If you're racking your brains on what to bundle into your child's party goodie bag, here are some creative goodie bag ideas to consider!
#1 Customize your own party bag
Wishes in a bag allows you to select from an array of Party Bags, which they have meticulously planned for boys and girls. You can even indulge in some customised selection through our Happy Times Party Bags, as per your budget, with no worries on how to deal with the extras party fillers.
Visit www.wishesinabag.com.sg for more details.
#2 Handmade photo frame
Help your child's friends hold on to the memories of school days with this gift. Decorate some photo frames with your child to be given to these friends, and bring along a camera to school to snap photos of your child and their friends. It can be a group photo, or individual photos with each friend. Then develop the photos and pass them to the teacher to distribute on another day.
Supplies:
1. Plain wooden frames from Daiso or IKEA
2. Paint and embellishments (feathers, buttons, stickers, glitter glue, seashells, etc)
3. Mod Podge glue to coat over the decorated frame, which helps to maintain the look
#3 Craft kit
Materials for making your own plant art!
Encourage the joy of creating by presenting each little friend with a zippered pouch or box containing a variety of craft supplies, and let their imagination run wild!
Supplies:
1. Zipper pouches or boxes
2. Child-friendly scissors and non-toxic glue
3. Variety of craft materials, such as strips of crepe paper, stickers, feathers, mini pom poms, ice cream sticks and felt.
Get inspired with these craft activities: Art And Craft Activity: Create Your Own Toy Aeroplane, Art And Craft Activity: Fun with ABCs
#4 Alphabets activity
Here's another gift that is sure to score you some brownie points with all the other parents. It's low cost, and provides a means for children to be meaningfully occupied virtually anywhere – on the bus, train, in a restaurant, while waiting at the doctor's and so on.
Supplies:
1. Printed template, laminated
2. Metal or plastic ribbons to hold the pieces together
3. Throw in a whiteboard marker and a pack of tissues to complete the set
Helpful Links: Letters In Ice: Sensory Play (For ideas) Upper Case Alphabet Chart and Lower Case Alphabet Chart
#5 Portable Lego kit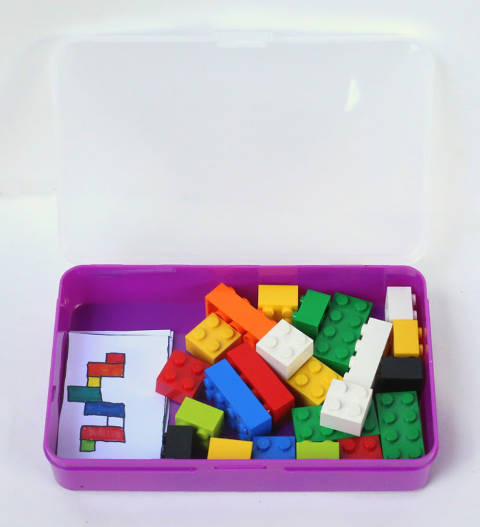 Photo: www.funathomewithkids.com
This is one of the pricier ideas, but one that's sure to be a hit, both with the kids AND their parents! It's perfect for keeping little ones entertained when waiting for meals outside, and is simple to assemble.
Supplies:
1. Colour-printed layouts, cut into cards, and laminated
2. Enough Lego bricks to make the designs – a box of 325 basic brick pieces costs about $19.90
3. Boxes for storage
Helpful Link: DIY Portable Lego Kit
#6 Hot chocolate kit
Photo: ruffledblog.com
This is so easy to assemble, with just a few ingredients from the supermarket. Best of all, you can check with the teacher if any children are allergic to the ingredients beforehand, so that you can pack their sets separately. Plus kids will enjoy having their very own 'brew' to mix up for supper!
Supplies:
1. Hot chocolate powder (or DIY with cocoa powder, sugar, and creamer)
2. Mini marshmallows
3. A stirrer
4. Gift bags with hair ties or small plastic jars
#7 Mug cake kit
Something else for children to make at home, with the supervision of their parents, of course. You can bet they will be wowed by the miracle of watching their little bag of ingredients bake up into a cake they can enjoy for tea! Be sure include notes for the parents together with this gift – don't assume every parent will know what to do. Once again, you can check with the teacher if any children are allergic to certain ingredients beforehand, and search for a mug cake recipe that can do without those ingredients.
Supplies:
1. Ingredients
2. Ceramic mug, bundled up in bubble wrap for safe keeping
Helpful links: 13 Easy Mug Cakes that are all Grown Up and 5 Minute Chocolate Cake
#8 Memory game
A simplified form of the card game, and one that's easy for little ones to understand. Cut your paper to fit one side of the block, and adhere with a layer of Mod Podge glue. Add another layer of Mod Podge glue to seal it in. Make sure you have two blocks per design. We recommend at least 8 blocks in a set, which you can pack into a small pouch as a gift.
Supplies:
1. Even number of small wooden blocks from Daiso
2. Patterned paper (or stickers if you want it even simpler)
3. Mod Podge Glue
4. Pouches or boxes for storage
#9 Doodle table mat
This is similar to what you see in some restaurants today, where there are papers and pencils for kids to doodle at their table while they wait for their food to arrive. Create a tablescape (placemat, plate, spoon, fork, cup) by drawing in black marker on A4-sized white paper. You can even make different types of place settings, eg bowl with chopsticks, plate with fork and knife, cupcake tier etc. Or draw a park or zoo scene, where kids can draw in animals and trees. Make copies and laminate!
Supplies:
1. Laminated mats
2. Throw in a whiteboard marker and a pack of tissues to complete the set
#10 Homemade cookies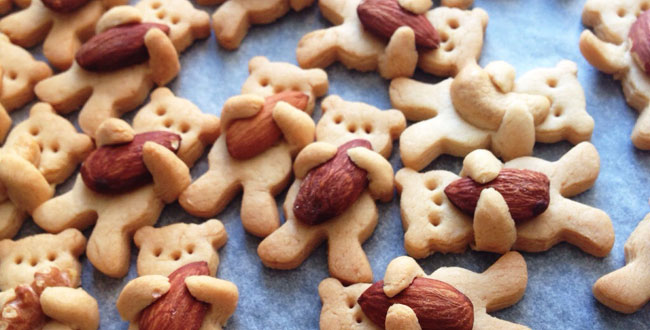 Try this cute bear cookie recipe!
If food is your choice of gift, why not make cookies for all the kids together with your child? This involves your child in the preparation of the gift for his/her friends, and allows him/her the satisfaction of saying 'I made this for you!' Once again, you can check with the teacher if any children are allergic to certain ingredients beforehand, and search for a recipe that can do without those ingredients.
Supplies:
1. Recipe – Refer to your recipe books, or search online for ideas
2. Baking ingredients
3. Plastic gift bags, preferably airtight to preserve the quality of baked goods
#11 Origami kit
The simplest gift to assemble, because you can just choose from a variety of kits in Daiso! They come in a variety of themes (animals, food, flowers, fish) and colours. Each kit should include coloured paper and instructions for making the origami shapes.
By Dorothea Chow
If you find this article useful, do click Like and Share at the bottom of the post, thank you.
Like what you see here? Get parenting tips and stories straight to your inbox! Join our mailing list here