This is the first time I have heard of ergonomically designed backpacks. I have never considered about the relationship between the height and the weight of a child with the kind of bag he or she should carry.
So the first impression of the Ergo-Comfort Spinal Support Bag was an exciting experience for my boy and me. Over the years, I have seen so many of my Singapore ex-students, my nieces and myself (during my school days) carrying bags which go out of shape and backs hunched to support the ever increasing book-load. This truly bothered me.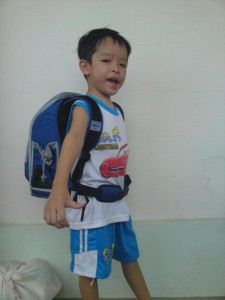 My boy loved the bag at first sight because it was blue, his favourite colour and the time-table slot available inside the bag. Kids are just so easy to please. The shiny surface of the 3M Scotchlite Reflective Material definitely caught his attention too. I am happy to see this feature, which makes the bag, or rather, the carrier of the bag visible to motorists more easily in poor lighting areas.
The shape of the bag is fixed and the base is so firm, we need not worry about it toppling over. The multiple dividers within each compartment demonstrated the thoughtfulness of the creator towards a student's needs. This greatly speeds up the time required to look for smaller items like notebooks, stationeries and art and craft tools.
What I personally like is the name tag stitched onto the side of the bag. I remember when I was in Primary School, a friend of mine lost his bag on the first day of school. Hence, I had already intended to sew a tag on my elder boy's school bag when he goes to Primary One next year. Now with this beautifully sewn-on tag, my mission is cancelled.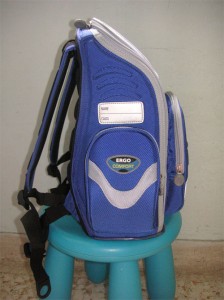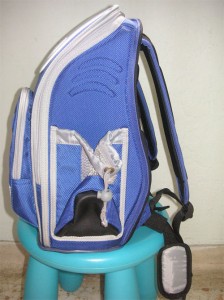 When my elder boy saw the bottle compartment on the side, he was so excited that he slotted his water bottle in immediately to see if it fits and was doubly excited when he realized that it's tightened by a nylon string, instead of elastic band which has been proven by his previous bags that it does not last.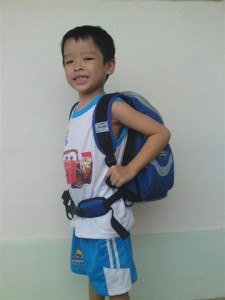 What truly amazes my husband and I was how my child's posture changed immediately upon carrying the bag. We noticed our child's hunches since 3 years ago. We had even planned to buy those posture-guards for him, so when we saw how his body straightens up and shoulders pulled slightly backwards, we were filled with delight.
With the heavier load to bring to school next year, we were really concerned about his poor posture and the weight on his spine and shoulders. Now with this ergonomical bag and the waist belt, which prevents the swinging motion of the bag from putting extra pressure on his back, we are greatly comforted.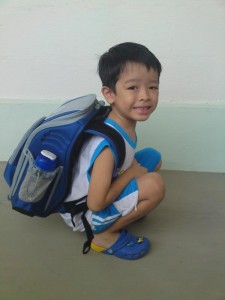 My active boy perspires very easily. Whenever I fetch him home from his preschool, he would refuse to carry his bag on his back. He would rather hold it in his arms because both his bag and his shirt are soaked with perspiration. I believe the contour on the back of the ergonomical bag allows ventilation. Hence, even when his back is all sweaty, I trust he would not feel the uncomfortable feeling of his shirt and bag pressing against his wet back.
Everything seems really perfect now, except that my skinny-small-size boy finds the bag a little bulky. Although with the waist guard on, so that the bag stays close to the body, the shoulder straps do not fall nicely on his small shoulders. This was the only complaint my boy gave. But we know that this is not a problem at all because he will grow!!! Soon, when his shoulders grow broader, hopefully before his Primary education starts in January, the strap will rest perfectly well on his shoulders. So other than this little mis-match, which is not of any concern at all, my boy and I are absolutely pleased with this new found love > Impact Ergo-Comfort Spinal Support Backpacks.