Want to introduce plants to your kids? Here's a DIY gardening activity you can do with them.
Making a plant terrarium is a fun and easy way to get children excited about gardening. Plus, it teaches them responsibility and lets them interact with plants and soil easily and decoratively.
➡️ Related Read: How to raise a child who loves nature
What is a terrarium?
We're talking about a miniature greenhouse. A terrarium typically contains soil, sand, pebbles, and smaller plants like succulents or maybe herbs. It's enclosed but allows easy access for watering and maintenance.
A glass container gives the plants plenty of exposure to sunlight. The sealed top will help keep the water from the plants in the bowl as condensation, meaning less work for you later.
For each terrarium, you'll need:
A Glass jar or planter with a lid
Potting soil
Sand
Succulents or other small plants
Small decorative items (like toys, planter stakes, gems)
Gravel or small pebbles (if desired)
Choose your plants carefully
You had me at aloe. Succulent varieties like cactus and aloe work best. You may want to mix smaller ones with colorful plants like hens and chicks or Fred Ives. Don't hesitate to use clips from other plants in the house too.
The benefit of succulents is that they require little maintenance, leading to an enjoyable, long-term project for little ones with less experience caring for plants.
Create your terrarium
First, you'll want to add the soil at the bottom of the terrarium to absorb water. Next, you'll want to plant a few of the succulents or other plants at the bottom of the soil.
Press them down to give a secure hold so those roots can grow and expand. Add additional soil on top of the roots of the plants if needed.
Then, add a layer of sand on top of the soil base, which is where the toys and decorations can be placed. You can also sprinkle any gravel or pebbles across the top of the sand layer.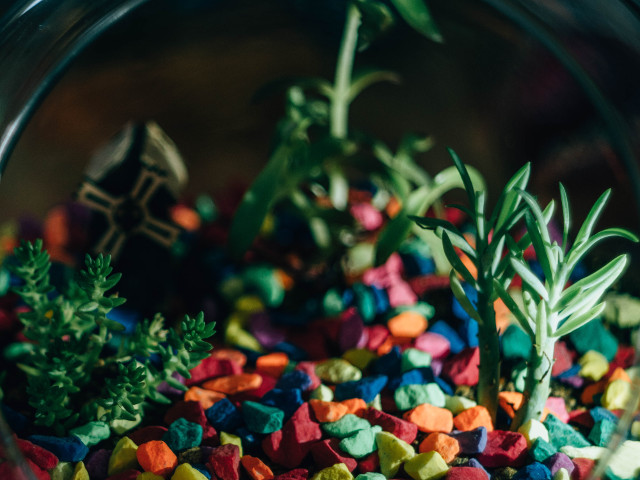 Let the kids pick out how they want it to look and let them have fun with it! They may choose all the items you picked out, or just one. Let them play around with it and decide when they like the look of it best.
Finally, you're ready to add light watering to the plants and close up that container.
Find a nice sunny windowsill for the terrarium to sit on. Choose somewhere the kids will see it every day so they can watch the process as water evaporates, condensates and slowly dries up before you water the plants the next time.
You can also take time each week to talk about how they are growing and discuss proper plant care and watering techniques.
Taking care of the terrarium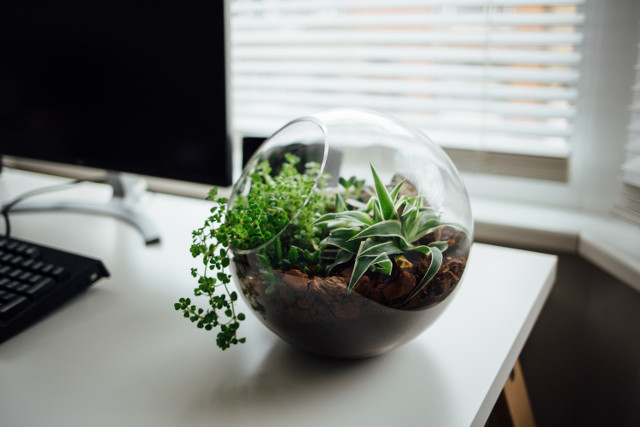 The maintenance of these plants is pretty simple: give them plenty of sunlight (at least 6 hours a day) and enough water for the plants you've chosen.
Be prepared to pull some plants out as they grow and run out of space. Don't worry, though; you can always create new terrariums with the plants you've removed.
This article is contributed by Kelly Holland. Kelly Holland is a gardening and landscape design writer who loves experimenting in her kitchen.
Like to learn more? Sign up for a Air Plant Terrarium Greenwall Workshop in Funan via KKday.
* * * * *
Like what you see here? Get parenting tips and stories straight to your inbox! Join our mailing list here.
Want to be heard 👂 and seen 👀 by over 100,000 parents in Singapore? We can help! Leave your contact here and we'll be in touch.