"The moment in between what you once were, and who you are now becoming, is where the dance of life really takes place." – Barbara de Angelis
I love my job and I love my kids too. In fact, I love both ways too much to have to make a choice between one over the other. Was there ever a time when I don't feel that my life is out of balance? That I don't have too much on my plate? Or that I would want to be totally left alone? Absolutely. And for those women out there who are going through these 'slushes of emotions' as I have; welcome to the club of being a 21st century career mum.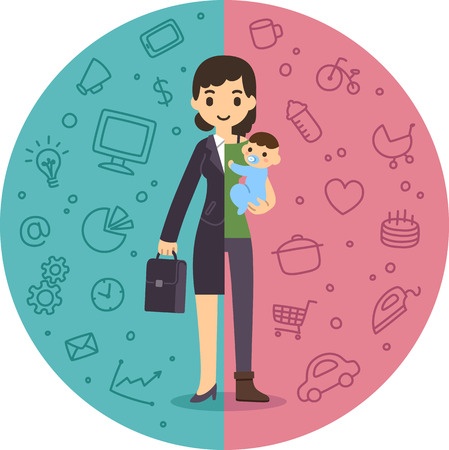 The 'CAREER' part is the easy part, if I may be so bold as to express myself. Work hard, stay on the right track, be less politically incorrect and work on EQ… basic stuff that after being in the workforce for a while, you should get it and get on by fairly well. The 'MUM' part takes some rewiring of expectations and steaming through physical induction of having less sleep and more patience but after some hardcore on-the-job training, most of us would have gotten the drift of how it works.
But put them together: 'CAREER-MUM'. That is serious stuff.
Work-life balance. It is such an elusive goal to achieve as one starts to have a family.
In fact in this crazy busy world, with the ease of technology right in the palm of our hands, it is even more difficult to draw the line between work and non-work time so that we can focus on our family. We are also led delusively to a certain extent, to think that high productivity is equated to longer hours at work and being in the office. Also, let's face it, after a hard day at work, what we do look forward to is some 'me-time'. It feels horrible to face a dewy innocent angel practically begging you to play dolly or set up that train model that you promised so long ago because the reality is, we are too tired to be a playmate.
Guilt trips are one too many to count for career mums but here's the thing. Ellen Galinsky, president and co-founder of the Families and Work Institute (USA) mentions this: There is no evidence that shows children of full-time, part-time or stay-at-home moms turn out any different. "The kind of parent you are makes the biggest difference, not simply whether you are employed or not."
➡️ Related Read: Plan Your Mid-Career Switch with NTUC's e2i
How can then can we make it great for ourselves and be realistic about how this work-life balance thing should work?
1. Accept that things are no longer the same
Acceptance that life is never the same as it was without the kids is important. It was a purposeful decision to have children in our lives so we have to accept that those frequent and impromptu late-cocktail nights and longer than 45-minute restaurant dinners are a thing of the past. Embrace that with a family, the lifestyle that we will now have will involve the family. Make it a new chapter and it becomes easier to see how balance can be achieved.
➡️ Related Read: 10 Things All Working Mums Should Know
2. Establish boundaries
It sounds crazy but often in the big scheme of things, whilst we work hard with the idea to provide for the family, they are the ones that we skip dinner dates and spend the least time with all in the name of completing an assignment before deadlines. Personal advice: Don't sacrifice time with family on work. Don't get me wrong, I know of many women out there who hold great responsibilities in their jobs and positions but we need to be reminded at times that we hold that same responsibility to our families too.
During family time, put away all things that can make you accessible to your work commitment away. Go play ball in the park with the children and work up a sweat instead of sitting at the bench and tweeting on how life is so tiring as a mum. Enjoy the moment of being outdoors and have a memorable time with the family whilst at the same time take that opportunity to have a cardio workout.
For a start, try drawing that boundary between work and family and stick to it. Purposefully set time in a week to do things with the family but don't forget yourself. Remember that work-life balance includes time aside to being us as individuals and not just as a mum or a parent. We become better people when we can find balance within our own crazy lives. Our kids will also appreciate a mummy who is happier than one who is consistently grumpy.
When I travel for my work, I take that as my 'me-time'. I try to work out a balance between committing to work and sorting space for myself. It could even be as simple as getting a bottle of wine and drinking in the hotel room whilst slouching in front of my laptop and streaming a Korean soap drama. I know of friends who will go for 6-hour Karaoke sessions as 'me-time'. Find out what works for you and work that into your own time schedule and follow through with it.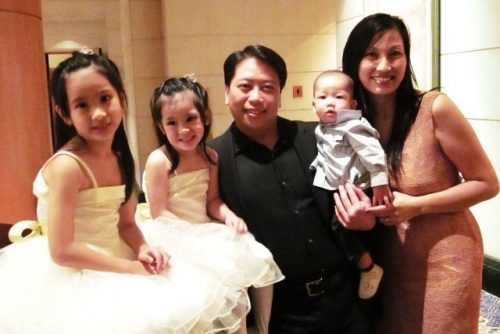 Esther and her family
3. Set up a control system
The reality is we only have 24 hours in a day and there is that much that we achieve. Be strategic and work on juggling all that we do with a sense of priority. Pay bills online during lunch time or work on those emails whilst waiting for the children to come into the car after enrichment classes. If need be, seek for help. If we need the extra pair of hands to deal with the household chores, work out something. Otherwise, set up a chores system and share the load as a family.
Believe me, the children can be taught to handle simple chores. Example: I get my older ones to set the dinner table and all my kids are required to bring their own cutlery to the sink after meals. I even get my older ones to babysit their little brother. Yup! They know how to make that bottle of milk for the youngest when he needs it. Put an end to being a perfectionist. Learn to be flexible and work with the situation. That's the best way to put in some order within the disorder on certain days.
At the end of it all, there are coping mechanisms. But can we really have a truly balanced work and family life? I am 50-50 on that. I mean, in all sincerity, I did start this article cringing on the woes of being a career mum! But in the good words of Opera Winfrey, could a woman have it all? I share her take: "There are some days when I'm good at work and others when I'm good at home, and if I can find balance over the week or the month, I consider that a success."
For now, enjoy the ups and downs as a career mum.
By Esther Lim, CEO and Founder of LEAP SchoolHouse.
This article was first published in The New Age Parents e-magazine.
* * * * *
Like what you see here? Get parenting tips and stories straight to your inbox! Join our mailing list here.
Want to be heard 👂 and seen 👀 by over 100,000 parents in Singapore? We can help! Leave your contact here and we'll be in touch.