How do you teach your child to have the confidence to approach strangers, and to serve them with sincerity? How do you help them develop their soft skills to interact with people?
For father Stanley Lee (right), he saw his 10 year old daughter, Hannah, learning and applying these skills as they were mending their own stall at Sentosa's KidZ Flea. He and his family took part in Sentosa's KidZ Flea over the March holiday this year.
Although it was a tiring process as there was a lot of involvement from both parent and child, he believes the experience was all worth it and very meaningful.
Working together as a team to overcome obstacles
At the beginning of the flea, parents were doing most of the selling. This was the same for Stanley. However, he believes his daughter was observing and learning from his actions. Soon after, Hannah picked up some of her father's selling antics and as a family, they learnt to overcome obstacles together and thought of ways to attract more sales.
For example, in the middle of the flea, he realised that there were other stalls selling similar products at a lower price. To help boost their sales, he implemented a 'Buy 1 Get 1 Free' promotion.
Another tactic they adopted was to bring their products to the crowd, instead of waiting for the crowd to go to them. Hannah and her cousins roamed around with their products and approached passerbys to buy their items.
"We started out with very few people coming to our stalls. However, there was a great sense of achievement when we managed to get the people to play the games and buy things from our stall." Hannah adds.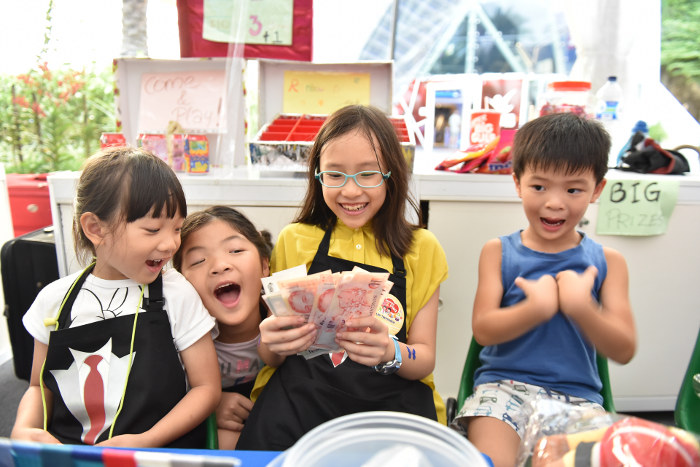 Hannah (in yellow) and her cousins, counting the money they earned.
Picking up soft skills beyond the classroom
During the two day experience, he discovered new attributes about Hannah he never knew she possessed. First, she stepped up to the occasion and found the courage to approach strangers to persuade them to buy their items.
Second, she also displayed a sense of responsibility. She showed her father she was also able to take care of the younger 'entrepreneurs' (who were her cousins). He also noticed his daughter was slowly picking up interpersonal skills and learning how to make customers happy.
"While a young customer was playing the Nerf gun game in our stall, I heard Hannah saying "Oh, this bullet is not so good, let me give you another bullet to try…" ensuring the young customer would win a consolation prize at least and be happy." Stanley recounted.
Another observation he noticed was Hannah's altruism in helping others. While they were making money from the business, Hannah was looking out at the other stall's businesses.
"She told me, 'We must help one another to be successful.' This showed me that she was not only looking out for herself, she was actually looking out for others too. She did not hesitate to ask for money to patronise other stalls and support their business." Stanley said.
Hannah checking her Rainbow Arcade stall.
Lessons learnt from Sentosa KidZ Flea 2015
Besides money sense, the need to work hard to earn money, what else did 10 year-old Hannah learn from being her own boss?
"It was fun but at the same time a lot of hard-work…I have to speak up, communicate and persuade in order to make sales." She said.
For Stanley, he sums up that the flea has helped his daughter gain an invaluable entrepreneurial experience, which is something rare. "Plus, you get to spend quality time with your child." He attests.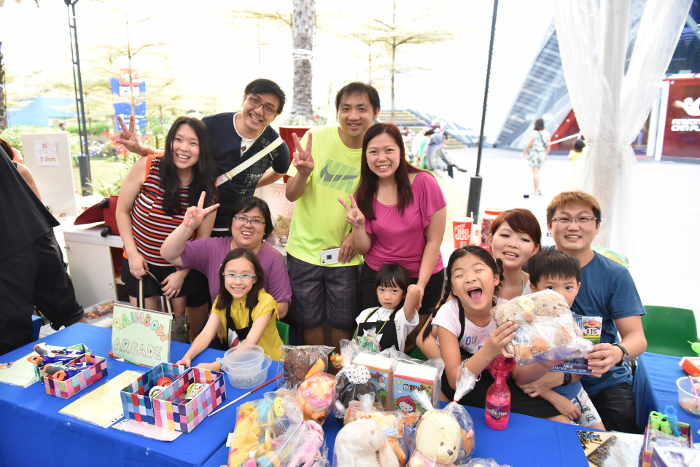 Stay tuned for the next Sentosa's KidZ Flea next year!
Part 1: Entrepreneurial Exposure For Children: Sentosa KidZ Flea Experience (Part 1)
If you find this article useful, do click Like and Share at the bottom of the post, thank you.
Want to be heard and seen by over 100,000 parents in Singapore? We can help! Leave your contact here and we'll be in touch.