In a world where air quality concerns are no longer limited to occasional environmental hazards like haze, taking charge of the air you breathe has become a fundamental aspect of modern living.
TruSens is a wellness brand dedicated to enhancing your daily life by delivering products that offer benefits that extend far beyond responding to environmental challenges.
Check out why TruSens is the ultimate partner for those looking to achieve consistently cleaner and healthier air for their humble abode!
The Award-Winning Series
TruSens brings a revolutionary series of air purifiers that are not only aesthetically appealing but also functionally advanced.
The Z-1000, Z-2000, and Z-3000 air purifiers have been awarded the Prestigious Red Dot Award: Product Design 2019, a testament to TruSens' commitment to excellence. The sleek touch button controls and integrated handle add a contemporary touch to the design, blending seamlessly into your living spaces for functionality and aesthetics.
But what truly sets TruSens apart is its cutting-edge technology, including proprietary DuPont™ filtration and a remote SensorPod™, which automatically adapts to your air conditions for efficient air purification!
Advanced Filtration for a Healthier Lifestyle
TruSens Air Purifiers are equipped with 360 HEPA Filtration using DuPont™ Filters that draw air from all directions, capturing pollutants and VOC gases/odors as small as 0.3 microns. In addition, the inclusion of UV-C Light technology further enhances air purity by reducing germs and bacteria that can accumulate on the filter. This ensures that your air is free from impurities, allergens, and irritants, making it ideal for individuals with respiratory issues, families with young children, and even pet owners.
Intelligent Air Quality Management
TruSens Air Purifiers are not just machines; they are your partners in ensuring optimal air quality. The SensorPod, a unique feature of TruSens air purifiers, remotely measures air quality and optimizes clean air delivery. This smart technology adjusts fan speeds automatically in response to changing air conditions, ensuring that your air is always fresh and healthy.

An Air Quality Indicator takes real-time monitoring to the next level. With a colour-coded illuminated ring and numerical value, you can instantly gauge whether your indoor air quality is good, moderate, or poor. This visual indicator helps you stay informed and take proactive steps to maintain a clean environment.
Efficient Air Distribution
TruSens' PureDirect technology takes comfort to new heights by utilizing bi-directional airflow for more effective air distribution. This innovative approach delivers purified air 24% more effectively than traditional air purifiers, covering every nook and cranny of your living spaces.
Customised Speciality Filters
To cater to individual needs, TruSens offers Specialty Filters for the Z-1000, Z-2000, and Z-3000 models. These filters allow you to customize your air purification to suit your specific requirements.
Odour & VOC Filter
Cook a lot at home?
The Odour & VOC Filter comes equipped with a True HEPA drum that contains a high amount of activated carbon to combat common cooking and cleaning odours, as well as reduce airborne VOCs (volatile organic compounds), creating an environment that is free from unpleasant smells and harmful chemicals.
Allergy & Flu Filter
Suffering from allergy or flu?
You might want to invest in the Allergy & Flu Filter. It comes with an Anti-Viral True HEPA filter to provide protection against allergens and viruses, including the flu, ensuring that your family stays healthy year-round.
Pet Filter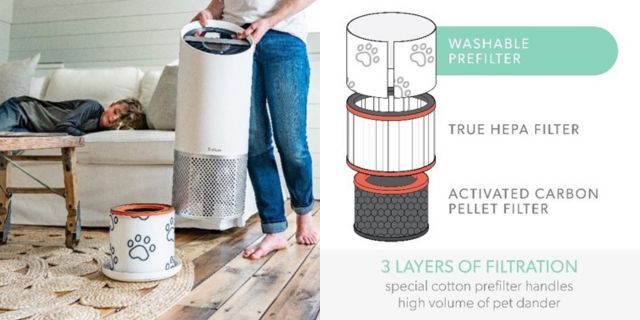 Love your furry friend but despise dander?
The Pet Filter which comes with a washable prefilter, captures dander and eliminates pet odours, which is especially helpful for pet owners who suffer from allergic rhinitis or pet allergy or have pets who shed a lot of fur, creating a more comfortable living space.
Empowering Spaces, Big or Small
As a rule of thumb, the Z-1000, Z-2000 and Z-3000 series covers up to 250 sq ft (23 sq m), 375 sq ft (35 sq m) and 750 sq ft (70 sq m), which is about the size of a bedroom, master bedroom and living room in a standard HDB flat.
For those seeking complete coverage in larger areas, TruSens Performance Series Air Purifiers boast an extraordinary Clean Air Delivery Rate (CADR) that ensures your air is purified thoroughly. The dual-sided True HEPA filter captures viruses and bacteria, including 99.99% of airborne coronavirus, activated carbon efficiently breaks down volatile organic compounds (VOCs) and odours, while the maintenance-free TRU-BEAM UV-C light inactivates trapped viruses and bacteria, ensuring your air is pristine and healthy.
TNAP Awards 2023 Spot & Win Icon: 🦀
Experience the TruSens Advantage Today
With TruSens, you are not just purchasing an air purifier; you are investing in your well-being. Join the growing community of satisfied customers who have already witnessed the transformational power of TruSens Air Purifiers.
Check out their official e-commerce stores on Shopee and Lazada and explore the wide range of TruSens Air Purifiers designed to cater to your unique needs and spaces.
Your journey towards cleaner air and a better quality of life starts now!
This post is brought to you by TruSens.
By Joanne Heng.
---
The New Age Parents – TNAP Awards 2023
Congratulations to TruSens for being the winner of TNAP Awards 2023 (Home Essentials) – Best Air Purifier for Everyday Use.
Find out who are the other winners of the TNAP Awards 2023 (Home Essentials) here!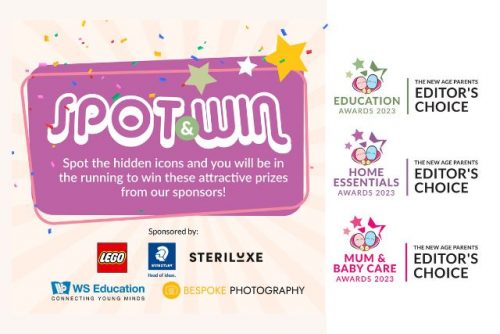 Ready to snag some enticing prizes? Wait no more! Get in on the action with our The New Age Parents Awards 2023 Spot & Win Contest for a shot at winning. Head over to the TNAP Awards 2023 Spot & Win Contest to join in. Best of luck!
#TNAPAwards2023 #TNAPAwards #thenewageparents #TNAPEditorsChoice #sghomeesesntialsawards #sgbabies #sgfamiy #sgkids #TNAPgiveaway
* * * * *
Like what you see here? Get parenting tips and stories straight to your inbox! Join our mailing list here.
Want to be heard 👂 and seen 👀 by over 100,000 parents in Singapore? We can help! Leave your contact here and we'll be in touch.