The year-end holidays are fast sneaking upon us and this spells vacation time! And as you might already know, planning a holiday for a family with kids is a whole different ball game from what it was like before those little bundles of joy came along.
If you have a toddler coming along for the ride, you might be worried about how you are going to keep those fidgety fingers occupied during the long stretches of waiting – for example, on the flight, when waiting for meals in restaurants, or when you want to get some shopping done on the trip.
⇒ Related Read: Flying Solo With A Baby: Step-by-Step Tips On How To Manage
With older children, a book to read or drawing materials might do the trick, but for toddlers with their limited attention span and inability to read or write yet, it can prove quite a headache for the parents to keep them entertained. Well, as they say, where there is a will, there is a way!
Here are a few fun ideas we found that might help you keep Junior happy AND ensure your family has a happy holiday!
1. Busy Books
Photo credit: Tom-Toy.com
Sometimes called a "Quiet Book", the aim is to keep your toddler engaged in various kinds of activities that occupy his mind and his hands. Many of these activities can also be great for training hand-eye coordination and introducing shapes, colours and letters. Since store-bought equivalents are generally quite expensive, here's a great tutorial for you if you'd like to make one for your child. Try it and have fun!
Tutorial can be found here.
2. Beads & String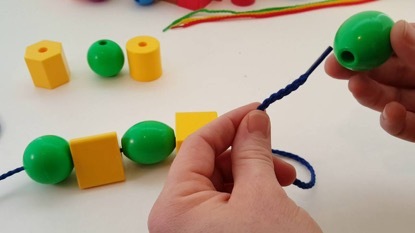 Photo credit: Skoolzy.com
Threading beads is a fun way to pass the time, and it has lots of other benefits too! Children need to grasp and manipulate the string and beads of various sizes, which strengthens the small muscles in their hands and develops their pincer grip – an essential prerequisite to learning to write.
It also requires them to work on their visual perception of depth and distance – the string needs to be brought to exactly where the hole of the bead is – and trains them to focus or concentrate on repeating one action for a longer stretch.
Last but not least, threading beads is a great way to encourage creativity in pattern making and even reinforcing the skill of counting with your child. You can find lacing bead sets in most major toy stores or online, or use various kinds of coloured pasta to substitute for beads.



3. Play with Dough
Photo credit: wolfandfriends.com
We know, no parent relishes cleaning up after your child has played with play dough, so here are a few suggestions to make this work!
#1 Make your play dough
The standard dough found in toy stores, e.g. Play Dough, tends to be stickier because it is responding to the humidity and moisture in the air. If you make your own play dough, you can add more flour to the mixture to make it more manageable and less sticky. Since the dough is cheap and easy to make, you can even bring separate zip lock bags of dough on the trip!
The tutorial can be found via nurshable.com.
#2 Bring along a tray
Trust us when we say a simple plastic tray is a lifesaver to bring along on holidays with a toddler. They're great for containing little messes and easy to clean, pack up and go!
4. Slot Machine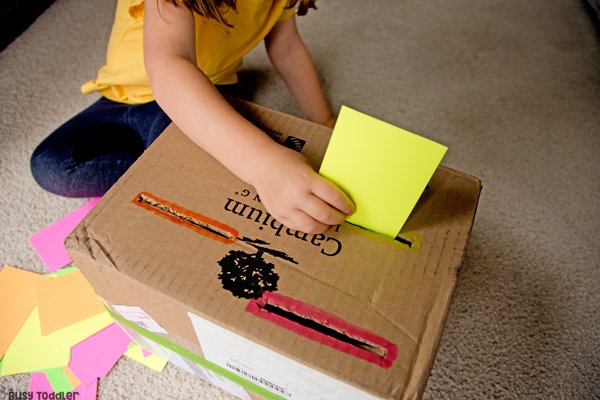 Photo credit: busytoddler.com
When we learnt of this idea on busytoddler.com, we were floored by how simple and doable it is! Simply get a small box – one of those single-serving cereal boxes is good enough – seal it up and cut a slit at the top. Then give Junior a stack of cards to slot into the box, one at a time. You can start them off with a stack of UNO cards or small squares of coloured paper.
Take it up a notch for older kids by having a few slits on the box, and have them organise different cards in appropriate slots. e.g. one slot for the red cards, one for blue, etc.
5. Rubberband Roll
Photo credit: Pinterest (Gabi Bowden)
Last but not least, here's another idea that's great for developing your toddler's hand muscles and hand-eye coordination! And all you'll need is a long cardboard tube, like the kind that comes in your kitchen towel roll, and a bag of rubber bands. It sounds easy but it is more challenging than it seems for their little hands. Let the kiddos give it a shot!
Text by Dorothea Chow.
Stay in touch! Subscribe to our Telegram here for all our latest updates.
Like what you see here? Get parenting tips and stories straight to your inbox! Join our mailing list here.