The showcase will trace the annual affair's journey from a street parade to a borderless multicultural experience today
The annual Chingay will celebrate its Golden Jubilee with a landmark showcase at the iconic Jewel Changi Airport, bringing together two distinctive Singapore icons for a milestone celebration. Themed 'Ignite Our Dreams', Chingay50's spirit of passion and aspiration will ring true from within Jewel Changi Airport, a symbol for how we must dream boldly to create new possibilities for ourselves.
The Chingay50 showcase will be presented on Saturday, 12 February 2022, 8.00pm, where audiences will be treated to a variety of multicultural performances and display of vibrant costumes – all from the comfort of their homes.
Mr Kia Siang Wei, Chingay50 EXCO Chairperson & Group Director (Partnership), People's Association said, "It is befitting that Chingay50 will mark its milestone year at Jewel Changi Airport, which is the fruition of a bold dream that Singapore had. With the theme, 'Ignite Our Dreams', the Chingay50 showcase will document the annual affair's growth from a humble street procession to a borderless festival. We hope Singaporeans will resonate with the Chingay spirit and be encouraged to pursue their passions, unleash their potential and fulfil their aspirations."
Chingay50@Jewel Changi Airport
The one and a half-hour showcase will feature a line-up of performers, including community talents at the HSBC Rain Vortex. The world's tallest indoor waterfall, together with the lush greenery of the Shiseido Forest Valley, will provide an exceptional performance setting designed to delight and excite viewers. Combined with special effects and interactive floor projections, the online viewing experience will draw audiences into the heart of Jewel Changi Airport.
Big-Headed Dolls (大头娃娃) grooving to a street dance form to the rearranged tune of a Chinese folk song "凤阳花鼓"
The extravaganza promises a line-up that creatively combines traditional and modern elements to appeal to the older generations while piquing the interest of younger ones. Chingay50 showcase will kickstart with a merging of familiar cultural art forms with contemporary dance genres, through six unique items such as 'Big-Headed Dolls' (大头娃娃) grooving to a street dance form and dancers presenting different dance genres to the rearranged tune of a Chinese folk song, 凤阳花鼓.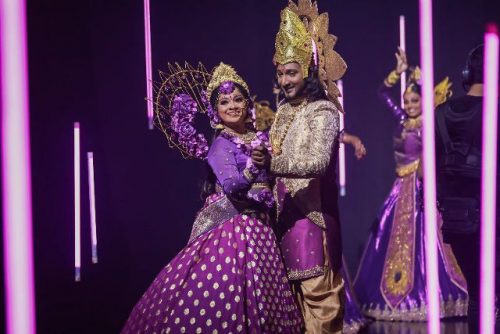 The blissful union of an Indian king and his bride in a whimsical forest
Tradition will converge with modernity in another segment centred around love. Four whimsical wedding scenes will draw a parallel between how love culminates in marriage and how passion can drive us to fulfil our dreams and aspirations. A larger-than-life Chinese wedding will feature a pair of newlyweds, their matchmaker and entourage; a Eurasian couple's elegant flower-themed wedding will see dancers moving to the community's folk song Jinkli Nona; beautiful peacocks will witness the blissful union of an Indian king and his bride in a whimsical forest; and a joyous Malay wedding with sea-themed elements.
Local budding talents will be another focal point of this milestone Chingay edition. Making his debut as Chingay Community Star of the Year is 14-year-old Joshua Low, who was chosen from We've Got Talent! participants. He will perform a refreshed rendition of the familiar folk song, Chan Mali Chan with his saxophone. Following the Chingay50 showcase, Joshua will get to perform at various community events, in addition to a breadth of learning and training opportunities, sharing his talent and also strengthening his musicianship with the wider public and local community in the process.
Community Star of the Year Joshua Low
To highlight the importance of community involvement, the Chingay showcase will also feature a parade of 17 mini floats – made from balloons and 3D art – a colourful display of the community efforts of 1,400 residents across Singapore. Featuring community mini floats for the first time in the history of Chingay, this expresses an ambition for more volunteers and residents to conceptualise, design and build floats for future editions of Chingay.
Through a collection of photo and video stories, hear from fellow Singaporeans what Chingay was like from its early days as a street parade in 1973 till its first digital edition in 2021. The full compilation of past Chingay stories is also available online at the Chingay50 Hall of Frames e-gallery, #OurChingay50Stories as well as via the QR code onboard the #HeyChingay50Buses.
Young performers, joined by an intertwined cloth, showcasing the strong bonds that connect us
The Chingay50 showcase will end with an energetic showcase that depicts how we can overcome challenges with a shared vision and spirit. 100 young performers will encircle the HSBC Rain Vortex, joined together by an intertwined cloth, a symbol of the strong bonds that connect us. Four up-and-coming singers will be singing various Chingay themed songs of the past, including an original for Chingay50, titled "Ignite Our Dreams", sung and written by Ms Amni Musfirah.
Chingay50 enters heartlands
To bring the festive atmosphere closer to the community, residents can look forward to participating in virtual community celebrations hosted by the People's Association (PA) grassroots organisations.
For more and the latest information on Chingay50, visit here, Facebook or Instagram.
---
CHINESE NEW YEAR 2022
We have compiled a list of Where to go during Chinese New Year 2022 especially for our readers. Click on the image to read more.
* * * * *
Like what you see here? Get parenting tips and stories straight to your inbox! Join our mailing list here.
Want to be heard 👂 and seen 👀 by over 100,000 parents in Singapore? We can help! Leave your contact here and we'll be in touch.