If there's one goodie every house needs to have during Chinese New Year, it's pineapple tarts! We searched for all kinds of pineapple tarts to try across the island and here are our top picks.
P.S. Count your calories later. For now, enjoy these delectable pineapple tarts with your loved ones this Chinese New Year 2021!
1. Ding Bakery
Award-Winning Pineapple Tarts in Singapore
Enjoy freshly baked, rich and buttery Award-Winning pineapple tarts!
Ding bakery's pineapple paste is made from scratch using fresh pineapples. On top of that, their pineapple tarts are 100% handmade with only premium ingredients and zero preservatives to ensure the right texture and consistency. The rich and flaky crust melts in your mouth like little bite-sized heaven!
Their award-winning recipe is loved by more than 50,000 Singaporeans and is top-rated on Google. Highly recommended by top bloggers and even food critics!
Enjoy free same-day delivery for orders above $100. Check out more promotions on their site today!
Website: cnygoodies.sg.
---
2. Pineapple Tarts Singapore
With more than 100,000 happy customers and countless reviews on Google, they are critically acclaimed the #1 Pineapple Tarts in Singapore by not only Singaporeans but also numerous Famed Food Critiques. Their signature pineapple tarts are not overly sweet, not too crumbly but yet fragrant and features a melt-in-the-mouth texture balanced with a sweet-sourish fibre-filled pineapple paste filling to complement the buttery crust. The tarts also have a perfect crust to paste ratio which is extremely essential for a pineapple tart to taste delicious. At Pineapple Tarts Singapore, every pineapple tart is 100% hand-made and homemade using only premium grade ingredients and the freshest pineapples.
Website: pineappletarts.sg
---
3. SunnyHills
RANKED #1 pineapple tarts in 2020 – SunnyHills's story begins on the red clay hills of Ba Gua Mountain where they use handpicked ingredients only found in the cupboard of the farmhouse kitchen. The chef with over 50 years of expertise and the founders pour their hearts and soul into their sweet pastries. The wholesome roots from a combination of time-honoured tradition, nature's yield and the dedication of the SunnyHills' family of farmers are the core of their business. SunnyHills remain honest despite COVID19 and retains the core ingredients' suppliers and farmers. They have also launched a limited edition pineapple fortune cakes with salted egg custard, apple tarts and durian love letters, all individually packed.
Purchase online: sunnyhills.com.sg or Shopee/Lazada
Purchase in-store: 3 Seah Street #01-03 (Raffles Hotel Arcade), Ngee Ann City Tower B #B2-27A (right below ZARA)
---
4. Wang Lai Bakery
Wang Lai Bakery, established in 1968, has been a popular confectionary booth located in Chinatown that specialises in traditional Chinese goodies. What started off as a hobby of making CNY Goodies for friends and relatives, Wang Lai Bakery has come a long way to where it is today.
Preserving a traditional recipe passed down for 4 generations, extraordinary efforts have been taken to constantly tweak and improve the family recipes to be as close as possible to perfection. Each goodie is lovingly handcrafted and plenty of attention is given to every single detail of its construction. Absolutely no shortcuts were taken in the process especially with the use of machines to maintain the goodies' true authentic flavour.
Website: cnygoodies.com.sg.
---
5. PineappleTart.com
PineappleTart's AWARD-WINNING recipes are specially designed to cater to the younger taste buds. They retain the traditional Nyonya flavours and invented new recipes to meet the demands of their growing fans. Their munchies are 100% handmade with only premium ingredients and zero preservatives!
Why choose Pineappletart.com?
Award-winning recipe
Handmade to perfection
Premium ingredients with ZERO preservatives (Great for kids and elderly!)
Reviewed and recommended by SG food critics
Improved recipe
Their MUST-TRY goodies are the Melt-In-Mouth Pineapple tarts, Melt-In-Mouth Kueh Bangkit and Nyonya Pineapple Tart. As the name suggests, these goodies are made to the perfect texture and it melts in your mouth, leaving you craving for more.
Enjoy free delivery for orders above $88!
Website: pineappletart.com
---
6. The Pine Garden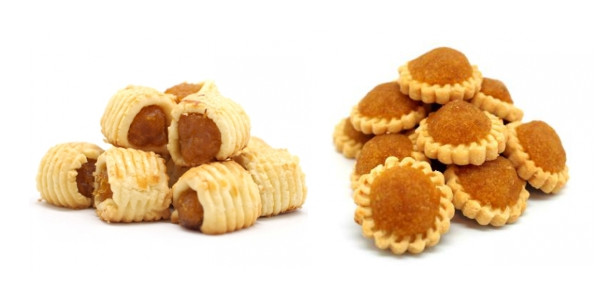 Offering freshly-baked confectioneries for the past 30 years, The Pine Garden marries tradition with creative innovations. More noticeable for their selection of unique flavoured cakes, they also offer Handmade Pineapple Tarts and new year cookies during the festive season. The tarts are made using a "hand-me-down" family recipe and each batch of pineapple jam is laboriously made by slowly reducing and caramelizing freshly hand-grated, sieved pineapple pulp.
Another must-try from Pine Garden is the Yuzu Pineapple Roll with reduced sugar where the yuzu is sourced from the renowned Kochi prefecture in Japan. They also offer other festive munchies such as Hae Bee Hiam cookies, spicy seaweed knots, sea-salt kueh bangkit, steam orh-ni yam paste.
Website: pgcake.com
---
7. Le Café Confectionery & Pastry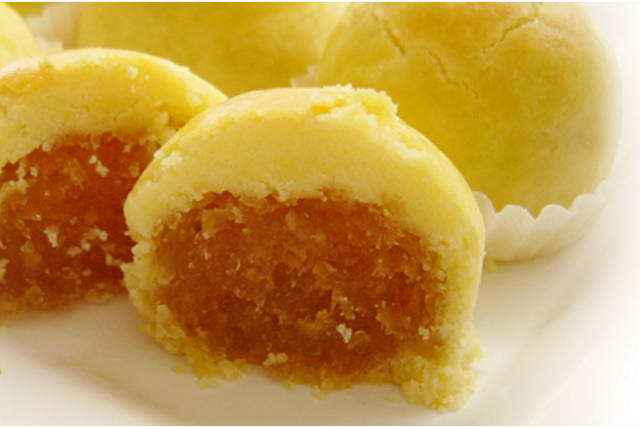 With over 50 years of history, Le Café Confectionery & Pastry is one of Singapore's oldest and finest cake and pastry shop. Here's a fun fact. Did you know they are Singapore's first confectionery that introduced the round pineapple tarts?
Their famous 'golf ball' sized pineapple tarts are filled with moist pineapple filling wrapped in buttery pastry that melts in your mouth. All of their tarts are 100% crafted by hand and contain no pork or lard.
Savour the moist pineapple filling encased in buttery crumbly pastry! Available in a bottle of 10pcs, 20pcs and box of 10 pcs.
Website: lecafe.com.sg
---
8. Kele Confectionery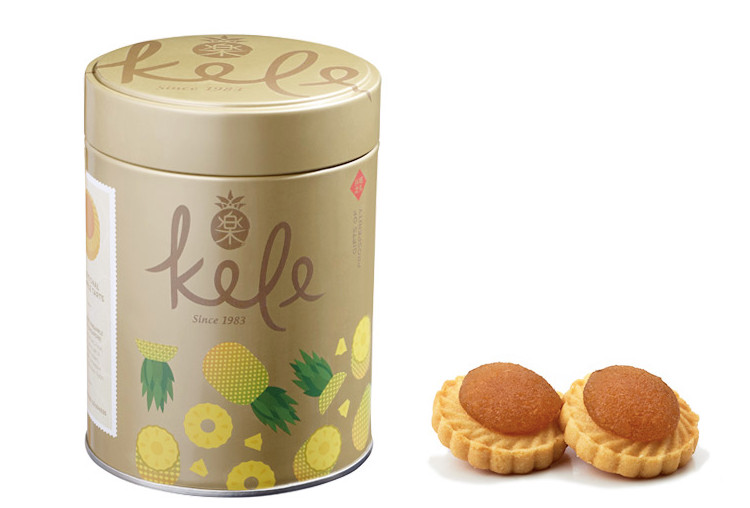 For the past 30 years, KELE continues to uphold its legacy of Pineapple Tarts and pastries. Apart from the traditional flavours, you can look forward to new flavours such as the Rose Pineapple Tarts that seeks to bring across the flavours of spring and floral and the Sweet Potato Pineapple Tarts that are naturally rich and flavourful!
Website: kele.sg or order at Klook
---
9. Joyus Pastries
If you are looking for pineapple tarts that are free from preservatives and colourings and prefer to stick to the original taste of pineapple tarts, these tarts do the trick. At Joyous Pastries, every tart and biscuit is made from traditional recipes passed down from generation to generation. Delicately made from hand, the fresh pineapple fillings are topped on a crisp biscuit base.
Website: joyuspastries.com
---
10. Baker's Well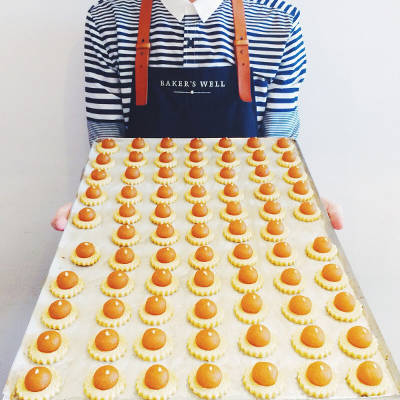 Walking along East Coast Road, one may be attracted by a rich and aromatic smell. No doubt, the aroma originates from Baker's Well – a bakery serving handmade delights fresh from the oven. Baker's Well serves an array of delicious artisan bakes ranging from bread, cookies, muffins, pastries to cakes.
This Chinese New Year, Baker's Well is back with their famed juicy pineapple tarts going. You can also expect other variations such as the Nonya Apple Shape Pineapple Tarts with Cloves and Juicy Pineapple Tarts with Cheese. Allow yourself a little indulgence this new year!
Website: bakerswell.com
* * * * *
Like what you see here? Get parenting tips and stories straight to your inbox! Join our mailing list here.
Want to be heard 👂 and seen 👀 by over 100,000 parents in Singapore? We can help! Leave your contact here and we'll be in touch.