If there's one thing every house needs to have, it's pineapple tarts! We searched for all kinds of pineapple tarts to try across the island and bring you our top picks. Count your calories later. For now, enjoy these tarts with your loved ones this CNY.
Pineapple Tarts Singapore
Our signature pineapple tarts are not overly sweet, not too crumbly but yet fragrant and features a melt-in-the-mouth texture balanced with a sweet-sourish fibre-filled pineapple paste filling to complement the buttery crust. The tarts also have a perfect crust to paste ratio which is extremely essential for a pineapple tart to taste delicious. At Pineapple Tarts Singapore, every pineapple tart is 100% hand-made using only premium grade ingredients and the freshest pineapples.
Besides the signature Melt-in-the-mouth original pineapple tarts, the Cheezylicious parmesan cheese-infused pineapple tarts are also a hot favourite. This year, we introduced the new YOlkLO Salted Egg pineapple tarts that have attracted the adventurous tart lovers to try their innovative twist to go with the salted egg trend. You-Only-Live-Once was what spurred us to introduce the salted egg version, so why not?
Pineapple Tarts Singapore's uniqueness is also in its e-commerce platform as its primary customer-fronting interface where customers can purchase their products anywhere, anytime with free delivery above $80, and a $10 delivery charge otherwise – all online, hassle-free.
We also offer a wide range of delectable CNY Goodies and Kueh Lapis to indulge your visitors with good snacks for all occasions.
Address: 14 New Industrial Road Singapore 536203
Contact: 84815596
Website: pineappletarts.sg
Price:
Original pineapple tarts : $22.9 (20pcs)
Cheese pineapple tarts : $24.9 (20 pcs)
Salted Egg pineapple tarts : $26.9 (20 pcs)
---
The Pine Garden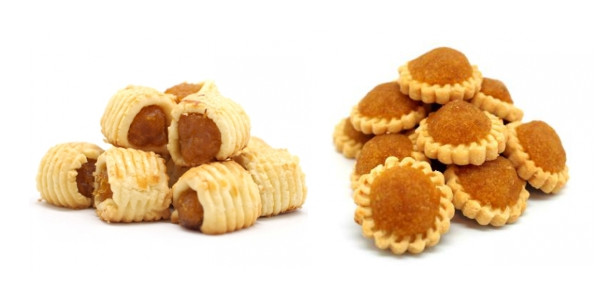 Offering freshly-baked confectioneries for the past 30 years, The Pine Garden marries tradition with creative innovations. More noticeable for their selection on unique flavoured cakes, they also offer Handmade Pineapple Tarts and new year cookies during the festive season. The tarts are made using a "hand-me-down" family recipe and each batch of pineapple jam is laboriously made by slowly reducing and caramelizing freshly hand-grated, sieved pineapple pulp.
The result? Perfectly caramelized pineapple filling atop rich, buttery pastry.
Another of the must try is the Yuzu Pineapple Roll with reduced sugar where the yuzu is sourced from the renowned kochi prefecture in Japan. They also offer other festive munchies such as that of steam orh ni, sea salt kueh bangkit, butter cookie swirls.
Address: 53 Ang Mo Kio Ave 3, AMK Hub, #01-13, Singapore 569933 | 1 Sengkang Square, Compass One, #B1-34, Singapore 545 078 | 930 Yishun Ave 2, Northpoint Shopping Centre, #B2-01, Singapore 769098
Contact: 64811828 (AMK), 64586180 (Serangoon)
Website: www.pgcake.com
Price: $28.60 (U.P.) for a box of 30 pieces
---
Le Café Confectionery & Pastry
With over 50 years history, Le Café Confectionery & Pastry is one of Singapore's oldest and finest cake and pastry shop. Here's a fun fact. Did you know they are Singapore's first confectionery that introduced the round pineapple tarts that you eat today?
Their famous 'golf ball' sized pineapple tarts are filled with moist pineapple filling wrapped in buttery pastry that melts in your mouth. All of their tarts are 100% crafted by hand and contain no pork or lard.
Savour the moist pineapple filling encased in buttery crumbly pastry!
Address: Blk 42 Cambridge Road #01-02 Singapore 210042 | Blk 637 Veerasamy Road #01-111 Singapore 200637 | 31/33 Mackenzie Road #01-01 Singapore 228686
Contact: 6337 2417
Website: www.lecafe.com.sg
Price: N.A.
---
Bakerzin
Many might have heard or chanced upon Bakerzin, be it in your mega malls or heartland shopping malls. Bakerzin has been offering luscious delights since 1998. This year they are back with a well-loved classic, Original Pineapple Tarts, which has been dubbed as the 'King of Pineapple Tarts'. Shaped like an 'ingot' to symbolise prosperity, the homemade pineapple jam has hints of cinnamon and cloves.
Other option is assorted Pineapple Tarts with a mix of OSE PINEAPPLE TARTS 玫瑰黄梨挞, CHRYSANTHEMUM PINEAPPLE TARTS 菊花黄梨挞 and ORANGE PINEAPPLE TARTS 橙子黄梨挞.
Address: Various locations, including 1 Harbourfront Walk, Vivocity, #01-207, Singapore 098585
Contact: 6438 8700
Website: www.bakerzin.com
Price: $21.31 (U.P.) for a box of 18 pieces (6 pieces per flavor)
---
Out Of The Cake Box
Out Of The Cake Box was established in 2014 by Dana and Yuzhong, who shared a mutual love for quality bakes. Cakes largely incorporate uniquely local flavours, pleasing to the Asian palate. Last year, they introduced Attap Chee Pineapple Tarts to the crowd.
Other flavours include Chix Skin Pineapple Tart (pictured above, right) a Chicken-in-a-Biscuit wrapping with classic pineapple filling and Beurre Noisette Pineapple Tart (pictured above, left), a classic pineapple filling wrapped in pastry made from butter that's been cooked till golden brown and full of deep nutty aroma.
Address: Block 45, Telok Blangah Drive, #01-173, Singapore 100045
Contact: 6271 1975
Website: www.outofthecakebox.com
Price: $22.80 for a box of 16 pieces
---
Kele Confectionery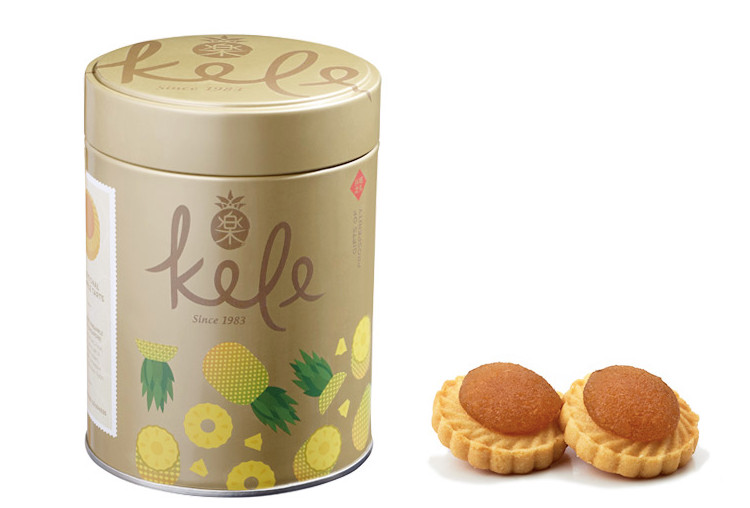 For the past 30 years, KELE continues to uphold their legacy of Pineapple Tarts and pastries. Apart from the traditional flavours, they are offering three new flavours – Jade Pineapple balls, pineapple filling wrapped in pandan crust, Cocoa Pineapple balls, pineapple filing wrapped in chocolate favoured crust and Golden Cheese Pineapple balls, with small chunks of cheese bites on the crust.
Address: Various locations, including 2 Smith St, Singapore 058917
Contact: 6560 1249
Website: www.kele.sg
Price: $27.80 to 29.80 per tin (10% early bird discount before 18 Jan 2019)
---
Joyus Pastries
If you are looking for pineapple tarts that are free from preservatives and colourings and prefer to stick to the original taste of pineapple tarts, these tarts do the trick. At Joyous Pastries, every tart and biscuit is made from traditional recipes passed down from generation to generation. Delicately made from hand, the fresh pineapple fillings are topped on a crisp biscuit base.
Address: Various locations, including Blk 114 Ang Mo Kio Ave 4, #01-355, Singapore 560114
Contact: 6455 6757
Website: www.joyuspastries.com
Price: N.A.
---
Sunny Hill
Sunny Hill offers pineapple cakes and juices which embodies the traditional Taiwanese flavor, baked with love and care, shared with love and care. The Pineapple Cakes sold by Sunny Hill is a creation by their head baker, who distilled 50 years of experience into this honest-to-goodness recipe.
The Pineapple cakes are encased in a butter shell made from carefully selected ingredients: all natural New Zealand butter, gourmet Japanese flour, and plump-yoked eggs, each traceable to its origin. The filling is made from their sun-ripened pineapples (no additives added) and is slow-cooked into a rich, golden paste.
Address: Ngee Ann City (Tower B), Unit #B2-27A Takashimaya S.C, Singapore 238872
Contact: 8522 9605
Website: www.sunnyhills.com
Price: $26.50 for a box of 10 or $41.50 for a box of 16
---
Bakers Well
Walking along East Coast Road, one may be attracted by a rich and aromatic smell. No doubt, it comes from Bakers Well, a bakery serving hand made delights fresh from the oven. Baker's Well serves an array of delicious artisan bakes ranging from bread, cookies, muffins, pastries to cakes.
This Chinese New Year, Bakers Well is back with their famed juicy pineapple tarts going at around $22 and is even offering pineapple tarts with a fusion of flavours like the juicy pineapple tart with cheese. Allow yourself a little indulgence this new year!
Address: 35 East Coast Road Singapore 428754
Contact: 63486864
Website: www.bakerswell.com
Price: $22 onwards
---
Dona Manis Cake Shop (May not be available for 2019)
Tucked away in the basement of Katong Shopping Mall, it is easy for one to miss this traditional confectionary. Dona Manis cake shop is one of the few remaining traditional confectionaries left in Singapore that makes pastries by hand. While Dona Manis is most well known for their aromatic banana pies, they also offer hand made pineapple tarts at $30 (for more than 30 pieces)
Address: 865 Mountbatten Road #B1-93 Katong Shopping Centre 437844 Singapore
Opening hours: Mon to Sat: 10.30am to 5pm; closed on Sundays
Contact: 64407688
Website: www.facebook.com/dona.manis.cake.shop
Price: $30
---
Rasa Sayang (May not be available for 2019)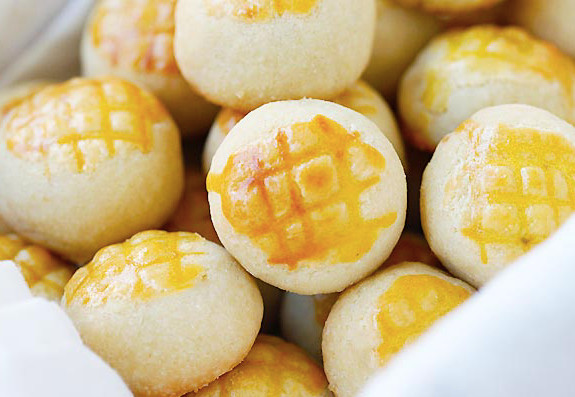 Rasa Sayang was founded in the 1970's by Madam Lai who started off selling modern cakes in Jakarta. In 1998, Rasa Sayang was created for the Singapore market, focusing on authentic Indonesian cuisine – traditionally hand-made Kue Lapis and homemade snacks. They have since expanded their range of homemade snacks and now offer Chinese New Year goodies.
Try their Cheese Pineapple Tarts, filled with pure pineapple jam filling wrapped in a milky, crumbly pastry, topped off with a sprinkle of cheddar cheese. Also check out other of their hot favourites which are the traditional kueh lapis and salted egg chips.
Address: 31 Jalan Keli #03-01, Singapore 577931
Contact: 9222 2106
Website: www.rsayang.com
Price: $23.00 per box
If you find this article useful, do click Like and Share at the bottom of the post, thank you.
Want to be heard and seen by over 100,000 parents in Singapore? We can help! Leave your contact here and we'll be in touch.