If there's one goodie every house needs to have during Chinese New Year, it's pineapple tarts! We searched for all kinds of pineapple tarts to try across the island and here are our top picks.
P.S Count your calories later. For now, enjoy these delectable pineapple tarts with your loved ones this CNY!
Pineapple Tarts Singapore
Their signature pineapple tarts are not overly sweet, not too crumbly but yet fragrant and features a melt-in-the-mouth texture balanced with a sweet-sourish fibre-filled pineapple paste filling to complement the buttery crust. The tarts also have a perfect crust to paste ratio which is extremely essential for a pineapple tart to taste delicious. At Pineapple Tarts Singapore, every pineapple tart is 100% hand-made using only premium grade ingredients and the freshest pineapples.
Besides the signature melt-in-the-mouth original pineapple tarts, the Cheezylicious Cheese-infused pineapple tarts are also a hot favourite! If you're a fan of all things salted egg, the YOlkLO Salted Egg pineapple tarts are something you shouldn't miss out! This 2020, Pineapple Tarts Singapore has launched a new concoction for all Mala fans – Mala Pineapple Tarts! You can look forward to a tantalising treat, offering the best of both spicy and sweet flavours!
Enjoy free delivery above $80, and a $10 delivery charge otherwise – all online, hassle-free!
They also offer a wide range of delectable CNY Goodies and Kueh Lapis to indulge your guests with good snacks for all occasions.
Address: 352 Clementi Ave 2, #01-109 Singapore120352
Contact: 8481 5596
Website: pineappletarts.sg
Price:
Melt in Your Mouth Pineapple Tarts: $22.90 (20 pcs)
Cheezylicious Pineapple Tarts: $24.90 (20 pcs)
YOlkLO Salted Egg Pineapple Tarts: $26.90 (20 pcs)
Mala Pineapple Tarts: $27.90 (20 pcs)
---
The Pine Garden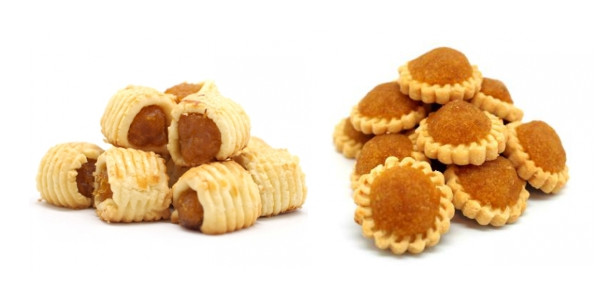 Offering freshly-baked confectioneries for the past 30 years, The Pine Garden marries tradition with creative innovations. More noticeable for their selection on unique flavoured cakes, they also offer Handmade Pineapple Tarts and new year cookies during the festive season. The tarts are made using a "hand-me-down" family recipe and each batch of pineapple jam is laboriously made by slowly reducing and caramelizing freshly hand-grated, sieved pineapple pulp.
The result? Perfectly caramelised pineapple filling atop rich, buttery pastry.
Another must-try from Pine Garden is the Yuzu Pineapple Roll with reduced sugar where the yuzu is sourced from the renowned Kochi prefecture in Japan. They also offer other festive munchies such as HDL tomato cookies, steamed orh ni, sea salt kueh bangkit and butter cookie swirls.
Address:
Blk 529 Ang Mo Kio Ave 10 #01-2369 Singapore 560529
53 Ang Mo Kio Ave 3, AMK Hub, #01-13, Singapore 569933
1 Sengkang Square, Compass One, #B1-34, Singapore 545 078
930 Yishun Ave 2, Northpoint Shopping Centre, #B2-01, Singapore 769098
2 Tampines Central 5, Century Square, #B1-33, Singapore 529509
Note: All CNY Goodies collection ONLY at AMK Ave 10 outlet.
Contact: 6459 5507 (AMK)
Website: www.pgcake.com
Price:
Handmade Pineapple Tarts: $26.31
Yuzu Pineapple Rolls (Reduced sugar) Pineapple Tarts: $28.95 (20 pcs)
---
Le Café Confectionery & Pastry
With over 50 years of history, Le Café Confectionery & Pastry is one of Singapore's oldest and finest cake and pastry shop. Here's a fun fact. Did you know they are Singapore's first confectionery that introduced the round pineapple tarts?
Their famous 'golf ball' sized pineapple tarts are filled with moist pineapple filling wrapped in buttery pastry that melts in your mouth. All of their tarts are 100% crafted by hand and contain no pork or lard.
Savour the moist pineapple filling encased in buttery crumbly pastry! Available in a bottle of 20pcs, bottle of 10pcs and box of 10 pcs.
Address:
31/33 Mackenzie Road, #01-01 Singapore 228686
Blk 637 Veerasamy Road #01-111 Singapore 200637
Blk 42 Cambridge Road #01-02 Singapore 210042
Contact: 6337 2417
Website: www.lecafe.com.sg
Price: N.A.
---
Bakerzin
Many might have heard or chanced upon Bakerzin, be it in your mega shopping malls or heartland shopping malls. Bakerzin has been offering luscious delights since 1998. This year, they are back with a well-loved classic – Yuan Bao Pineapple Tarts. Shaped like an 'ingot' to symbolise prosperity, the yummy homemade pineapple jam will be sure to delight your taste buds!
Address: Various locations, including 435 Orchard Road, #03-32/33 Wisma Atria, Singapore 238877
Contact: 6694 4335
Website: www.bakerzin.com
Price: $21.53 (U.P.) for a box of 24 pieces
---
Kele Confectionery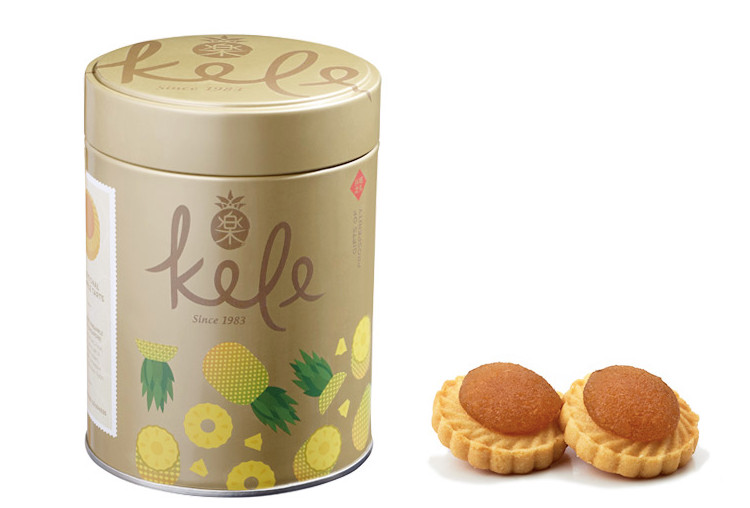 For the past 30 years, KELE continues to uphold their legacy of Pineapple Tarts and pastries. Apart from the traditional flavours, you can look forward to new flavours such as the Rose Pineapple Tarts that seeks to bring across the flavours of spring and floral and the Sweet Potato Pineapple Tarts that are naturally rich and flavourful!
Address: Various locations, including 2 Smith St, Singapore 058917
Contact: 6560 1249
Website: www.kele.sg
Price: $27.80 to 29.80 per tin
---
Joyus Pastries
If you are looking for pineapple tarts that are free from preservatives and colourings and prefer to stick to the original taste of pineapple tarts, these tarts do the trick. At Joyous Pastries, every tart and biscuit is made from traditional recipes passed down from generation to generation. Delicately made from hand, the fresh pineapple fillings are topped on a crisp biscuit base.
Address:
Blk 114 Ang Mo Kio Ave 4, #01-355, Singapore 560114
Tanjong Pagar Xchange, Tanjong Pagar MRT Station (EW15), #B1-03
Contact: WhatsApp 9618 1238 to place your order
Website: www.joyuspastries.com
Price: N.A.
---
Sunny Hill
Sunny Hill offers pineapple cakes and juices which embodies the traditional Taiwanese flavor, baked with love and care, shared with love and care. The Pineapple Cakes sold by Sunny Hill is a creation by their head baker, who distilled 50 years of experience into this honest-to-goodness recipe.
The Pineapple cakes are encased in a butter shell made from carefully selected ingredients: all natural New Zealand butter, gourmet Japanese flour, and plump-yoked eggs, each traceable to its origin. The filling is made from their sun-ripened pineapples (no additives added) and is slow-cooked into a rich, golden paste.
Address:
3 Seah Sreet, Raffles Hotel, Singapore 188379

391 Orchard Road #B2-27A Takashimaya Shopping Centre, Ngee Ann CitySingapore 238872
Contact: 8522 9605
Website: www.sunnyhills.com
Price: $26.50 for a box of 10 or $41.50 for a box of 16
---
Baker's Well
Walking along East Coast Road, one may be attracted by a rich and aromatic smell. No doubt, the aroma originates from Baker's Well – a bakery serving handmade delights fresh from the oven. Baker's Well serves an array of delicious artisan bakes ranging from bread, cookies, muffins, pastries to cakes.
This Chinese New Year, Baker's Well is back with their famed juicy pineapple tarts going. You can also expect other variations such as the Nonya Apple Shape Pineapple Tarts with Cloves and Juicy Pineapple Tarts with Cheese. Allow yourself a little indulgence this new year!
Address: 35 East Coast Road Singapore 428754
Contact: 63486864
Website: www.bakerswell.com
Price:
Juicy Pineapple Tarts: $23.90
Juicy Pineapple Tarts with Cheese: $42.90
Nonya Apple Shape Pineapple Tarts: $26.90
---
Dona Manis Cake Shop
Tucked away in the basement of Katong Shopping Mall, it is easy for one to miss this traditional confectionery. Dona Manis Cake Shop is one of the few remaining traditional confectioneries left in Singapore that makes their pastries by hand. While Dona Manis is most well known for their aromatic banana pies, they also offer handmade pineapple tarts.
Address: 865 Mountbatten Road #B1-93 Katong Shopping Centre 437844 Singapore
Contact: 6440 7688
Website: www.facebook.com/dona.manis.cake.shop
Price: $30
---
CHINESE NEW YEAR 2020
We have compiled a list of Where to go during Chinese New Year 2020 especially for our readers. Click on the image to read more.
If you find this article useful, do click Like and Share at the bottom of the post, thank you.
Like what you see here? Get parenting tips and stories straight to your inbox! Join our mailing list here.