As a language group, Chinese comprises over 300 dialects, of which Mandarin is the most spoken, with over 921 million people speaking Mandarin Chinese as their first language and approximately 200 million as a second language (Statistics&Data, 2021). Since Mandarin Chinese is such a prolific language globally, growing up bilingual (or even trilingual) will give your child a distinct advantage as they progress through their education.
Mandarin is a tonal spoken language and written Chinese, with its pictorial script, is complex in structure and form. Combine these factors with the more traditional mode of classroom teaching and it is no wonder that children find learning Chinese challenging. But not for children at Chengzhu!
Image credit: Chengzhu Mandarin Education Centre
Both Chengzhu Mandarin Kindergarten and Chengzhu Mandarin Centre (enrichment programmes) seamlessly blend academics with cultural exploration, within a Chinese-rich environment, to ensure that language learning is relevant, meaningful and fun! And employing Julia Gabriel Education's unique EduDrama® approach to teaching and learning ensures that all programmes are interactive and enjoyable.
How can my child enjoy learning Chinese?
A common challenge for many parents is how to help their children enjoy the process of learning Mandarin, especially when there are simply thousands of words and phrases to memorise and practise. One of the most effective ways to do this is to bring it alive through drama, role play, music and movement, storytelling, puppetry, and arts and crafts. Together with foundation-building activities such as reading and writing practice, these activities will engage children's imagination, creativity and curiosity to learn.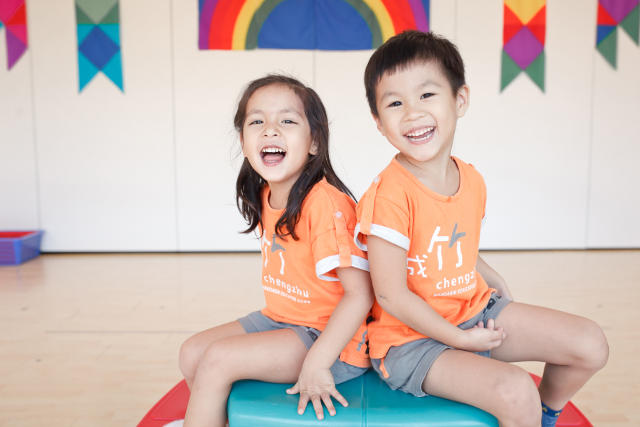 Image credit: Chengzhu Mandarin Education Centre
When choosing a Chinese kindergarten and enrichment programmes for younger children, look for those that lay a strong foundation for language as well as supporting their developmental milestones. Activities should be experiential, full of storytelling, and provide a positive environment to build children's confidence to communicate and express themselves in Mandarin.
Teachers matter too! Passionate, energetic and caring individuals can make all the difference to how much your child loves going to school! Chengzhu's team of dedicated educators are from China, Taiwan and Singapore and all speakers of Standard Mandarin Chinese. The team comprises highly qualified teachers and linguists, as well as trained dancers, actors, musicians and martial arts performers. Together, they bring a wealth of experiences and cultural context to their classes.
Building a love for Chinese in preschool years with Chengzhu Mandarin Kindergarten
Children from Nursery to Kindergarten thrive in this highly positive Chinese cultural environment under the care of the school's passionate and nurturing educators. With engaging activities such as drama, music and movement, storytelling, role play, and art and craft, children develop excellent communication skills, independence and a strong sense of responsibility to prepare them for Primary school.
Image credit: Chengzhu Mandarin Education Centre
In addition, the kindergarten focuses on developing children's academic success by ensuring they can communicate ideas involving mathematical, social, scientific and emotional thinking. By the time they graduate from Kindergarten 2, students are well prepared to meet the requirements of the Ministry of Education's standard for Chinese curriculum in Primary 1.
Books and stories play a vital role in helping young children recognise Chinese characters and learn phrases, idioms and vocabulary. The StoryHouse (Gu Shi Wu), an enchanting children's library stocked with a colourful collection of over 2,000 carefully selected books relating to all aspects of Chinese culture, serves as the focus for many programmes at Chengzhu Mandarin Kindergarten, as well as Chengzhu Mandarin Centre. All students have opportunities to read in the StoryHouse loft and are encouraged to borrow books to take home.
Children in Kindergarten 1 and 2 are exposed to English for one hour each day to build their vocabulary and develop their oral, reading and writing skills for primary school. Besides literacy skills, children learn mathematics in five areas such as Numbers and Operations, Shapes and Space, Pattern and Function, Measurement, and Data Handling.
Outdoor learning involves weekly physical education lessons to develop fine and gross motor skills, improve coordination, concentration and agility, and develop social skills. Curated special events such as field trips, sports events, cultural evenings and classroom celebrations form an important part of the curriculum to help children develop holistically.
How much fun will my child have at Chengzhu Mandarin Centre?
Image credit: Chengzhu Mandarin Education Centre
Fun begins with your infant or toddler in Adult Accompanied Programmes:
PlayNest (6 to 18 months): Lay the foundations for Mandarin with music, puppets, free play, art and craft, stories and snack time, for 1½ hours, once or twice a week.
PlayClub (18 months to 3½ years): Via stories, puppets, drama activities, art and craft, and songs, your child will learn key concept words and phrases and the natural rhythm of Standard Mandarin. Twice a week on weekdays for two hours each time, this theme-based curriculum creates a range of experiences to build fine motor and gross motor skills, encourage independent behaviour and thinking, and arouse curiosity for new vocabulary.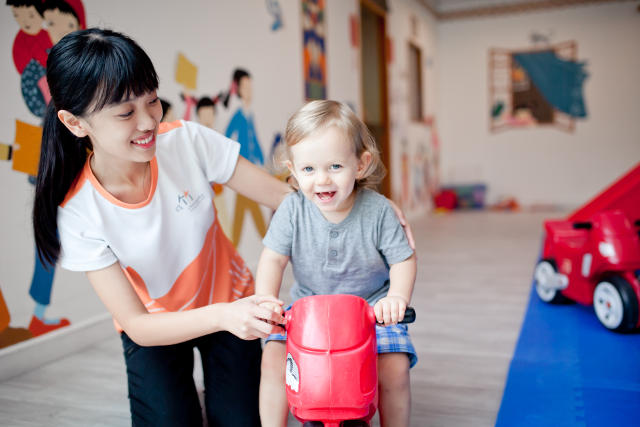 Image credit: Chengzhu Mandarin Education Centre
From Nursery 1 to Kindergarten 2, Foundation Years Programmes, 1½ hours, once a week, will help children develop a deeper understanding of the structure and purpose of language, and how to use it:
Chinese Cultural Arts (signature programme): With teachers trained in a variety of traditional Chinese performance and visual arts, your child will learn how to express himself/herself artistically via Chinese music, folk dance and rhythm practice, drama activities, performance and role play, calligraphy and Chinese brush painting.
Language Learners: Develop your child's competencies in speaking, listening, reading and writing, through engaging activities such as storytelling, drama, role play, music and movement, art and craft, and writing practice.
Image credit: Chengzhu Mandarin Education Centre
As assessments become more regular for students in primary school, Chengzhu Mandarin Centre offers School Years Programmes to help children excel and surpass MOE standards for Chinese, 2 hours, once a week:
Creative Writing (Primary 1 to 4): Children learn how to use the most essential elements of spoken Mandarin and Chinese script via a series of highly stimulating strategies and techniques, developing confidence and expressiveness.
Language Skills (Primary 1 to 4): This programme builds children's potential in speaking, listening, reading and writing using storytelling, oral language activities, science activities and picture comprehension.
Mandarin Expressions (Primary 5 to 6): With just two years to PSLE, children develop creative writing, comprehension and oral skills in this engaging and dynamic programme which keeps their interest and motivation alive.
To learn more about Chengzhu Mandarin Kindergarten and Chengzhu Mandarin Centre, visit chengzhu.edu.sg.
This post is brought to you by Chengzhu Mandarin Education.
By Julia Chan.
---
* * * * *
Like what you see here? Get parenting tips and stories straight to your inbox! Join our mailing list here.
Want to be heard 👂 and seen 👀 by over 100,000 parents in Singapore? We can help! Leave your contact here and we'll be in touch.