Regular physical activity strengthens muscles, bones, and joints and stimulates the brain, making it fundamental to the physical development of children. Martial Arts for Kids is a great way to maintain an active lifestyle and more importantly teaches them life skills such as discipline, mental strength, hard work, focus, integrity, confidence, teamwork and other values.
Evolve MMA – Little Samurai Children's Program
Evolve MMA is Asia's premier championship brand for martial arts and is a renowned brand name in the space, ranked #1 martial arts organisation in Asia by CNN, FOX Sports, ESPN StarSports, Yahoo! Sports and many more. Their roster boasts the most number of martial arts world champions available anywhere in the world, with over 1,000 years of accumulated world championship experience. But did you know too that they have a programme that is designed by a Harvard University graduate and specially tailored towards children between the ages of 4 to 13?
The philosophy of their Little Samurai Children's Program is to help children develop life skills through the power of martial arts. It takes a 360-degree approach and aims to build strong foundations for trainees so they become more well-rounded individuals.
Bullying in a child's formative years could impact their life greatly, destroying their self-esteem and confidence. The children Muay Thai and Brazilian Jiu-Jitsu (BJJ) classes have curated curriculums that combine self-defense techniques, physical education and cardiovascular conditioning to improve coordination, confidence, motor skills and agility to "bully-proof" your child.
What parents can expect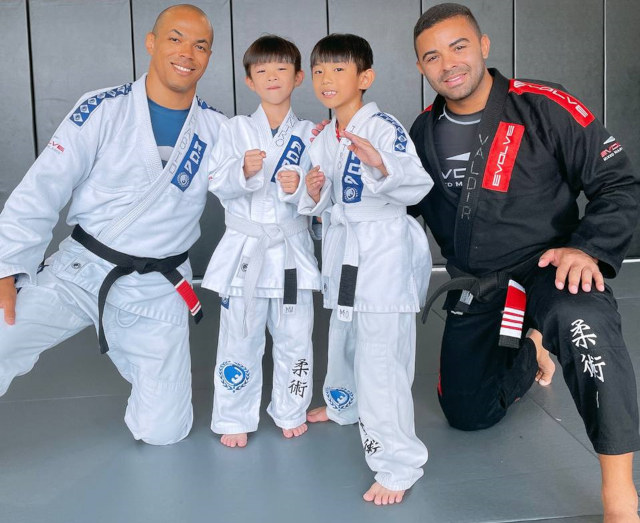 Brazilian Jiu-Jitsu
We were warmly greeted by staff at the Orchard Central branch as my children were whisked away to get fitted with their Gis, the uniform everyone wears during the session.
Each 45-min session is taught by 2 instructors. In the class that my children attended, the instructors were Fabio Da Mata and Valdir Rodrigues who are Brazilian Jiu-Jitsu Champions with a collective experience of 35 years. The children started with a series of exercises to get themselves warmed up and it aimed to build their stamina and agility. Some of the activities included were getting the children to crawl on all fours and practising their rolls and tumbles. They even do their repetition counts in Portuguese, adding a twist to the class!
Brazilian Jiu-Jitsu is a highly technical martial art and the next segment was dedicated to teaching children masterful techniques that can control their opponent while remaining in an advantageous position. This is where the children get to pair up and practise these techniques with each other through tussling and sparring. The session wraps with a game and has the children happily joining the tag-based game Bulldog. Everyone ends the session on a high note with bonds being fostered among the children.
Muay Thai
This graceful and effective martial art originated from Thailand and similar to Brazilian Jiu-Jitsu, this class is taught by world champions in the sport. The Muay Thai session we attended was helmed by Kaotaem Lookprabat (Kru Taem) and Rungpetch Wor Rungniran (Kru Lek), who kicked off with warm-up and stretching exercises. Kru Taem moves on to teaching the children about the various types of Muay Thai punches such as jab, hook, uppercut and more. Concurrently, Kru Lek brings some children to the punching bags and demonstrates powerful roundhouse kicks and side kicks before getting them to practise with the punching bag. They then have the kids swap around for another round of coaching.
There are enough instructors in the class such that each child in class gets some time alone with an instructor to practise a series of kicks and punches, the instructors giving them advice on their stance, postures, leg work and punches. The program is designed to impart fundamentals of martial art while helping children hone their skills and increase their focus. Just a single session and I saw my children get a confidence boost as instructors encouraged and supported them in their training.
Book a trial session today!
Your child 4 to 13 years old will be able to get authentic training from martial arts World Champions through this specially designed martial arts curriculum. Evolve MMA's children's classes are available daily across 4 convenient locations in Singapore: Orchard Central, Star Vista, Clarke Quay Central and KINEX, and members can attend unlimited Brazilian Jiu-Jitsu and Muay Thai classes.
If you would like your child to attend trial classes and have them experience for themselves the safe, fun and supportive environment that the Evolve MMA children's classes offer, click here to sign up now!
Evolve MMA
🌐 evolve-mma.com
📧 freetrial@evolve-mma.com
☎️ (+65) 6536 4525
This post is brought to you by Evolve MMA.
By Jasmine Chua.
* * * * *
Like what you see here? Get parenting tips and stories straight to your inbox! Join our mailing list here.
Want to be heard 👂 and seen 👀 by over 100,000 parents in Singapore? We can help! Leave your contact here and we'll be in touch.