According to the World Economic Forum, by 2025, the top 10 most beneficial work skills will comprise a combination of problem-solving, self-management, effective teamwork, and the ability to both use and develop technology.
The world is evolving at an ever-increasing pace. In the past, there were always norms we could rely on. That no longer seems to be the case. How can we help our children prepare for a future where anything can happen?
A dramatically different approach to learning
Believing that children learn best in a safe, supportive and dynamic environment, the late Julia Gabriel, Founder of the Julia Gabriel Education group, was a lifelong learner, specialising in how drama (in various forms), and the study of speech and voice, help children develop strong communication and language skills.
Image credit: Julia Gabriel Centre
Today, all programmes at Julia Gabriel Centre embody their unique EduDrama® methodology, a dramatic approach to teaching and learning that empowers children with confident life skills and academic success.
EduDrama encourages children to express themselves clearly and confidently, in an authentic manner, helping them to feel comfortable simply being themselves whilst simultaneously challenging them to step out of their comfort zone.
Feeling safe and emboldened in such a nurturing and positive environment, children build self-confidence, fluency of expression, creative thinking skills and problem-solving skills. In addition, they become more mindful of others and their environment through the development of speech, language and literacy skills, all of which will equip them to navigate their future better.
Testament to the effectiveness of Julia Gabriel Centre's dramatically different approach is that since it started with 21 pupils in 1983, more than ten thousand students today have benefitted from their programmes both locally and abroad.
How can my child learn future skills with Julia Gabriel Centre?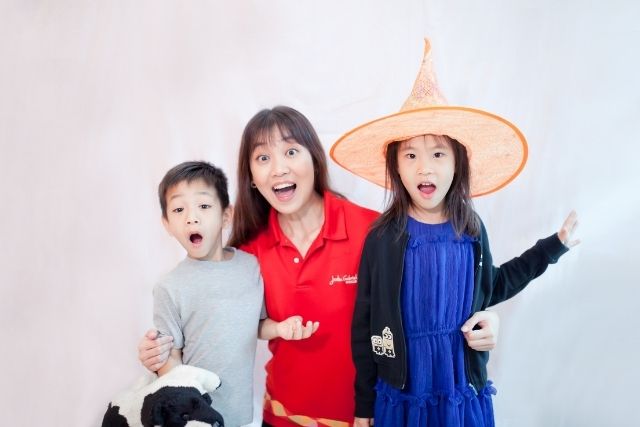 Image credit: Julia Gabriel Centre
Here's an overview of the programmes offered by Julia Gabriel Centre:
Early Learning Programmes (6 months to 4 years)
Drama & Communication Programmes (3 – 18 years)
Readers & Writers Programmes (18 months – 12 years)
Holiday Programmes
At Julia Gabriel Centre, every child is viewed as unique. Specialist educators are trained to recognise each child's dominant learning style. Programmes take place in small groups in a studio setting, with the emphasis on individual attention and encouragement. Walk into any studio at any level and you will automatically sense the fun, creativity and positive environment!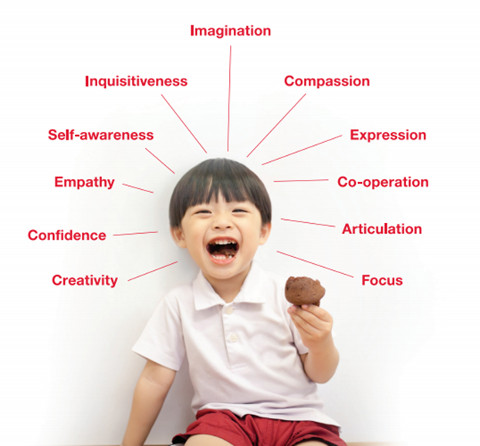 Image credit: Julia Gabriel Centre
Overview of Julia Gabriel Centre programmes:
Early Learning Programmes
These early stage programmes are all about absorbing language through positive experiences, guided by strong language role models. Young learners develop independence and self-awareness as they enjoy socialising with their adult carers.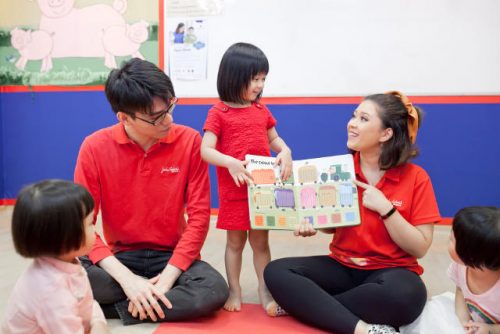 Image credit: Julia Gabriel Centre
PlayNest (6 to 18 months), PlayClub (18 months to 3 years old) and Bilingual PlayClub (18 months to 3 years) help build language and literacy skills, in addition to physical, social, emotional and cognitive skills, as children progress through each level. Age-appropriate activities include free and structured play, dramatic play with Julia Gabriel Centre's unique Alphabet Zoo puppets and PlayClub Bears, Magic Box, music and songs.
Children also journey through stories, learn social rituals (during Snack Time for example) and express themselves through art and craft as they develop coordination and fine motor skills. Children aged 18 months to 3 years who are ready to go it alone can attend PlayClub Independent.
Drama & Communication Programmes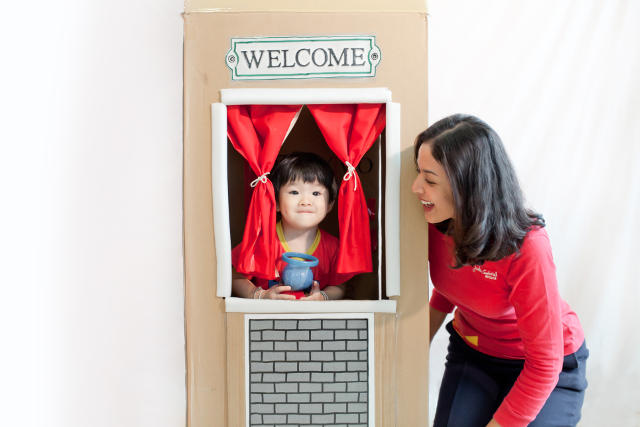 Image credit: Julia Gabriel Centre
The ability to communicate authentically, creatively, persuasively and boldly are just some of the beneficial skills gained by the students of Drama & Communication Programmes at Julia Gabriel Centre. Programmes for children from three years old to teenagers use movement, drama, role play, improvisation, books, poetry, discussion, presentation, performance and videography to empower students at every level to be confident, expressive and aware communicators.
In addition, students from K2 and above can participate in Trinity College London assessments and receive internationally recognised certificates in Speech & Drama, Speech Communication Arts, Performance Arts and Communication & Presentation Skills.
Readers & Writers Programmes
Students build strong literacy skills at each level starting with phonemic awareness in the Alphabet Zoo Club (18 months to 3 years). Children learn strategies for using vocabulary effectively, about grammar and punctuation conventions, and build listening and comprehension skills as they progress through 'I Love Reading' (N1&N2) and 'Let's Read and Write' (K1&K2).
In 'Think N' Ink', Julia Gabriel Centre's unique literacy programme for P1 to P6 students, children handle complex forms of reading and writing as they develop their appreciation of different text types. Educators employ games, drama and their own passion for literature to ensure fluent, expressive and creative reading and writing at every level. Learning to read and write has never been so much fun!
Holiday Programmes
Would you like your child to be meaningfully engaged during the school holidays instead of passively sitting in front of a computer screen or constantly holding onto a smartphone? What about participating in a Julia Gabriel Centre Holiday Programme, such as Stage Lights, instead?
This unique performance arts programme for teens (13-18) develops three core stagecraft disciplines: acting and improvisation, movement and choreography, and vocal expression and interpretation of text. Through ensemble productions, students develop their creativity, self-expression, self-awareness and important qualities such as empathy, as they experience the thrill of performing before a live audience.
Preparing children from 6 months to 18 years for their future
Image credit: Julia Gabriel Centre
Regardless of which Julia Gabriel Centre programme you enrol your child in, they will delight in the ability to express themselves freely and experience learning through stimulating and motivating speech and drama activities. Parents and teachers can also benefit from established adult training programmes and workshops covering early childhood education, teaching speech and drama (in English and Mandarin), public speaking and communication skills, at Julia Gabriel School of Education.
Julia Gabriel Centre's international team includes teachers of voice, speech, drama, literature, early childhood educators, musicians, linguists, speech and language therapists and psychologists.
Check out Julia Gabriel Centre's innovative, creative, holistic and award winning communication programmes, The New Age Parents Enrichment Award 2019 – Best in Early Learning Programmes among them.
Visit juliagabriel.com today!
This post is brought to you by Julia Gabriel Centre.
By Julia Chan.
---
* * * * *
Like what you see here? Get parenting tips and stories straight to your inbox! Join our mailing list here.
Want to be heard 👂 and seen 👀 by over 100,000 parents in Singapore? We can help! Leave your contact here and we'll be in touch.