Stepping into Julia Gabriel Centre gives you a wondrous feeling of discovering a world of unabashed self-expression.
This is because the talented teachers in Julia Gabriel Centre use the unique EduDrama® methodology to incorporate drama and imaginary play to help children become confident, independent and expressive communicators.
We sat in for some of the Early Learning Programmes at Julia Gabriel Centre, and we were thoroughly impressed.
Every class we sat in was exciting, full of music and drama, and embracing each individual. Here are snippets of what went on during the sessions.
PlayNest (for infants aged 6 to 18 months)
Infants are like sponges, soaking up literally every experience via their five senses. In the PlayNest class, infants and parents are encouraged to dance and sing along with teachers and exercise their gross motor skills through play with teachers and parents.
Infants have group play periods where they have sensorial toys to play with their parents and other infants.
Elisa Low, Head of Early Learning Programmes at Julia Gabriel Centre explains, "In this class, we have one on one interaction with the puppet, lively stories sometimes told in a song and we plan sensorial activities that make learning meaningful for young babies,"
"We also have lots of singing and music throughout the class because babies have an innate love for songs, rhythm and music! Teaching the PlayNest class is wonderful because it is so fulfilling to see the children take their (literal) baby steps towards independence!"
Group play periods allow infants to interact with their peers, learn give-and-take and develop their gross motor skills through play with toys. Teachers also sing songs to teach the infants how to keep their toys neatly before the sing-along session begins.
In a sing-along session, parents lift their infants to the beat of the song.
An infant excitedly runs to his parent in the midst of a sing-along session. Being able to dance and roam around during the class allows the infants to exercise their spatial awareness, sense of balance and appreciation of rhythm.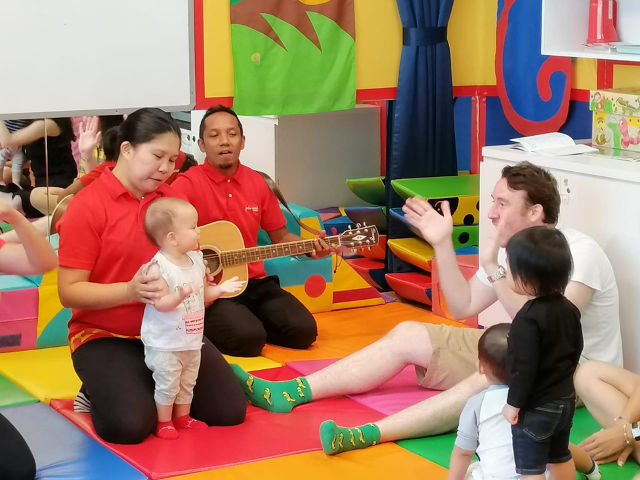 Every class has at least one teacher who can play a musical instrument by ear. When the main teacher breaks into an impromptu song based on when the infants are ready, the music readily follows without a hitch.
The ending of each class should be as fun as the beginning. A teacher uses bubbles to engage the infants visually and physically during a goodbye song.
Before every infant leaves, teachers share kind words of gratitude and encouragement to make every infant feel loved and welcome in Julia Gabriel Centre.
PlayNest classes have lots of child-friendly music, where infants learn language, sounds and rhythm while bonding with their parents.
"Classes offer a platform to nurture warm trusting relationships from the beginning, where safe play, exploration and discovery is encouraged," adds Elisa, who is trained in Curtin University and the Julia Gabriel School of Education.
"When children experience exploratory play, they are offered the opportunity to develop and understanding of their world around them. These discoveries encourage children to want to communicate and set the foundation for creative thinking and expression,"
PlayClub (for toddlers aged 18 months to 3 years)
PlayClub sessions immerse toddlers in a world of letters, shapes and colours. The PlayClub session I sat in recreated a farm theme to teach toddlers the letter Q.
In PlayClub classes, three teachers engage toddlers and parents in sounds and songs about the letter Q. Teachers flap their arms like a duck and say "Quack quack quack" while asking toddlers to guess which animal makes this sound.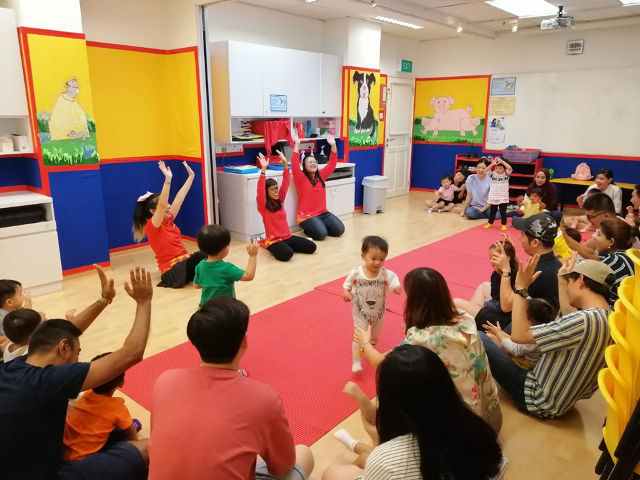 Parents are encouraged to sing and act along with the teachers to co-create an engaging and interactive session for the toddlers, who also learn fine motor skills and hand-eye co-ordination.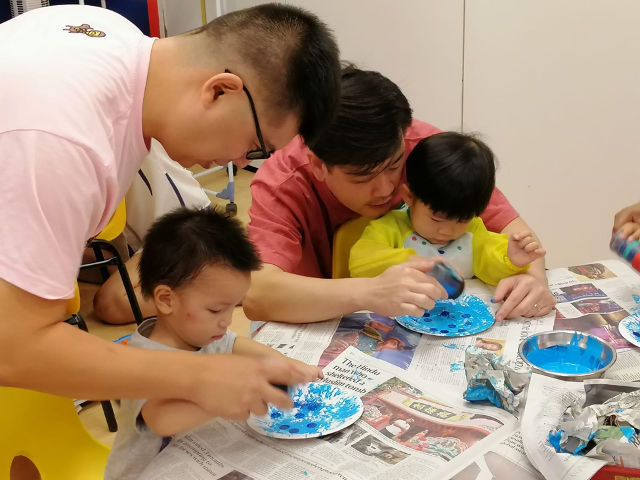 Sons and dads bond together by creating a "pond" for their duck art-and-craft set by smushing blue paint using scrunched up newspapers on paper plates and adding blue glitter for texture.
Toddlers learn how to apply glue to their duck cutouts so they can stick yellow feathers for a 3D duck.
The toddlers were very excited about creating their duck art-and-craft sets with their parents, especially using the newspaper to smush paint onto paper plates. They learnt about the colours blue and yellow, and textures such as glitter and feathers.
Elisa asserts, "We highly encourage the children to do their artwork by themselves. This is in line with our EduDrama® philosophy,"
"This helps toddlers learn by letting them be in control of the decision making, letting them choose how many feathers, how much glitter… all these small steps empower the child and provide active learning opportunities where each child's ideas and contributions are considered,"
Parents have the option to enroll their toddlers in either the PlayClub class (English only) or Bilingual PlayClub (both English and Mandarin).
Bilingual PlayClub (for toddlers aged 18 months to 3 years, with both English and Mandarin educators)
In the session I sat in, toddlers in the Bilingual PlayClub class also learnt about the letter Q. Two English teachers and two Mandarin teachers took turns going through the session in either English or Mandarin speech and drama segments.
Elisa reveals that young brains have the greatest levels of activity from birth to six years of age, making these years the best time to pick up language.
"The animated and engaging Bilingual class serves to bring more dimension and colour to the richness of the mandarin and English language by exposing the child to the same concept in both languages and exploring this in a variety of methods such as drama, storytelling, music and art and craft,"
As part of a story-telling segment, Mandarin teachers ask toddlers to guess what is inside the covered box. The teachers make it a point to bring the box around to every toddler to touch and feel the material of the cloth and box, so that everyone is included in the story-telling.
The Mandarin teacher reveals the secret animal in the box! With the EduDrama® method of using puppets to interact with the toddlers, the toddlers learn strong confident and expressive communication skills within a positive, joyful and empowering environment.
Toddlers and parents go on a little "walk" through an animal trail where they learn about different animals as they step on each mat. Teachers sing songs to teach the toddlers information about animals while clapping their hands to help children step to the rhythm of the music.
An English teacher dresses up as a duck to act out a scene. To test the toddlers' knowledge, she "moos" and asks if this is the right sound a duck makes. This test also hones the toddlers listening skills and encourages the toddlers to express their opinions about the wrong sound. The lights are dimmed to create a "stage" environment akin to a theatre.
PlayClub classes are full of activities and songs that create a musical environment within each class. In fact, sometimes you won't know what exciting play you will be part of next!
Stepping Stones (for Nursery 1 children)
In Nursery 1, children are exposed to more abstract concepts. In this lesson, children learnt about the letter M via a story about monsters.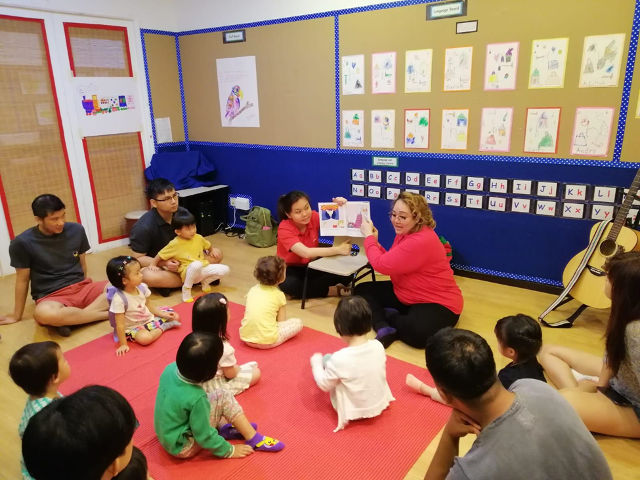 Teachers read out a book about a boy who is scared of monsters in his room. It turns out that the monsters he imagined are not monsters after all, but simply some of his toys he forgot to keep properly.
By recreating the story in a dramatic setting, children journey through the same story the teachers narrated earlier in the book. A scary sound heard by the boy in the book turns out to be a teddy bear which can "talk". Children learn that scary things at night are sometimes just figments of our imagination.
Children overcome by fears by facing them. The teacher takes the teddy bear around to each child to let them touch its hands, and tells them that the teddy bear isn't scary at all! The boy in the book was just scaring himself silly over nothing, and all because he forgot to keep his toys neatly.
To lighten the mood before class ends, children, parents and teachers sing a happy song while clapping and dancing.
It is empowering when children are involved in the story-telling, as this helps them hone their problem-solving skills by experiencing what characters go through in the stories. They learn they can influence the course of events in their lives, which builds confidence in themselves as empowered actors in uncertain situations.
"Involving children in a story allows them to take part in situations and events where they are allowed to be investigators, problem solvers, collaborators and protagonists in the learning," Elisa states.
"It fosters empathy and creativity when they are immersed in role-playing from different points of view."
Where Can I Learn More?
In 1983, Julia Gabriel started teaching just a handful of children in the front room of her house in Bradell Heights. She brought her unique approach to learning based on her own experiences of drama as a child and her training with the Guildhall School of Music and Drama and the London College of Music.
Julia Gabriel opened her first Speech and Drama Centre in Halifax Road in 1990, which was the first Speech and Drama school in Singapore to be recognised by the Ministry of Education in 1995.
As a pioneer in Speech and Drama, Julia Gabriel Centre is a trusted brand that builds confidence and communication skills via the EduDrama® methodology, which helps students discover how to express themselves clearly and confidently in their own unique way.
Children learn how to express their thoughts, opinions and ideas through voice, speech, language, music, movement, art, writing, performance, debate and visual media, via age-appropriate activities in Julia Gabriel Centre's programmes such as the Early Learning Programmes above for children aged 6 months to Nursery 1.
Julia Gabriel Centre also offers Readers and Writers programmes for children aged 18 months to Primary 6, Speech and Drama programmes for Nursery 1 until post-secondary, and adult-training for parents and early childhood educators.
Want your child to be dramatically different and confident learners? Visit www.juliagabriel.com today for more information.
This post is brought to you by Julia Gabriel Centre.
Photos and text by Julia Chan.

* * * * *
Stay in touch! 📣 Subscribe to our Telegram here for our latest updates.
Running a service or business targeted for parents? Reach out to a wider audience in our Best Enrichment Classes compilation. Leave your contact details here and we will get in touch with you.