#BuySingLit powers into 2020 with a new spin on local literary works
Running for the first two weekends of March, the fourth edition of #BuySingLit brings new activities and old favourites that will delight all ages
The annual #BuySingLit movement is back with a bang for its fourth year running. Explore our diverse literary landscape like you never have before: go beyond just reading – hear, see, touch and even taste the world of Singapore literature, also known as SingLit in short.
Participants both young and old are invited to embark on a journey around Singapore, traversing familiar heartlands to the iconic Jewel Changi Airport, and even the revamped, historic Pasir Panjang Power Station. These locations set the stage for multi-sensory activities such as gem biscuit-making, music performances, writing workshops and dramatic readings, that will unlock new perspectives on local literature.
More than 60 exciting programmes will be held over two weekends from 6-8 and 13-15 March 2020. Advocating 'Buy Local, Read Our World', #BuySingLit aims to raise awareness about SingLit by celebrating stories from Singapore. The movement gathers homegrown book publishers, retailers and literary non-profits to encourage more people to embrace and discover SingLit.
"This year's movement creates experiences of SingLit that bring people together. Through our island-wide programmes, we hope to tap on SingLit's potential to connect diverse communities – from the young and the old; to writers and artists; people passionate about SingLit, and those new to it. We believe that stories have the potential to bring people together. We hope that everyone will be excited to explore and enjoy what #BuySingLit has to offer this year," said William Phuan, Executive Director of the Singapore Book Council.
Lighting up the Singapore literary landscape
In this edition of #BuySingLit, the new programme SingLit Power House takes participants to a weekend's worth of exciting activities at the red-brick Pasir Panjang Power Station which is steeped in Singaporean history. Here, patrons will embark on a sensory journey through the visual landscapes and soundscapes of Singapore literature, immersing themselves in installations that blend mediums to present a whole new perspective on local stories.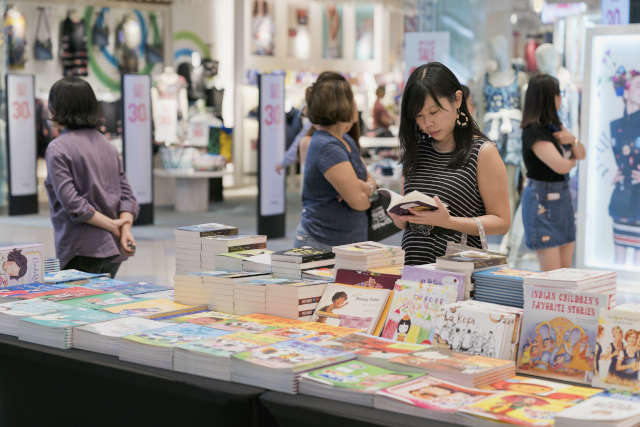 Beat the heat with Glorious, Monstrous, Hantu Tales from Singapore, a thrilling live performance staged by Cake Theatrical Productions and directed by the acclaimed Natalie Hennedige. Step into an eerie otherworld of monsters and ghosts, in a performance that melds together film, theatre and writing from some of Singapore's most haunting contemporary novels such as Nuraliah Norasid's "The Gatekeeper" and Sharlene Teo's "Ponti". The work was first commissioned by National Arts Council and presented at Southbank Centre as part of London Literature Festival 2019.
Participants can also enjoy refreshing drinks with friends and have fun at the world's first literary dance party at Sing Lit Sounds: A Silent Disco. Headbob along to never-before-heard tunes, as homegrown musical talents like .gif, Fauxe and Mantravine twine their beats together in perfect harmony with melodic murmurs from SingLit classics. Explore the backdrop where all these activities have come together, unravelling the story behind the power station itself with Modern Resonance II – a site -specific performance, initiated by Goethe-Institut Singapore and staged by sound artist Li-Chuan Chong, spoken word poet Deborah Emmanuel and visual artist Alecia Neo.
Charlene Shepherdson, Sing Lit Station's Station Control said, "When we brainstormed programmes for #BuySingLit 2020, we knew we wanted a way to bring readers and writers together and a silent disco is the perfect place for introverts and extroverts to meet. The technology creates a sense of community around you, yet there's also a sense of play and exploration. We constantly look for inspiration and being able to showcase the mother tongue languages around us was important. We hope the silent disco opens new perspectives of the book in your hand. If you understand the language, you'll unlock new nuances and beats in the words of the writers. If you don't, you'll be transported to a world of rhythms and moods by musicians .gif, Fauxe and Mantravine; bringing new life to your pages."
Exploring local literature with fun activities and exciting events
This year's movement is also jam-packed with community events that will delight older readers and enrich curious young minds. Foster a love for reading in your little ones and introduce them to the world of SingLit by joining them in fun-filled activities held across the island.
Get into the gotong royong spirit and go on a day out to the iconic Jewel Changi Airport with your friends and family. With "GoToRoYo!" – Together @ Canopy, take in sights of the Canopy Park, and watch the landscape transform as characters from SingLit books come alive in live adaptations by UP Collective.
"We are excited about our first collaboration with #BuySingLit and look forward to hosting art patrons at Jewel Changi Airport. This will be a great opportunity for families to explore local stories, participate in fun activities and create memories together, which has always been Jewel's mission," shared Nigel Chia, Head of Corporate & Marketing Communications, Jewel Changi Airport Development.
Then, travel down to the heartlands of Bedok Town Square for Hello SingLit! X Arts in Your Neighbourhood. Organised by Woods in the Books and in collaboration with Arts in Your Neighbourhood, the children's book fair brings the community together for a weekend of fun, with live book readings and meet-the-author sessions.
Alongside this roster of new events, are returning old favourites: the Pesta Buku Melayu Singapura 2020 (Singapore Malay Book Fair 2020) will come back for its second year at Wisma Geylang Serai with the theme "Meraikan Karya Melayu Singapura", which means "celebrating Singapore Malay literature".
Textures – A Weekend With Words by The Arts House will be returning too for its third year, with the theme "These Storied Walls".
The 2020 edition of #BuySingLit promises to be more creative than ever before. With over 60 exciting programmes, there will be something new for everybody to enjoy; avid readers of SingLit and future readers alike.
---
Young people need stories as a way of making sense of the world, and this year's #BuySingLit festival is jam packed with stories for young readers which engage, thrill, comfort and inform.
From 6-8 and 13-15 March 2020, the festival is a welcoming playground for families and young readers to explore this March.
Programme Highlights for Families:
– "GoToRoYo!" – Together @ Canopy [14 & 15 March]
Organised by UP! Collective with

Jewel Changi Airport

Inspired by the concept of "gotong royong" – a term that connotes a sense of community spirit and mutual helpfulness in our region, the UP! Collective has a

fun-filled weekend

in store for families. Using artforms of theatre, dance, music and more, they present three performances – The Snail, She is My Ah Ma, and Cindy and Ria's Cooking Adventures at Jewel Changi Airport
More information here:

buysinglit.sg/gotoroyo-together-canopy
– Hello SingLit! X Arts in Your Neighbourhood [13-16 March]
Organised by Woods in the Books
Hello SingLit! brings different ways to embrace and celebrate stories by our authors. In collaboration with

Arts in Your Neighbourhood

, Hello SingLit! travels to Bedok Town Square for a #BuySingLit children's book fair. Meet homegrown authors, listen to stories and celebrate SingLit with us!
– Let's Go Read OutSide!
Organised by 3Pumpkins
Let's Go Read OutSide! brings Singapore children's literature right into void decks and

playgrounds

, transforming these everyday spaces into imaginative places where books come alive. Aimed at children aged 10 and below, the programme includes pop-up

children's libraries

and experiential workshops.
The Children # SingLit Library will be at South Central Family Service Centre (4-8 March) and 3P Children Arts Lab (Boon Lay) (11-13 March).
The Let's Go Read OutSide! Workshops will be held at South Central Family Service Centre (7 & 8 March) and 3P Children Arts Lab (Boon Lay) (14 & 15 March)
– Singapore Literature Project: Local Stories [7 & 8, 14 & 15 March]
Organised by Act 3 International
This programme will feature four drama-based workshops, inspired by four different Singapore literary works, catered to children between the ages of 18 months and 9 years. Combining reading,

storytelling

and role-playing with music, simple props and costumes, the workshops will provide children with an all-round experience to discover, enjoy and love Singapore literature.
– The Basket by RolyPoly Family [7 & 8 March]
Organised by Derring-Do Dance
Based on Quek Hong Shin's book The Incredible Basket, this is a dance theatre performance for young audiences. Performers from Rolypoly Family will take the audience on an exploration of the possibilities, and inspire the tall and short audience members to discover what the basket can conjure in our lives and in our imaginations.
More info:

thebasketdancetheatre.peatix.com
---
MARCH SCHOOL HOLIDAYS 2020
It is the March school break, we have compiled a list of activities and things to do this March holidays 2020. Click on the image to read more.
If you find this article useful, do click Like and Share at the bottom of the post, thank you.
Stay in touch! Subscribe to our Telegram here for our latest updates.