To some, hair fall is the last of their concerns. However, to others with hair fall problems, having a head of long, lustrous hair means a great deal. In fact, the state of one's hair condition reflects a lot on the overall health of a person. After my consultation with Beijing 101 at Funan Centre, I realised there was so much to discover and learn about my own hair and the process of how it grows.
Catering To Individual Hair And Scalp Condition
Each person's scalp and body are different. That is why before each session, a hair consultant will review your scalp condition and ask a few questions pertaining to your lifestyle. I was introduced to one of the hair consultants, Grace Liew. Friendly and courteous, Grace answered all my questions with ease and confidence.
Knowing Your Scalp: Before and After Hair Scan
Now comes the moment of truth.
Upon looking at my hair scalp with a special magnifying device, Grace told me my hair was generally healthy and clean except that there was excessive oil. This could be seen from the tiny flaky skin around my hair follicles.
Seeing your hair, up close and personal!
A reason behind an oily scalp was due to an excess of hair sebum secretion. I asked her how I could prevent this in the future and she suggested to cut down on spicy food (as it stimulates the secretion glands) and to have ample sleep every day.
Looking At The Internal And External Health
Apart from its team of trained and qualified hair care consultants, Beijing 101 also has its own certified Traditional Chinese Medicine (TCM) physicians. I was referred to a consultation with the TCM physician, after my initial consultation with Grace.
Being rather new to TCM and how it works, the TCM doctor patiently explained to me the philosophy behind TCM and how the state of the internal organs affects one's hair loss. Head hair is the last to receive nutrients from our body. One of the reasons why people suffer from hair loss is because there are either a) not enough nutrients in the body, or b) there are sufficient nutrients but poor circulation. Therefore, the nutrients do not get to reach to the head and into the hair. Based on his analysis, he deduced I had a lot of internal heat. He then performed acupuncture on my arm to help regulate my internal meridian flow.
What I found really interesting was how Beijing 101 combines the concept of traditional Chinese treatment philosophy with the use of Chinese herbs to produce optimum results.
Premium Grade Chinese Herbs
After a comprehensive check of my scalp, coupled with the Chinese Physician's feedback, Grace prescribed a cooling aloe-vera and ginger hair mask for me. She said this will help to cleanse the clogged hair follicles due to the excess secretion of oil. Chinese herbs help to nourish our blood, regulate sebum secretion in the scalp and aid hair growth and retention. Using only premium-grade Chinese herbs, these are some of the herbs used at Beijing 101: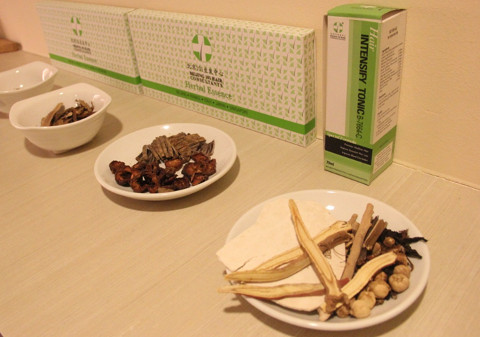 Ginseng – Improves blood circulation
Lingzhi – Helps to fight excessive hair loss
He Shou Wu – Fights greying hair
Dang Gui – Helps hair follicles absorb nutrients
The Customised Treatment
The entire treatment including the consultation took about 1 hour. Here's is what Beijing 101 hair treatment offers:
Hair Mask – Specially made to suit my scalp type, it is put on for 20 minutes for the scalp to absorb the nutrients from the mask.
Hair wash – A special in-house shampoo is used to aid hair growth
Beijing 101 Signature 20 Minute Scalp Massage – To improve and stimulate circulation.
After the entire treatment, Grace did another scan on my head and showed me the difference. My hair follicles were more 'open' and she said this was a good indication that the top layer of excess sebum has been removed. However, since the clogged layers are deep, it would be impossible to clear the many layers in one session.
8 Tips For A Healthy Scalp
Before I left, Grace shared with me some extra tips on how to maintain a healthy scalp.
Always sleep with dry hair
Wash your hair daily
Use a cow-horn comb
Eat well (less oily and fried food), hydrate well and sleep well
Gentle tapping on your head with your comb for 10 – 15 minutes (improve blood circulation)
Go for organic hair dye treatments
Eat foods such as black beans and black sesame for darker hair
Eat food rich in iron and protein (especially for pregnant mothers)
For more information, visit Beijing 101.
By Michelle Ang.
* * * * *
Like what you see here? Get parenting tips and stories straight to your inbox! Join our mailing list here.
Want to be heard 👂 and seen 👀 by over 100,000 parents in Singapore? We can help! Leave your contact here and we'll be in touch.